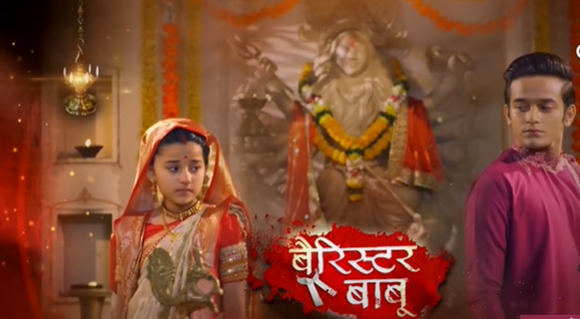 Barrister Babu Upcoming Story, Spoilers, Latest Gossip, Future Story, Latest News and Upcoming Twist, on Justhowbiz.net
Today's episode starts with Anriudh saying Bondita's trunk will go at last. She assures first other girls will be out from Tara's place.
There, Rasiya challenge to Tara that today she will lose to Bondita. Tara accepts the challenge and says today she will see who will win amid the duo. Rasiya dance, in the meantime Anirudh manages to carry few girls out. Ramiya, Suraiya and Bondita is left behind.
Rasiya dance her heart out. Tara about to leave but Saurabh tries to engage her with his words. Saurabh by mistake speak in Bangla and Tara enquires him. Disguised Saurabh says to Tara he learned the language on the way to Kolkata
Saurabh asks Tara when she will present her experience diamond to him. Tara says soon. She goes to Anirudh and says trunk he is carrying, she wants to check. Anirudh shows fake trunk to Tara. And manages to convince her not to open the trunk.
 Tara keeps her bag on the trunk where Bondita left dumpling leftovers. Ahead, Anirudh asks Ramiya and Suraiya to land in the trunk. Ramiya says to Bondita that she was right, Anirudh is protector. Later, Anirudh promise to Bondita that he will safely rescue her and locks in trunkOtherside, Mini says to Bhaumik Trilochan should not gain consciousness.
Tara decodes Bondita is at seesh mahal and Anirudh too is here, post she smells dumpling. She orders her goons to stop Anirudh.Tara's goon manages to stop Anirudh. Rasiya comes for Bondita and Anirudh. She announces today Tara will meet her end. Rasiya gets ready to die for Bondita. Saurabh and Anirudh holds Bondita. Rasiya lash out at Tara for ruining her and other girls life. She says to Tara she will end her game today without any fear. Tara stands shocked. (Episode Ends)