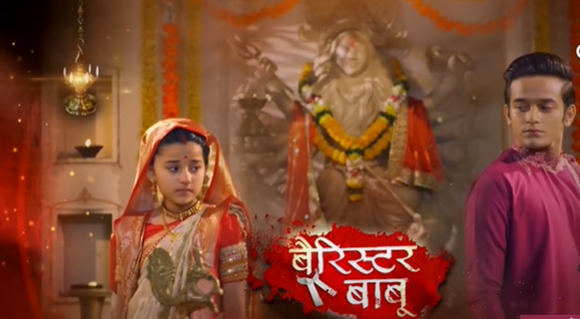 Barrister Babu Spoilers, Upcoming Story, Latest Gossip , Future Story, Latest News and Upcoming Twist on Justshowbiz.net
Today's episode starts with Devoleena informs Bondita about Bela's wedding and asks her to get ready. Bondita tells Sumati about the same. Sumati stops Bondita from going anywhere. Bondita agree with Sumati.
Sumati thinks society won't accept a girl whose husband left her. Devoleena signals Sundaram. Sundaram somehow manage to convince Sumati to send Bondita to Bela's wedding. Sumati agrees. Bondita gets happy. Devoleena thinks to save Sampoorna's marriage she has to defame Bondita in front of society.
Here, Anirudh looks for his watch. He asks Saurabh to help him in searching his watch. Saurabh helps. Further, Anirudh tells Saurabh that Bhaumik wants him to marry Mini. Saurabh asks Anirudh to marry Mini because it was destined. Sampoorna overhears their talk and worries for Bondita. She says to Anirudh that Bondita carried away his identity too with her. Saurabh asks Sampoorna to leave.
Anirudh after hearing Sampoorna's word thinks about Bondita. Bondita too recalls her moments with Anirudh after Bela asks her to share marriage experience as she don't know anything about wedding. Bondita gets teary recalling her moments with Anirudh.
Meanwhile, Devoleena revealed to Bela's mother that Anirudh left Bondita so don't allow her to apply turmeric to Bela.
Bela's pre-wedding function starts. Ahead, Bondita is stopped from applying turmeric to Bela. Bela's mother announces that Bondita is the left wife of Anirudh. She tags her as impure girl. Bondita asks what does that mean. She asks if left over wife has done sin. Lady throws, Bondita out from the wedding place when she refuses to leave the place. Bela asks Bondita to leave the place too. Ladies out there defames Bondita for being the left lady. Devoleena smirks. Bondita misses Anirudh.
Sampoorna shows her believe on Anirudh and says he will never agree to marry Mini. Bondita cries her heart out and hugs Sumati. She asks Sumati what is called as left lady. Here, Anirudh feels something is not right. Meanwhile, Mini calls Anirudh and invites him home. She thinks today she will do something which will make Anirudh to say yes for the wedding.
There, Bondita asks Sumati what is called left wife. Other side, Mini spikes Anirudh's drink. Anirudh faints and stay back at Mini's house. In the morning, Mini does the drama and pretends that last night something happened between them. Anirudh says they didn't did anything wrong thus they don't need to get scared. Bhaumik, Koyali knocks the door. Mini says everyone will think wrong about their relationship.
Further, Sumati asks Bondita to eat something. Bondita asks Sumati to first tell what is called a left lady. Devoleena interrupts and tells to Bondita that left lady is the one whose husband leaves his wife alive. The lady should consider herself dead. Bondita stands shocked. (Episode Ends)
No Precap