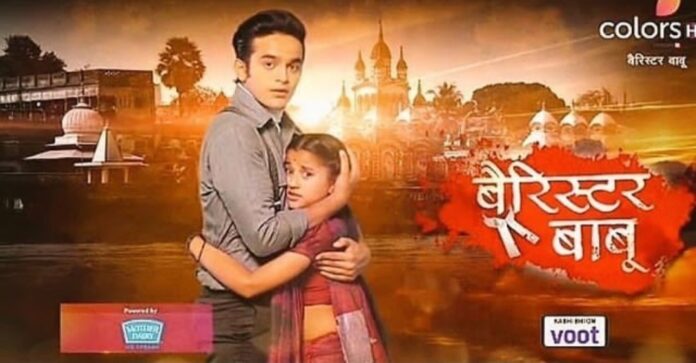 Barrister Babu Upcoming Story, Spoilers, Latest Gossip , Future Story, Latest News and Upcoming Twist, on Justhowbiz.net
Episode starts with Bondita refusing to eat chillies. Thakuma says she knows how to tackle Bondita. She blackmails Bondita saying if you won't eat, Tapur will eat these chillies as Thakuma can't tolerate Baba's insult. Bondita gets shocked. Kalindi tells Tapur to eat it. Bondita stops her and agrees eat them. She starts coughing. Anirudh gets restless seeing her. Tupur informs Kalindi that a bad smell of garbage is coming from outside. Thakuma thinks Roychowdhurys did it. She goes out. Anirudh goes to take honey for Bondita.
Trilochan sits on chair and waits for Kalindi. Kalindi shoots Trilochan cup and it breaks. Trilochan tells Vihari to bring his gun too. Thakuma asks Trilochan who threw fish bones at her place. Trilochan taunts her. Thakuma orders Trilochan to clean the garbage. Trilochan refuses to do it.
Anirudh plans to send Rimjhim and Baba away from Bondita. Anirudh starts acting that he spotted man's hair in Rimjhim's room. Rimjhim gets shocked and thinks of finding it in her room before Thakuma sees it. Baba also leaves the room making excuse. Anirudh sends Tapur outside. Anirudh gives honey to Bondita and says he will find out what's going on between Rimjhim and Baba.
Rimjhim and Baba search for the hair but they get scared seeing it nowhere. Baba reveals he is Rimjhim's husband and Bondita's uncle. Anirudh overhears their talk and wonders why Bondita's uncle disguised himself as Baba. What are they hiding? Bondita's uncle tells Rimjhim to find it as soon as possible else Thakuma won't spare him, he also says he shouldnt have come here.
Anirudh tells Bondita about it. He says he won't forgive her uncle for torturing Bondita. Bondita tells Anirudh to find out how her uncle got to know about Anirudh's plan of bringing fake baba.
Trilochan and Kalindi have a verbal fight. Kalindi accuses him of breaking her trust, Trilochan says she never understands anyone's situation, she only knows how to blame others. Their argument turns hot and they again aim guns at each other. Bondita sends Anirudh to stop them.
Anirudh catches Soumik and confronts him. He says I know your truth, Soumik doesn't accept, Anirudh takes off his fake beard and Soumik gets nervous. He is about to leave and Anirudh asks him why he came here in disguise of a Baba. Why does he want to hide his real identity in his own house. Soumik says Thakuma doesn't want him to meet his wife Rimjhim everyday. She only wants him to meet Rimjhim on special days so that Rimjhim gives birth to a boy. Soumik says he knows Rupa's lie too how she tried to save her job. Anirudh asks how he got to know. Soumik says Rimjhim got to know somehow. Anirudh gets relaxed thinking Soumik doesn't know he is not Rupa.
Anirudh later agrees to hide Soumik's truth on one condition. Anirudh starts his drama saying he can't see Bondita's poor condition as he is a woman too. Thakuma is being very cruel to Bondita. Soumik should show some humanity towards Bondita. He has two daughters so he should relate too. Anirudh wants to take Bondita's room keys from Soumik so that he can reduce Bondita's pain sometimes and can meet her. Soumik agrees and gives him the keys. He says his truth shouldn't come out in front of Thakuma. Anirudh promises. Thakuma sees them talking to each other. He gets suspicious.
Episode ends.