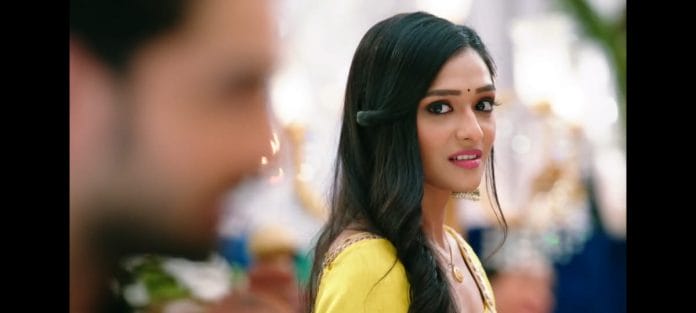 Bhagya Lakshmi Spoilers, Upcoming Story, Latest Gossip , Future Story, Latest News and Upcoming Twist on justshowbiz.net
Zee TV new show Bhagya Lakshmi is attracting viewers with interesting storyline and the twist and turns of the show have glued audience to screen's.
As reported earlier Rishi asked Lakshmi to hide about Balwinder attack from everyone than he invited Lakshmi and her family to his birthday party. Rano asked Lakshy why didn't she refuse him. Lakshmi said he was not like you have said and still I didn't agree because I will follow your decision.
Rano told her city guys are like Balwinder and he will show his colors in the party. Shalu and Bani take Lakshmi with them. Rano suggested Neha to make Rishi hers in the party. Lakshmi and her family reached to birthday party where guard stopped them thsn Rano called Virendra and he took them inside and introduced Lakshmi and her family members to his family.
Rishi felt happy after meeting Lakshmi. Neha tried to grab his attention but she failed to do so. Lakshmi felt uncomfortable seeing she is the only one who wore indian attire and to made her feel better Rishi to join her wearing indian attire.
In the upcoming episode viewers gonna witness that Lakshm will tell to Shalu and Bani that Rishi will be perfect life partner to her like their father wished. Rishi dances with Lakshmi and asks for a birthday gift that's a kiss. Lakshmi gets shocked.
Rano tries to use that opportunity and tells to Lakshmi that rich people are bad. Later Lakshmi will go to a room where Rishi present and he tells her that he have to thank the waiter for sending her here to take his birthday gift. Lakshmi gets tensed when Rishi walks towards her.
Can Lakshmi fulfill Rishi's wish? Can Rano change Lakshmi opinion about Rishi?
All these questions will be answered in the upcoming episodes.
To know what will happen next in your favorite show, keep checking this space for new and exclusive updates.