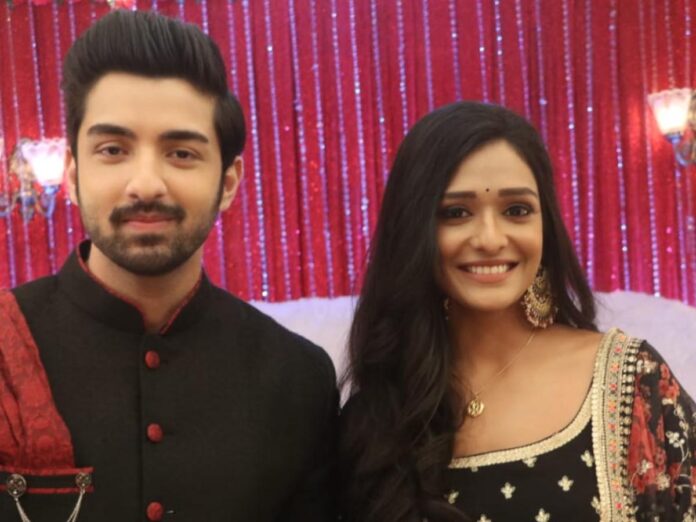 BhagyaLakshmi Upcoming Story, Spoilers, Latest Gossip , Future Story, Latest News and Upcoming Twist on Justshowbiz.net
The episode starts with Bani calling Lakshmi and asking if she is fine. Lakshmi says she is fine but Bani asks again and again if she is fine. Lakshmi understands that Malishka called them. Lakshmi says if Rishi gets engaged to another person so what she only come here for some time. Lakshmi puts the phone. Shalu says she is broken and this time it's because of her. Lakshmi starts crying looking at Rishi's photo and thinks it is my mistake to think this 1 year marriage is a relationship of 7 lives.
Virendra comes to talk to Rishi and says I know now you have grown up and you can make your own life decisions but as a dad, it is my duty when I think you are confused I have to talk to you. I only came here to say that whatever decision you take you have to think carefully. Ayush comes and jokes about Karishma saying that there is engagement of Rishi and Malishka tomorrow. Ayush says you can marry whoever you want and I will support you. Ayush asks how he feels. Rishi says if Malishka is happy he will also be happy.
Rishi goes into his room and he crosses Lakshmi at the door. Rishi asks Lakshmi if she doesn't want him to sleep here he can sleep somewhere else. Lakshmi says he can sleep here and she doesn't have any problem. Rishi also says if she is angry she can tell him. Lakshmi says she is not angry and says she is happy if he is happy. Rishi also says to remember what she said that she is happy with the decision he took. When Rishi is sleeping Lakshmi is seen to be crying by Ahana. Karishma and Sonia talk about Lakshmi and laugh at her. Lakshmi thinks if these 3 months are changed into 7 lives she will be ready as long as you are with me. I know you love Malishka. If you love me like that I will never leave you till the end.
The next morning Neelam asks the staff why the decorators have not arrived at till now. Karishma and Sonia talk to Neelam. Sonia says she does not have any clothes to wear. Neelam says there are a lot of clothes n her cupboard. Sonia says she will not wear old clothes and she wants designers. Malishka's designers are coming right I will talk to them. Malishka comes with the designer at that time. Malishka introduces her designer and says she is Richa. Sonia asks if she is the same Richa the one that designed all the celebrities couples clothes. Malishka says she is the one. Rishi throws his towel on the bed. Lakshmi sees it and takes the towel to hang it. Rishi asks if you have not changed your habit. Lakshmi asks me. Rishi says you take the towel I will take it after some time. Lakshmi asks in the night. You never take care of yourself. Rishi points out Malishka still likes me and that's the reason I like her. Malishka comes into the room with the designer Richa.
Malishka introduces the designer to Rishi and starts showing him the clothes. Lakshmi goes. Richa sees Lakshmi and says she did not know she was in the family. Richa says she will make an outfit for her. Richa asks Malishka you have not introduced her. Malishka says she is not that important. Rishi says she is important because of her we got together and I appreciate you more. Lakshmi says she has clothes. Rishi says no matter me and Malishka will choose an outfit for her. Lakshmi comes out of the room and sees that Ayush and Virendra are decorating the house. Ayush says if they are going to do the whole work. Ayush asks where are the decorators. Virendra says they have not come that's the reason we got this opportunity to decorate. Ayush mentions just like when Lakshmi decorated the house on your marriage anniversary. Virendra says you mention things where it hurts. Ayush says sorry.
Episode ends.