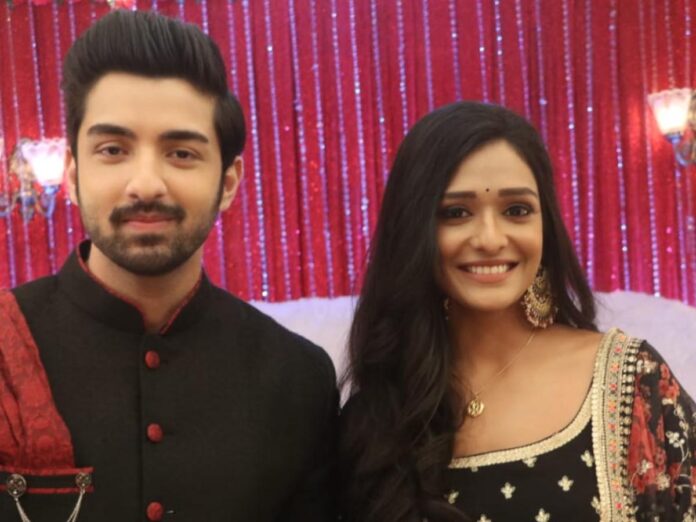 BhagyaLakshmi Upcoming Story, Spoilers, Latest Gossip , Future Story, Latest News and Upcoming Twist on Justshowbiz.net
The episode starts with all the family members selecting rings for the engagement. Neelam shows the ring that is selected for Malishka. Malishka says she likes it very much. Neelam says it is selected by Rishi. Malishka says thank you to Rishi. Neelam shows the ring selected for Rishi. Malishka asks how can you choose this kind of ring for yourself. Malishka says she will select a good one for him and selects one. Malishka keeps Rishi's ring with herself and gives her ring to Rishi for safekeeping. Malishka leaves to her house. Lakshmi stays in the room.
Rishi comes and asks why is the room this silent. Lakshmi tries to leave the room. Rishi says exactly what Lakshmi is thinking in her mind that Rishi is not going to engage with Malishka. He says everything will be alright and asks her if this is what she is thinking. Lakshmi says yes and asks how did he know. Rishi says because she is predictable. Rishi gives her back the ointment that she gave. Rishi also gives a thank you note and says she can sell it as it is given by Rishi Oberoi. Rishi leaves the ring on the table. Lakshmi tears the paper note to pieces and throws it in the dustbin infront of Rishi and asks him does he understand now the value of his thank you note.
Sonia comes and gives Rishi the dress and tells him to get ready. Sonia also tells Lakshmi to pack her bags and go away. Lakshmi thinks if she wants to go away why will she come. Lakshmi sees the ring and thinks it's beautiful. Lakshmi tries the ring. She recalls her engagement with Rishi. She is in tears and thinks it belongs to Malishka. She tries to remove it but it's stuck in her finger.
Rano tells Shalu and Bani that she will attend the engagement with them to have good food and Nek. Shalu says she doesn't have any heart. Rano says I have a heart that's why I allowed you guys to stay here and Lakshmi herself signed the divorce. Shalu says you know why she signed the papers.
Rano says she decided to attend the function. She asks them to wait and goes to get ready. Bani asks Shalu if they can stop the engagement. Shalu says Lakshmi di can stop the engagement if she listens to us then Rishi himself will back out from the engagement. Bani looks confused.
Rishi searches for his engagement ring. He sees it's with Lakshmi. Rishi tells her he needs that ring and removes the ring from her finger. Lakshmi says she is hurt. Rishi asks what about the wounds she gave him, it's like accounts settled. He leaves. Kiran praises Abhay for supporting Malishka to win over Lakshmi. Abhay says it's matter of Rishi and Malishka and stops your wrong thinking. They fight with each other. Malishka stops their fight. Abhay goes to get the car. Kiran says he is not a good husband and a good father.
Dadi asks what to answer first when guests ask why we are engaging Rishi again when he is married. Rishi says tell them that I'm going to get engaged to my love Lakshmi. He says it's good if I controlled myself in the court. Ayush, come there. Virendra says you're getting engaged to Malishka so your attention must be on her not on Lakshmi. Rishi leaves from there. Ayush follows him and gives him water.
Rishi says it's not like you think. Ayush says Lakshmi hurt you very much but however is Malishka, she didn't give you this kind of pain so it's final. Rishi says he is thinking the same and asks why she didn't come. Ahana says she will get ready as it's her special day. Rishi says it's a special day of mine and Malishka and I'm talking about Lakshmi. Ayush smiles.
Episode ends.