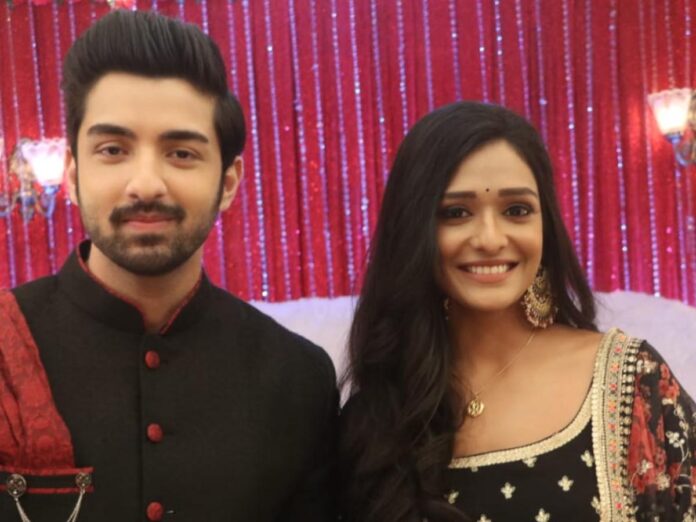 BhagyaLakshmi Upcoming Story, Spoilers, Latest Gossip , Future Story, Latest News and Upcoming Twist on Justshowbiz.net
The episode starts with Balwinder thinking to himself that he is going to throw these fire embers on Lakshmi then he will see who is going to marry Lakshmi. Rishi pours water on the fire and asks Balwinder what is he thinking of doing? Balwinder asks Rishi if all of them are together in this? Dadi thinks Rishi was here all the time and he came now to save Lakshmi. Virendra also agrees. Malishka comments on Rishi to Neelam. Neelam agrees. Rishi beats the crap out of Balwinder. Balwinder's friends try to help Balwinder but Virendra stops Balwinder's friends and says if they try to help Balwinder then he will throw them in jail. Balwinder's friends leave from there. Balwinder's Chachi also says to Balwinder that this is fate and asks Balwinder to accept the fate. Balwinder's Chachi gives Sindhur to Balwinder and asks him to apply it to his wife. Balwinder says no. Rishi beats Balwinder up. While they struggle Sindhur goes into the air and Sindhur falls on Lakshmi's head. Rishi beats up Balwinder.
Kamli pleads Rishi to leave Balwinder as she is his husband. Rishi says to Balwinder that he doesn't deserve Kamli as his wife and says to Balwinder from today on Kamli is his sister. Rishi warns Balwinder that if he did anything to Kamli then he will throw him in jail. Rishi asks Balwinder to leave. Kamli takes Balwinder from there. Virendra and Dadi praise Lakshmi for what she did. Neelam comments on Lakshmi. Lakshmi says to Neelam that whatever she did is for Kamli and says Kamli tried to commit suicide and says whatever she did is for Kamli. Neelam still misunderstands Lakshmi and blames Lakshmi for calling them and deceiving them. Virendra asks Neelam why does she always misunderstand Lakshmi. Dadi also comments on Neelam. Rano asks Lakshmi now what will they do as everyone knows Lakshmi will marry Balwinder. Shalu and Bani try to explain to Rano but Rano asks them to shut up. Ahana also defends Lakshmi and asks Rano not to close her eyes. Rano says they can tell all these as they are rich. Rishi asks Rano to stop. Neelam asks Rishi not to talk. Rishi apologises to Neelam and says he has to talk. Rishi says to Neelam that Lakshmi didn't do anything wrong and says he deceived Lakshmi by marrying her and reminds Neelam what she did for him and how many times she saved him. Rishi says from now on he is going to take care of Lakshmi. Rano argues with Rishi about it. Malishka also says to Rishi there is no relationship between Lakshmi and Rishi as they are divorced. Rishi says they have a relationship that he can't explain. Malishka asks Rishi if he is going to marry Lakshmi. Rishi says he doesn't deserve Lakshmi. Rishi says he is going to find a good guy for Lakshmi and marry her to a good guy.
Rano asks Rishi that he should first ask what his family thinks about it. Virendra and Dadi support Rishi's decision. Rano asks Rishi if he is going to take Lakshmi to his house. Rishi says yes and says he is going to take Lakshmi to his house. Neelam objects to Rishi's decision. Rishi asks Neelam not to talk about this matter and makes Neelam swear on him. Lakshmi says to Rishi that she is not a toy that he can do whatever he wants with her. Rishi says to Lakshmi that he will find a good guy even if she doesn't like it. Rishi asks Lakshmi to come with her Lakshmi says she will not come with him and leaves from there. Rishi goes after Lakshmi and asks whats she doing. She asks what's he doing. Rishi says he is fulfilling his responsibility and asks her to give him one chance for repentance. Lakshmi says there is no right to stay with him and asks him to understand her situation. Rishi says it's for them. Lakshmi doesn't listen and leaves.
Shalu and Bani pack luggage and discusses Rishi loves Lakshmi so much. Bani says Rishi wants Di to get married to another, what kind of love it. Shalu says he didn't realize his love and if he does it then he stops Lakshmi. Lakshmi comes there and asks why they are packing her luggage. It's shown Rishi is waiting in the Hall. Shalu and Bani ask Lakshmi to listen to them and they go out with the luggage. Rishi sees them and goes to meet Lakshmi. In the room, Lakshmi says why Rishi is stubborn, I can't go back to his life again. Rishi comes there and asks why. Lakshmi says she is angry at his stubbornness. Rishi says he is correct in his point. Lakshmi says she doesn't want to come in between him and Malishka. Rishi says their life is set and tells her that he wants repentance and that will happen when I make you get a life partner like your dad wished for you. Lakshmi feels emotional recalling her dad's words.
Episode ends.