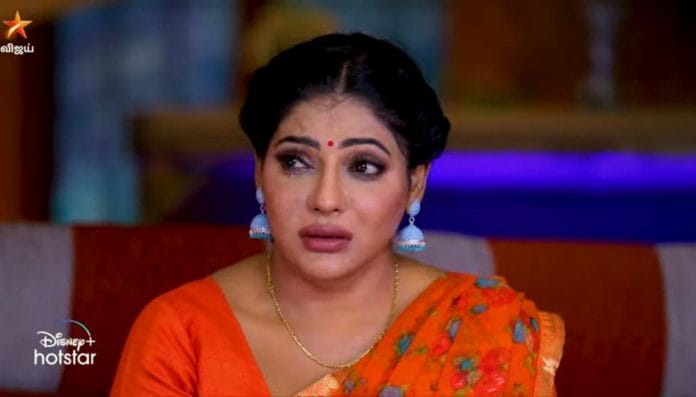 Bhagyalakshmi Spoilers, Upcoming Story, Latest Gossip , Future Story, Latest News and Upcoming Twist on justshowbiz.net
Vijay Tv's popular show Bhagyalakshmi currently focuses on Bhagya's career and Gopi's affair with Radhika. Earlier its seen that Radhika decided to not interfere in Bhagya's life. Now it will be seen that Radhika's mother will ask her to act selfish for her life.
Previously we have seen that, Bhagya visited Radhika's house and found Mayu sad. When asked the reason for it, Mayu said about Radhika throwing her fiancee out of the house angrily. Bhagya questioned Radhika about the same and Radhika said that her fiancee cheated on her by lying about his family to her. Bhagya asked who told her about the cheating and Radhika said that he himself told it. Bhagya reasoned that if he himself confessed the truth then there might be possibility that he's somewhere good.
She expressed her wish to see Radhika married and Radhika was touched by her pure heart. She decided to never be a hindrance in Bhagya's life. Gopi once again visited Radhika's house to explain things to her but Radhika paid no heed ti it as she can't betray Bhagya. Mayu was upset as Gopi and Radhika fought and expressed her fear. Bhagya found Gopi distressed and her suspicion deepens.
In the future episodes we will witness, Ezhil's film will reach his final stage for release. Radhika's mother will visit Radhika who will say about Gopi betraying her. Her mother will get angry thinking that Gopi left Radhika but Radhika will clear that he didn't leave her but whatever he told about his family was false. She will say that her best friend Bhagya is his wife and she can't betray a good person like her. Her mother will ask her to act selfish and not think about Bhagya. She will say that Mayu already thinks Gopi as her father and they can't break her heart. Radhika will be against it but get mother will ask her to act wise and save her life.
Will Radhika listens to her mother's words? Will Radhika accept Gopi betraying Bhagya? Will Bhagya learn that Radhika is Gopi's lover?
All these questions will be answered in the upcoming episodes.
To know what will happen next in your favourite show Bhagyalakshmi, stay tuned to this space.