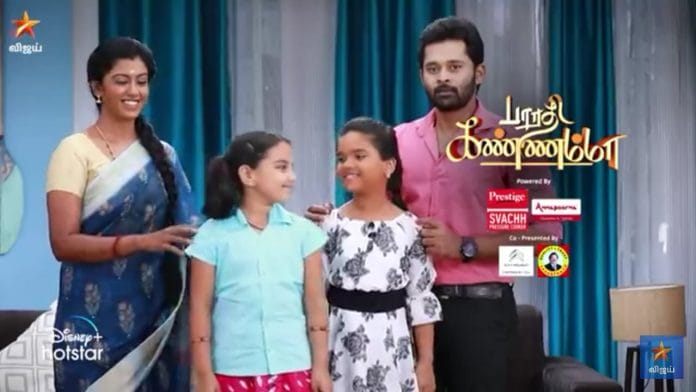 Bharathi kannamma Upcoming Story, Spoilers, Latest Gossip, Future Story, Latest News and Upcoming Twist, on Justhowbiz.net

The episode starts with Soundarya, she worries about Bharathi's attitude. She calls to Bharathi and enquires him what's bothering him? Bharathi complaints that she couldn't find out the reason yet. He shares to her that Kannamma playing drama with him.
She informed to Hema about divorce matter and black mailing Bharathi to live with her. Soundarya assures to him that Kannamma is not a person to think like that. Bharathi complaints that he left from home early not able to face Hema's question. He asks them to congratulates her for made her plan successful.
Soundarya calls to Kannamma and enquires her what happened in hospital? Kannamma assures to her that she didn't shared anything to Hema but Bharathi scold her. Soundarya asks her Is Lakshmi shared it to her? Kannamma denies it reasoning Bharathi whom talked with Lawyer about divorce Hema heard it. She learnt everything through him but he was accusing all here.
Soundarya notices Hema there. She enquires her who is her mom? Doesn't her dad gonna divorce her mom? Soundarya enquires how did she learnt this? Hema narrates to her what actually happened? Soundarya asks her to Confront Bharathi about it then he will answer her. Hema complaints that he is not answering her.
Soundarya demands her to keep questioning him he will definitely answer her. Hema nods to her. Later Rohith takes Venba to movie. Venba gets irritate to hear Rohith's singing. She asks him to stop singing. Rohith is keep irritating her. He stops the car seeing the accident. Rohith demands her to help that person but she denies it. He pressures her to get down and helps her.
Venba checks him and finds that patient is unconscious. She informs to him that he will survive only 10 minutes. She tries to call ambulance but Rohith lashes out at her for thinking in that way. He asks her to take him in her car. She complaints that blood stain will be in her car. She washed her car recently.
Rohith scolds her for stoop low. He brings him to car and scolds Venba to take him to hospital. Venba hesitates to go to Bharathi's hospital but he demands her to stop the car. Rohith admits him in hospital. Kannamma comes there which makes Venba shocked. Rohith narrates to her what actually happened there. He appreciates her for admitting him without considering formality.
Kannamma assures to him that they will take care of him. Rohith takes Venba out forcefully. Kannamma gets surprise to see Venba there. Kannamma pretends like she doesn't know her. Venba thinks Kannamma will think badly about her. Rohith thank Kannamma for saving patient. Kannamma asks Rohith to introduce Venba to her. Rohith introduces her as his wife which surprised Kannamma. She congratulates them in teasing way.
Episode end