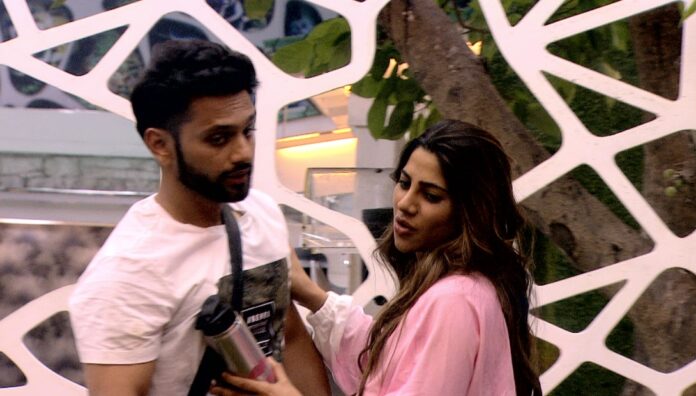 Bigg Boss 14 Spoilers, Upcoming Story, Latest Gossip , Future Story, Latest News and Upcoming Twist on Justshowbiz.net
Today's episode opens with Day 32 at 8 AM; Housemates wakes up at beat of energetic song.
9:45 AM; Nikki and Eijaz goes to BB Mall. Nikki tries dresses. She shares a talk with Eijaz and says she wants to become captain this time. Jasmin says captain can't gift things from Mall and can only use. Eijaz says he made this rule to give gift.
10:30 AM; Alarm rings. Jasmin says Pavitra is sleeping. Pavitra wakes up and says she is having backache. Eijaz press Pavitra's back. Pavitra get upset with Eijaz for giving reward to Nikki. Eijaz says by giving reward he wants to set an example of the house.
11:15 AMl Eijaz, Abhi and Jasmin shares a talk with each other. Jasmin asks Eijaz he is playing well. Eijaz says he is now understanding a game.
1:30 PM; Jaan says to Eijaz that he waited for three days. He says to Eijaz he is a moody captain. Bigg Boss tell to the viewers', Jaan is asking Eijaz BB Mall access and arguing with him post he refuses to give him. Heated argument happens between Eijaz and Jaan.
1:45 PM; Nikki and Shardul learns Eijaz gave Abhinav BB access because he gave him haircut.
2PM; Nikki gets disappointed with Eijaz for giving access to Abhi and not to Jaan. Eijaz says because Abhi did what he asked him to do so, he is allowing him. Later, Jaan and Eijaz argue again. Jaan gets upset for Eijaz's decision of giving access to Abhi.
Ahead, Jaan discuss with Nikki and says they trusted Eijaz and made him captain. Now captain can't use them to the level. There, Abhi give Eijaz a haircut.
3:45 PM; Eijaz praises the food cooked by Jasmin.
4 PM; Bigg Boss announce about nomination. He says Eijaz is saved from this week nomination because he is captain of the house. Bigg Boss gives privilege to Eijaz to save one contender. Eijaz saves Jasmin from the nomination. He gives the reason that Jasmin came now from red zone and he don't want to send her back to the zone. He quotes she also cook good food thus he wants to give reward to him. Jasmin gets happy. Bigg boss congratulate Jasmin and explains nomination task. Contenders are asked to fetch 'oxygen' mask to get save from nomination.
4:15 PM; Contenders makes the task strategy. There, Naina says to Jasmin, Eijaz played the game. Jasmin says decision was in her favour. Naina says Nikki's face was made. Later, Abhi says Eijaz wasn't knew about the task thus, he saved her.
4:30 PM; Bigg Boss asks Rahul and Nikki to sit on the spaceship to start the task. Rahul and Nikki face-off happens. Rahul asks Nikki to keep the mask in the middle to play fair because she fetched the mask before he entered the ship. Nikki defends herself. Rahul says he feel she wants one assistant in the house. Rahul ask Nikki to keep the mask else he will snatch. Nikki asks him to snatch. Later, Nikki keeps the mask inside her pant. Rahul says she is playing dirty. Buzzer rings, contenders accuse Nikki for playing dirty. Rahul cries. Pavitra, Jasmin, Nikki, Rubina all accuse Nikki for keeping mask inside the pant. Naina says to Nikki she is testing boy patience. Jasmin says to Rahul by not defending back he won the heart and task too.
5 PM; Bigg Boss says Nikki has the mask at the end of the task thus she is saved from the nomination. Rahul gets nominated. Rahul accuse Nikki and says her real shade has come out today.
5:15 PM; Rahul goes to red zone. Shardul and Naina ask Nikki not to chant he is not visible and she is not visible. Nikki gets irked and says she kept mask inside her dress and not in his pant.
5:30 PM; Shardul and Jasmin shares a talk with each other. Shardul tells to Jasmin that he don't have outside this house. Jasmin asks to earn respect from this platform. Ahead, Bigg Boss asks Shardul and Naina to sit on the spaceship. Shardul and Naina face-off happens. Duo tries to prove who is more deserving. Buzzer ring; Naina and Shardul both gets nominated and shifted to red zone.
6:30 PM; Pavitra and Nikki talks with each other. Pavitra cries and says Eijaz played game today. She says he shown her place. Pavitra says Eijaz gave wrong reason for saving Jasmin. She says she cooked for Eijaz. Pavitra cries and says she is not going to forgive Eijaz. Nikki pacifies Pavitra. Pavitra decides not to perform the task.
6:45 PM; Pavitra cries in the washroom. Nikki tries to console Pavitra. She asks Pavitra not to give up. Pavitra yells and says Eijaz took advantage of her emotions.
Later, Bigg Boss asks Abhi and Rubina to take their spaceship. Abhi takes the mask first. Nikki gets happy as Jaan and Pavitra will be next. Pavitra cries loudly. Rubina says to Abhi to take mask because she can survive in any condition but not without him thus he should take the mask. Abhi tries to convince Rubina to take the mask.
There, Pavitra cries and Jaan console her. Nikki says Kavita was right. Pavitra says she will show now to Eijaz. Here, first buzzer ring, Eijaz and Jasmin ask Abhi and Rubina to gear up. They ask one to pick up the mask. Abhi tries to convince Rubi to pick up the mask and vice versa. Last buzzer ring and Rubina gets nominated yet again as, Abhi takes the mask. Rubinav hugs each other.
Bigg Boss announces; 4 contenders reached the red one thus, nomination task gets over. Rubina, Rahul, Naina and Shardul get nominated. Further, Nikki and Jaan discuss about the duties.
Later, Jaan and Pavitra praise Rahul by keeping respect of the girl by not touching her. Bigg Boss announce in the house only Hindi is required. Pavitra asks Jaan not to speak in English. Pavitra asks Jaan not to. Eijaz comes and gets angry on Jaan for speaking in English. Jaan says it was Pavitra. Eijaz and Jaan argue with each other. Here, Jasmin, Rubina, Abhi and Naina share a talk with each other. Jasmin says she wants to become a captain.
Other side, Nikki avoids Jaan. Jaan asks Nikki why she is behaving odd. Nikki says it is not like that. Heated argument happen between Jaan and Eijaz yet again. Jaan calls Eijaz 'mad'. Eijaz asks him to mind his language.
11:45PM; Nikki says to Eijaz she is talking with him thus, he is angry. Abhi too join the duo. Eijaz says Jaan is saying he made him captain. There, Jaan shares a talk with Pavitra. He says Eijaz is flaunting post becoming captain.
1:45 PM; Shardul talks with Eijaz and says he will leave the house this week. Eijaz pacify with Shardul and asks him why he didn't fight back with Naina. Episode ends with Shardul rescuing an insect and watching it.