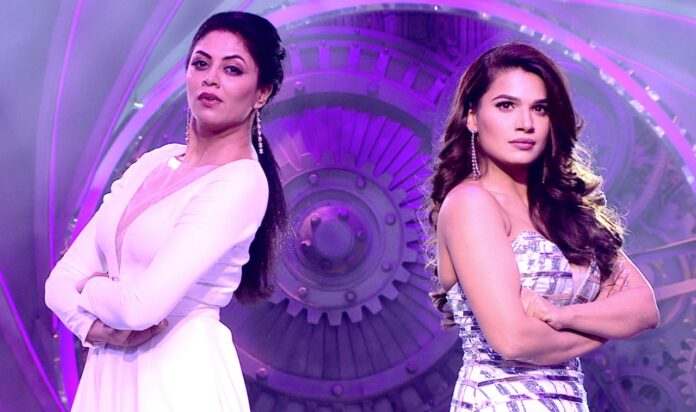 Bigg Boss 14 Upcoming Story, Spoilers, Latest Gossip , Future Story, Latest News and Upcoming Twist on Justshowbiz.net
Today's episode opens with Salman Khan enters the stage and welcome the audience. He meets the contestants and shares a talk with Rubina and Jasmin. Rubina praises Jasmin. Salman suggest Jasmin to laugh more and cry less. Rubina tells to Salman that Jasmin cried for Briyani last night.
Salman calls Jasmin 'TV ki Katrina Kaif'. Ahead, he tells about wild card entries. Salman tells they are inside the house. Nora Fatehi and Guru perform a song and dance. He tells Nora was wild card entry of Bigg Boss season 9. Salman shares the memory of Nora inside the house. He praises Nora and Guru both. He makes both to meet Bigg Boss 14 contestants. Guru praises the contestants. Nora gives the task to boys of the house and asks them to tell who their 'dil ki rani' is? Rahul takes Nikki's name. Eijaz takes Nora's name and adds he don't have chemistry with anyone inside the house. Guru asks to Jaan. Jaan takes Nikki's name. Salman gives Rahul, Jaan and Guru to perform a task. He asks them to sing a song. Salman sings 'didi tera dewar diwana' song.
Further, Nora and Guru teach inmates hook step of 'naach meri rani' song. Contestants perform along with duo. Ahead, Nora asks boys of the house to perform hook step of 'Garmi' song. Everyone enjoys. Salman asks Nora what she is making them to do. All laughs, Nora praise Salman and say none other than him can perform 'Garmi' hook step flawlessly. Before leaving, Nora and Guru alert inmates to be careful about the upcoming 'garmi' inside the house. On the stage; Salman welcome two wild card entries. He says both are known television faces. Kavita Kaushik and Naina Singh enter the stage.
Salman Khan shares a talk with Kavita and Naina. He asks who is more confident amid the duo. Naina takes Kavita's name. Kavita says she was before meeting Salman. Naina says the same. Salman praises Kavita and says none other than her can ever play 'lady cop' this good and he is big fan of her. Kavita thanks Salman. Later, Salman Khan talks with Naina Singh. Naina Singh girls of the house are playing good more than boys of the house.
Naina and Kavita perform BB Q test given by Salman. He asks BB 14 related question to both. Naina wins the task. Next, Salman call third wild card entry and welcome 'Shardul Pandit'. Shardul shares a talk with Salman and tells about his RJ and VJ journey.
Salman makes Shardul meet Kavita and Naina. Salman calls trio new fresher's of the house. He further, plays BB Q task with Shardul too. Salman asks BB 14 related question to him too. As per the task Shardul is asked to give animal names to the present contestants. Pandit keeps his point of view for Pavitra, Jaan, Nikki, Rubina, Abhinav, Eijaz, Jasmin, Nishant and Rahul.
Ahead, Shardul praises Kavita and Naina. Shardul says he met Naina in a show and she sat on his lap. Naira asks Pandit to keep a check on his words. She gets frustrated with the word and says she will reply to Pandit inside the house.
Later, Salman makes Shardul meet Karan Patel and Ankita Bhargav. Shardul gets smitten seeing them. Karan and Anika cheers him. They also wishes luck to Kavita and Naina.
Other side, Nishant reads about a task given by Bigg boss. BB asks inmates to rate themselves who is visible on the screen in 60 mins episode. Eijaz says he deserves to get 23 min tag. Nikki, Rubina, Jaan defends and says he is visible for 9 mins. Eijaz refuses to take 9 min tag. Pavitra says she deserves 17 min time tag. Rahul and Jasmin defend and give 9 min to Pavitra. Eijaz supports Rahul and Jasmin. Jaan says he deserves 9 min. Rahul and Nikki defends. Nikki says Jaan deserves only 30 sec tag because he is not playing individual and just sing a song. Rahul says he deserves 9 min. Nikki, Abhi and Pavitra defends Rahul. Later, Niki says she deserves 23 min tag. She explains herself. Rahul, Pavitra, Abhi, Jasmin defend Nikki and says she deserves only 9 mins.  Bigg boss says if they are not able to decide mutually than can wear the tag whatever comes in their hand.
Abhi takes the most tags. Rubi gets 17 min tag and gets happy. Eijaz asks Abhi to give him 9 min tag but he refuses. Jasmin says she will not accept any tag other than 23 min. Rubi supports Jasmin.
On the stage; Salman says this time too inmates failed to come on mutual decision. He says he will lie to them that Kavita, Naina and Shradul is special guest and they will decide who is visible of how many mins. For 23 Mins; Eijaz and Pavitra's name Kavita, Shardul and Naina take. They further gives 17 mins tag to Rubina, 9 mins tag to Jasmin, 5 mins to Nikki, 3 mins to Jaan, 2 mins to Rahul, half min to Abhi and 1:50 min to Nishant. Later, Salman reveals Kavita, Naina and Shardul are new fresher of the house. Eijaz and Pavitra get happy.
Ahead, Salman asks present housemates to decide amid the three wild card entries; who should be in red zone?
Back on the stage; Salman says to Kavita, Shardul and Naina that voting is done. Based on that Shardul and Naina get equal vote and Kavita get 1 vote. Kavita becomes the captain of the house. Kavita thanks Rubina. Salman bids the adieu for the day and send Kavita, Naina and Shardul inside the house. Housemates meets trio. There, Rahul says every weekend Bigg Boss turns the scene. Eijaz gets happy seeing Kavita. Abhi shows house to Kavita. Shardul and Pavitra shares a talk with each other.
Kavita shares a talk with Eijaz, Pavitra and Nikki. They discuss about Rubina, Abhi and other participants. There, Naina meets Nishant, Jaan, Jasmin and Rubi. Other side, Nikki and Rahul discuss game strategy. Here, Pavitra and Eijaz think they can't give their screen space to anyone.
Episode ends with Salman asking all to watch BB mon-fri and wishes them 'Happy Dusshera'.