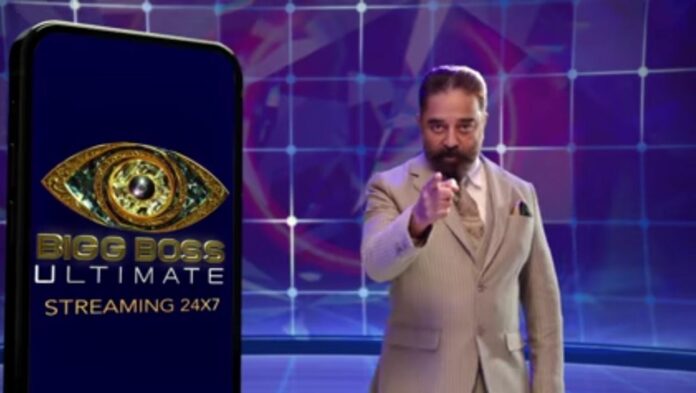 Bigg Boss Ultimate Tamil Upcoming Story, Spoilers, Latest Gossip, Future Story, Latest News and Upcoming Twist, on Justhowbiz.net
The show begins in Day 25 at 8.00 Morning wake up song plays at the house and housemates starts dance for the song " Sorkkama" then greets each other.
At 10.10 am, Abirami asks to Sruthi where is Thamarai? Sruthi tells her she went to fold the bed sheet. She complaints that she didn't helped them to fold it when they were together. She shares to Balaji that she wanna change the team for them reasoning its hard for them to clean and wash vessels using one hand. Cooking works seems easy to them. She adds that she don't know cooking just helping her to cut the vegetables. Thamarai comes there. Abirami asks to her where did she went? She says to her that they didn't fold the bed sheets that's why went to fold it. Abirami asks to her why did she done it that was their job? But she is not helping them to fold the bed sheets at all. Thamarai says that she folded her clothes yesterday.
Balaji asks to Thamarai Is anyone cleaned this living area after she became a captain? She says to him she herself done it. Balaji says it's mess now why don't she call the cleaning team to clean it? Doesn't Abirami helping in kitchen? Thamarai adds that they are adamant not to do other works then their own work. Balaji says that cleaning team should clean what are they discussing there instead of cleaning it. Thamarai adds that only few are doing their work. He asks her to call them to finish their work.
At 12.00 Thamarai requesting tree to give apple to her. It denied it and says if she ask this how will he gives it? She wanna give valid reason to it! Thamarai says that demons are torturing them a lot so she feels this apple will help her to control them. She will accept both positive or negative in it. Here Abirami is applying charcoal on Bala's face reasoning he looks so far he should look black in it. Niroop gives shaving foam to July to use it on angels. July throw shaving cream on Bala. He asks her to do his job first after that they can do it. Here Thamarai still requesting to Tree. July throws shaving cream on Sruthi and Snehan. Niroop is irritating Thamarai and interrupting her conversation with tree. She is requesting to Tree that she believes it will help her. Niroop tells her that tree won't be convinced so it's waste of time to convince it. As an angel she can understand they won't lie then why did she requesting to it. Tree asks Thamarai to come later reasoning her words are not convincing at all. Meanwhile July sits in blanket and demands Bala to pull it. He is pulling July.
At 12.25 pm, Thamarai complains to Bala that Tree didn't give apple to her at all. Bala says that she wanna convince it instead of talking sweet to it. Bala asks her to move he wanna talk with the tree. Niroop says that he is asking apple for second time doesn't he know only person can able to get only one apple in a time. He tells him he is doing it for his group. Niroop mentions him as greedy person. Thamarai says to Bala she didn't get the apple. He tells her may she don't get this apple but she get chance In Samuthrakani's movie. Niroop tells her she wanna laugh for it because it's a joke.
At 12.35 pm, Thamarai says to Niroop she is going to get apple. He says to her it won't give it to her doesn't she get enough insult from it? Just then Bigg Boss announces that luxury budget task first round is over now team can swap and continued the game after buzzer plays. He asks them to place their clothes in store room. Snehan shouts in excitement and says now talk. Let's see how he gonna treat the angels.
At 2.15 pm, Sruthi asks to Niroop what is he expecting from them? He says to her that verbal abuse and make them eat egg something like that. They wanna make them cry or else they will bring last season matters here? Thamarai asks him doesn't he know what did they said to her in task? She will share it after the task. Sruthi says to her its a task so don't confuse herself. If she take small things to her heart then its waste to conduct this task. Bigg Boss asks Snehan to wear his mike.
At 2.40 pm, Thamarai shares to Bala what did Niroop and Anitha said it to her. Bala says to Snehan that Niroop character got changed he was only thinking about game but not others feelings. He was keep following her rules. He was arguing to don't touch her things when it comes to him he didn't said anything like that? He intentionally said it then only they won't touch it all. Snehan to agree with it. Bala adds that thunderstorm is not matter to him at all. He will show to them what he is capable to do.
At 3.25 pm, Thamarai orders Sruthi to tortures them. Snehan asks July to sing. Thamarai asks to her Is she kid? Thamarai pushes her down and and demands Balaji to open his mouth. She complaints that he was insulting demons here. She orders him to open his mouth and threatens him to put egg into his mouth. Bala puts shampoo on Anitha's head and throws washing powder on Abirami. Then he throws it on Niroop. Niroop says that he wishes to take bath but they are helping him to take bath. Thamarai demands Balaji to don't open his mouth and talk.
At 3.45 pm, Bala complaints to Anitha that she was keep adding fuel in fire. She pretends like questioning him but never wait till he give explanation to it. Then she will convey it to others. Anitha asks him to give one incidents. He brings the toy task there. She complaints that he only helped Shariq in that game not Thamarai. He says to her that he put deal with Shariq on that day how will he betray him. Anitha says that its his deal. He complaints that she didn't waited to hear his explanation and giving her own comments there. Thamarai demands Balaji to praises Demons there and laugh with her. Anitha says to Bala that she is getting itching because of washing powder it's inhuman to her. He adds that its a task no-one should help her its her task. Sruthi comes to help her but he ask her to show her friendship outside. Bala asks her to wipe out the washing powder. Bala brings another captaincy task issue there. Here Thamarai irritating Abirami.
At 4.05 pm, Snehan makes July blind fold and asks her to eat onion. He said her eat it full. She says to him that she is full. He demands her to eat it. Abirami keeps irritating him but he warns her that if she disturbs her then he will ask her to eat biriyani. But she didn't give heed to him so he asks Thamarai to bring Biriyani to feed her. Abi says that she don't like biriyani at all. Snehan asks her to keep quite. Sruthi asks Abirami to eat green chilly she eats it. Snehan asks July to eat Green chilly. She starts crying after eating it due to spicy. Snehan asks her to drink water and lick lemon. She follows it.
At 4.50 pm, Phone rings in garden area Snehan attends it. Bigg Boss says to him that it's a secret task to Thamarai. If she finishes this task she will get 2000 points. Bigg Boss asks Thamarai to make July remove her lens by herself not then. She can take demons helps to do it. But demons shouldn't share this to Angels. She nods to him. Bala says to Snehan that she was keep accusing him cornering her? If one group cornered her means she can say it to him. Snehan says that if someone keep complaining about their game also it will disappoint them and stops their energy. He tries to explain it many times but no one listening to it. Sruthi asks to Thamarai what was the secret task. She says to her she will share it after they finish it. Snehan says even after he gave his explanation too she is keep saying he was targetting her so he leave that matter. Bala says that she mentioned him as cunning in FIR but still she is keep bringing that topic. Sruthi argues with him to stop discussing about it now let's discuss about secret task first. Bala asks her to stop showing partiality she can do her friendship outside. Both Bala and Sruthi are arguing with each other over this issue. Anitha hears them mentioned about secret task. Later Snehan Convinces both of them and learns what's the secret task from Thamarai. She wanna make July remove her lens by herself. Bala says it's a simple task.
Snehan calls Balaji there Anitha alerts July that Bigg Boss gave secret task to Thamarai. Demons pretends like torturing Balaji. Meanwhile Bala takes July inside the bathroom and tells her he gonna throw soap water on her so its better she remove the lens from her eyes. It may damage her eyes. She nods to him and removes it.
At 5.35 pm, July keeps torturing Snehan by singing. He says that she is talking too much so he poured soap water on her and tries flour on her.
At 6.00 pm, Balaji says to Abirami that poor Demons are pretty tired but still they are full energy. Abirami is dancing there Balaji giving lights to her.
At 6.45 pm, Bala asks Balaji to drink raw milk. Niroop comes there and says to him its already decided if they don't like it they don't wanna do it. Balaji denies to drink it. Bala and Snehan keeps lashes out at him for interrupting their task and creating unnecessary problems there. Bala makes Balaji drinks the raw egg.
At 7.00 pm, Sruthi reads the new information from Bigg Boss. Housemates wanna share what's in their house. What's right and wrong using this chance. Housemates shares their points of view one by one.
Episode end.
Click to read
Bigg Boss Ultimate Tamil 24th February 2022 Written Update: Will Housemates's Effort Bear Fruit?