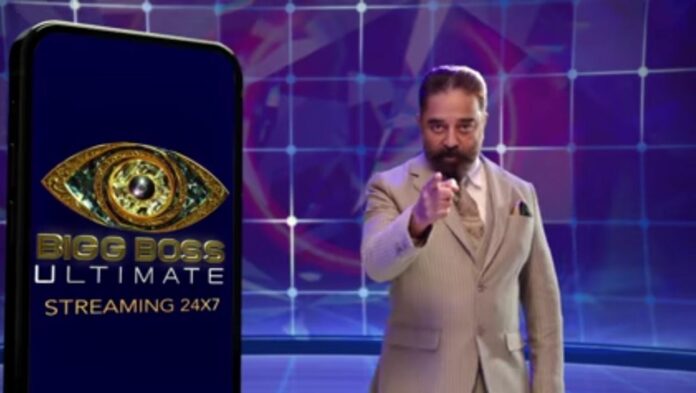 Bigg Boss Ultimate Tamil Upcoming Story, Spoilers, Latest Gossip, Future Story, Latest News and Upcoming Twist, on Justhowbiz.net
The show begins with Simbu enters on stage and greets the audience. He says that Housemates used to do their task fair. This time they got many task and they performed their task well this time. It seems they got the final fever. He starts talking with housemates through plasma TV. Simbu asks Dheena and Sandy to share their experience inside the house. Dheena makes fun with the housemates. Sandy adds that all are seems good and whole week was fun with them. He advised them to be like this. Simbu says that its doubt. Simbu appreciates him for taugting dance to the housemates. Simbu appreciates the housemates for danced well in the task. Simbu teases Satheesh for sang in the dance task. Simbu asks them which task fun to them? Ramya says that all task is fun to them. Simbu adds that audience don't get the fun from them.
Simbu asks Sandy to find out the difference in this season and his? Sandy answers him that all are funny character here but they are carrying their baggage with them after the task too. He asks them to stop dragging the issues and solve it in task. Sandy teases Ramya for giving counters inbetween the conversation. Simbu asks Dheena to say about his friend? He says that he was mood off after he came here he was active whole week. He adds that he is not understanding they intellectual jokes. Simbu imitates Satheesh there and makes fun with him. Sandy says that its hard to make Satheesh understand what's going on here. How to play inside the house. Later Dheena and Sandy imitates Thamarai and Niroop's fight there. Everyone laughs out their heart seeing their performance. Simbu adds that Sandy and Dheena to stay inside the house one more week to entertain audience. They denies it but Simbu asks them to keep entertain audience and get retirement in next week.
Simbu enters into stage after a short break. Simbu asks Sandy and Dheena to check whether they get their suitcase or not? Sandy asks him to leave them. Simbu asks them to complete the task then he will decide where to send them out or not? Simbu asks them to give dubbing to some clips like season3. Bigg Boss plays some video clips Sandy and Dheena are giving dubbing to them. Housemates appreciates them for dubbing well. Simbu adds that he got tears out of happiness.
Simbu asks them to share about car task? Ramya says that its so smelly task. Bala adds that he got leg pain. Simbu says that Satheesh got out from car then giving dialogue here? Simbu questions them Is they understand what's car task? Niroop says that they wanna convince the housemates to get down from car. If they don't agree with it they wanna vote against him? Simbu questions them in which basic they gave voting there? Simbu complaints that they were argued in the task instead of playing the task. What's the need to argue there unnecessary? He says that they don't understand the game at all.
In this task they wanna find out who is the strongest player they can't able to convince at all? They wanna vote against him instead of targeting a weakest player? Who is like that in the task? They mention Bala name in it. He questions them why didn't they voted against him? He asks Thamarai why did he gave up for Bala? Why don't she think about the people whom voting for her and play for them? He asks her to stop bringing their friendship inside the task. It's her game she wanna play it. Simbu questions July doesn't he said her to stop dragging the issues? Just solve it on the spot. She said whatever on her mind he is not complaining about it. But what's the need to drag this issues.
Simbu asks Bala to share his strategy here? Bala says that he denied to take vote because he knew they will vote him out first. Unexpectedly Niroop went out so he used his strategy to convince them and sent one by one taking their points against them.
Simbu says to Abirami that yesterday they done court task? There she questioned them whom she dependent to? But after the task she chose Bala as her partner? Doesn't she done the same yesterday? He advise them to stop depending on others and plays their own game.
Simbu complaints to Bala that he feels he bring his friendship in the court task that's why he didn't argued there. Housemates too agrees with him. Bala clears to him that he don't wanna assassinats her character her. Just for a task why should he bring her down it's unfair to him. Layer He conduct court task there. Ramya and July argued against Satheesh meanwhile Dheena and Sandy supports him in irony.
Buzzer plays Dheena and Sandy apologize to audience for supporting Satheesh without option. Simbu asks to them Isn't they need video? They nods to him. July says that Satheesh will say people laughed seeing this argument that's enough to him. Simbu agrees with it.
Simbu plays video for housemates. Housemates laughs seeing the way Satheesh played in the task. Sandy apologize to audience for supporting Satheesh without watching the video. Simbu asks him Is he here to play video game? Neither he didn't play the game nor let her play the game? Satheesh says that he don't understand the game.
Simbu advise Bala to play the game safe without aggressive. He was playing aggressive in all task. Niroop is men do he will bear it but when it comes to ladies he might be careful. Bala says that he didn't expected this happen. He was holding the flag she was holding the edge. He never expected she will fly like this. Simbu adds that he is saying about the safety of the housemates. Its happening twice in the house that's why he is mentioning it again. Simbu appreciates Thamarai for playing bravely. Thamarai says that she was determined to take Bala's flag. She adds that he didn't pushed her intentionally. Simbu adds that they can't able to blame him after something happened to them. He is asking him to stop his aggressive way in task. He nods to him.
Simbu asks to housemates whom done the Time keeper task for 2 hours? July raised her hands. He teased them. Simbu appreciates Bala and Niroop for counting the time accurately in the Time Keeper task. He asks them to pair up like this hereafter because they looks nice together. He asks the housemates to try with different partners. Sandy and Dheena dedicates special song for Simbu. He thank them and appreciates them.
Simbu asks them to play one task. This is irony task. Two housemates wanna praise other in irony way. Ramya and Thamarai finishes this task in entertaining way. Later Niroop and Abirami played this task. Sandy makes fun with them. Simbu advised Niroop and Abirami to bring outside matter. It's won't look good if they bring their personal matters here. Abirami apologize to him. Later Satheesh and July plays Irony task. Simbu appreciates them for nailed it. Then Bala and Sruthi plays the irony task and entertain the audience.
Simbu asks to Bigg Boss Is they send Sandy and Dheena's suitcase inside? They request him to send their bag. Audience asks them to keep them inside. Simbu says that they are asking them to stay inside so stay there. They pleads with him so he asks them to come outside. Simbu welcomes them on stage and asks them to share their experience inside the house. Simbu says that everyone might understand the importance of the stage. Simbu says that he came to cine industry because of his parents but these two came to this platform with their own hard work and talent. Sandy thank Simbu for helping them to became fame like this. Sandy advised to all housemates one by one. He advise to Bala he don't need to worry about what people think about him. He has humour sense but he is playing hard here. He says that Niroop is a kid here. He appreciates July for showing her talent there. Dheena and Sandy asks housemates to take this opportunity to build these future. Stop dragging their issues and show their talent in this show it will definitely help their future.
Simbu thank Dheena and Sandy for coming here. He asks Simbu to give a performance to audience along with him. Simbu denies it reasoning he was pretty tired because of shooting. Song plays for them Simbu and Dandy gives a dance performance to all. Everyone claps for them.
Simbu says to housemates that hope they will understand what did he said to them? Let's meet in next week. Housemates asks him what about eviction? Simbu pretends like remind it. Housemates thinks there is no eviction this week. Simbu adds that he gonna save one person here. He ask Satheesh to come out reasoning he gonna save Bigg Boss from him. He says that there is not enough time so he don't need to come to stage. He can go out through main gate after talk with housemates. He asks him to give currency to his favourite person and take his bomb outside. Satheesh shares to them what's in his mind.
Satheesh advise to housemates how to play the game. Satheesh asks them to give his dress to store room. He shares his currency with them. Bala comments that he never saw him this much happy yet? He advise them to play the task well. They gives happy send off to Satheesh. He goes out using main gate. Housemates bids bye to him. Simbu shares to audience that he feels this eviction this week. He says to meet them again next week.
Episode end.
Click to read
Bigg Boss Ultimate Tamil 26th March 2022 Written Update: Time Keeper task