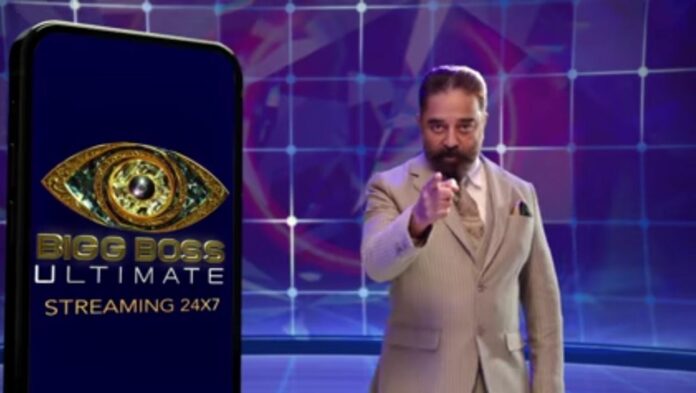 Bigg Boss Ultimate Tamil Upcoming Story, Spoilers, Latest Gossip, Future Story, Latest News and Upcoming Twist, on Justhowbiz.net
The show begins in Day 28 at 11.35 pm, Bigg Boss welcomes Satheesh and Suresh Chakravarthy to Bigg Boss house. They thank him.
At 11.40 pm, Suresh makes July sits beside him. He says to her that she don't believe what he gonna say? Bala asks to him Is someone crafted her statue? He tells him that they are ready to build temple for her why should she worry about that? Abirami and Bala gives chorus to her. Suresh says to her that Gemini took one famous movie earlier stage now he gonna take remake of it. July will do the main lead in it. Abirami and Niroop congratulates her but Bala smells something fishy and says he is reading her. Abirami says that he won't do that. Suresh mentions Avvayaar is movie name. July understands that he is teasing her and leaves from there. Bala laughs at her and asks him to say about her performance. Suresh says to her that whatever the situation comes she is facing it bravely he likes her boldness. He appreciates her for wearing good costumes always. Niroop asks him to say about him anything? He says to him that he performed well as old man then Baby role.
At 11.50 pm, Suresh asks to Sruthi whom said to her she was missing there? She mentions that person name to him. Thamarai asks her to say about her. He tells her that she said she don't know who is Saroja Devi? He tells her that Thamarai and her voice is inseparable one. He shares to her that he felt her being silent here that's why he gave that bomb to her when he left from here? Bala took care of her well. Sruthi asks to him Is he watched police and Thief task? He says to her he didn't watched it he had work on that time. He appreciates her for wearing good costumes always. Bigg Boss asks Bala to wear his mike. Balaji says to Satheesh that he wanna wear mike always except when he is using bathroom. Abirami and July asks Bala to do punishment for not wearing Mike. He says to her who is she to give punishment to him? He asks her to call the captain. July says he is the captain. He says let's devide the team she asks him to give 5 minutes to her.
At 12.25 am, Suresh and July are sitting in garden area. He says to her that few of them commenting her acting and some not whatever she doing in this house? But she wanna maintain her consistency here. She has the potential to do it. He appreciates her for not giving heed to anything and bring herself here people's are appreciating it outside. She wanna ignore many things here if she do it good fortune waiting for her outside. There is two different way to come up higher in life one is looking down on others and another one is playing her game by own self. Which one she gonna choose here? She says to him she is doing all her task well. He tells her that's enough what's bothering her then? He asks to her Is she face any hurdles in her task? She tells him that she never give heed to all. He asks to her Is she sacrificed for anyone here? She denies it. He tells her that's it she don't wanna worry about it just keep play her game. Bala calls them to come for discussion.
At 12.30 am, Bala congratulates all the contestants there for crossing 4 weeks successful inside the house. He thank Anitha, Niroop and Sruthi for making him win in the captaincy task. He wishes to become a captain playing by himself but he respecting their contribution and the rules of Bigg Boss. He accepts this captaincy position with whole work. He asks to them whom willing to go to cooking team? He selects Snehan, Balaji, Satheesh and Sruthi are cooking team. He adds that 4 members should be in cooking team because food is important to all. Cleaning is secondary one. Vessels washing team are Niroop, Anitha and Abirami. House keeping are Bala, Thamarai and July. Bathroom cleaning is Suresh. Bala says to them that he gonna alert 30 minutes captaincy time daily for all housemates. They can share their problems to him after lights turns to off in the house for daily. He is appointing Snehan as cooking team captain. Everyone wanna ask his 1permission before taking food items and he will do ration managing too. Because it will avoid confusion of others. Suresh will be bathroom cleaning captain everyone can meet him to share their problems. Vessels washing team captain is Anitha. As a captain he will poke his head in all matters.
At 12.40 am, Suresh talking with Abirami in garden area. He advises to her that she can show her childish side here but he feels she wanna show her matured side more then that. He advises to her that she wanna far away from negative energy and play her game. She might keep in it her mind whom should she avoid here and not. She should be bold and play her game patience. He asks her to stop crying and show herself as pretty confident here.
At 12.45 am, Bala says to Satheesh that he love this Bigg Boss game a lot that's why he came back again without hesitating. Satheesh says to him that he has no idea about this game because he is new here. Already all are experienced persons here. He asks him to explain the rules to him. Bala tells him that most of them doesn't know the rules here all are going according to the flow. Main rules are they wanna nominate two persons with valid reasons. They should not share their nominations with others here. He wanna sleep after the lights turns to off only. Satheesh says to him that he used to sleep at 1 and gets up at 10 due to shooting schedule. Bala tells him that he is also like that. Satheesh tells him that he feels like its hard for him to stay here without phone. Bala tells him that he used to sleep late outside but he is sleeping early here because his brain won't active well due to lack of sleep. Only three weeks game remaining after that finale week task will be less and Ticket to finale..
Day 29 at 8.00 am, morning wake up song plays at the house and housemates starts dance for the song "Atho antha paravai pola"then greets each other

At 10.05 am, Sruthi asks to Satheesh what happened? He says to her that Suresh is trending well others here. Actually he had fear inside him. Sruthi says to him that Suresh is here to break the unity here and create cold war. Usually there is no problems between the housemates because all are sitting alone and talking with each other. They will fight it task for breaking rules and again unites each other after the task. He is here to break that coldness. Suresh says to Snehan that if anyone wanna clean the dirt he might keep his hands in dirt then only he can able to clean it. He advises him to play his game well leaving all problems behind.
At 10.40 am, Store Room bell rings there Snehan takes secret task money from Bigg Boss. Bala and Niroop shares their money to their teams.
At 11.15 am, Satheesh says to Abirami that he is feeling comfortable after talking with Abirami, July and Snehan because they are making him feel comfortable. He feels like they are his family members. Bigg Boss asked him to hide two matter from them but they only gave comfort to him. Abirami tells him that we can enjoy here nothing to worry. Let's do fun.
At 11.30 am, Niroop, Thamarai and Bala throws the pillow on Satheesh. Niroop says to them that still they didn't give welcome party to Satheesh. He says to him that he already took bath. Niroop asks to him whom asked him to take bath? Bala asks the housemates to joins with them to welcome Satheesh to home.
At 11.35 am, Anitha and Niroop throws flour and Egg on his head and poured soap water on him. Housemates appreciates him for bearing everything here.
At 12.45 am, Sruthi reads the new information from Bigg Boss. All housemates will get a chance in this house to share their life story so here Satheesh getting this chance to share about his past life. After this task they gonna play Press conference task again. Housemates will change into Press people and wanna question Satheesh. They can ask any questions to him in interesting way here.
At 12.50 am, Satheesh says to housemates that his dad passed away 4 years before and he is staying with his mom, brother and sister in law now. He has lots of interest in doing mimicry. His relatives used to tease him for doing it so he practices well in the field and win the 1st place in 9th class. After that they stopped conducting that programme. But his friends motivated him a lot in this field. Later he shares to them how did he entered into this field and gets popular.
At 1.15 pm, Suresh asks to Satheesh Is he prepared anything to come to Bigg Boss house? He says to him nothing much. He shares his experience to him and adds that he connected with the Bala's story. He is appreciating July because he used do scare whenever he playing politician roles but she bravely protested in Jalli Kattu with out fear and also faced many humiliation outside. Suresh asks him to play like Sarath kumar and Radharavi. He talks like both of them. Housemates appreciates him for doing well. Suresh asks to him Is anyone appreciated him for mimicry well others voice? He talks in others voice.

At 2.55 pm, Anitha reading new task information from Bigg Boss. Task name Battery charge. She narrates the rules of the game.
At 3.10 pm, Satheesh gives low battery to Anitha reasoning she is silent here. Sruthi for medium charge. He gives full charge for Suresh reasoning he is always active. Niroop gives low battery to Balaji reasoning he is giving mixed mood to them. He advises him to charge himself. He gives medium charge to Anitha and says she is comfortable with him and she wishes to see her fully charged next week. Niroop gives full charge to Abirami for engaging the house. Bala gives low battery to Balaji for not giving jokes often. He gives medium charge to Satheesh reasoning he has less time so he wanna show his potential outside. Bala says that he is fully charged always so he is giving this to him. But Bigg Boss will scold him so he gives it to Suresh.
At 5.00 pm, Niroop says to Bigg Boss that he is giving secret task to Anitha for 500 currency. He asks her to make Balaji wear Bala's dress and acts like him whole day, Snehan wanna drink coffee too times and Thamarai wanna change her costume twice. She assures to him.
Episode end.