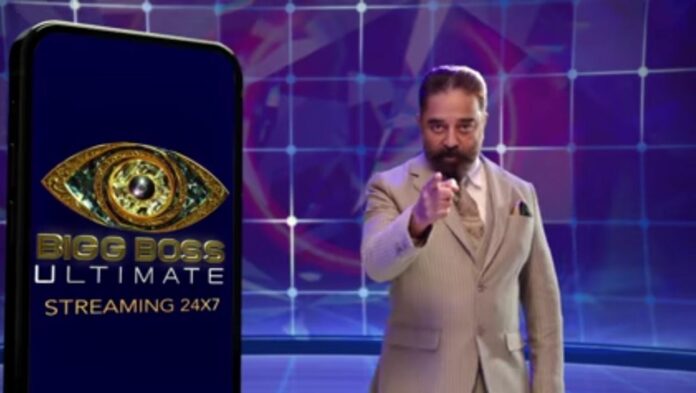 Bigg Boss Ultimate Tamil Upcoming Story, Spoilers, Latest Gossip, Future Story, Latest News and Upcoming Twist, on Justhowbiz.net
The show begins in Day 2 at 8.00 am, Morning wake up song plays at the house. Housemates wakes up and dance for the song " poo pesum" song and greets each other. They doubts which song is that? Bala says they are playing only girls song.
At 9.05 am, Vanitha asks to camera will they give coffee to her or not? She asks them to response to her at least. Post bell rings there. Sruthi rushes out to take the Bigg Boss post. Sruthi reads the new task information from Bigg Boss. This task will take place in garden area. All housemates wanna imagine yourself as a fortune teller and they can say fortune to their selected contestants. Mirror will send to store room soon. Suresh will start this first after him rest of them follow him. Suresh and Sruthi are discussing with each other whom should choose. They picks Thamarai name and Vanitha name. Vanitha complaints that she won't do this task till she get her coffee. Suresh makes fun with her but Vanitha takes it seriously. Suresh asks her to stop taking everything like this he just kid her.
Store room bell rings there Vanitha says it's better be a coffee powder along with property or else she won't do the task. Abhinav takes the mirror from store room. Vanitha gets disappointed to see it and says they will do the task but she won't do it until she get the coffee. Anitha tells her they will get coffee in luxury budget only. Vanitha says to her let Bigg Boss say it she don't need to say it. Anitha says to her that they got coffee in luxury budget task only. Let's finish the task and get it. Vanitha denies it reasoning she will do the task after she got that only. Vanitha demands others to do the task. Niroop tells her how will they do it? Rules is all housemates should do it. Vanitha says she will do the task after she got coffee only let Bigg Boss decide whether she should attend it or not? Suresh asks Bigg Boss to give coffee to her or else she will crate problems. Vanitha says that her head is aching and ears are paining. Balaji and Suresh saying that she is talking louder that's why her ears are paining. Bala says that he is respecting her decision but her problem is affecting the whole housemates here. Vanitha says that its not her problem. She is not trying to offend them its Bigg Boss mistake to not send coffee to her. Niroop tells her doesn't she know it first they might do like this and adjust with all. Bala says we are here to live like a family. Vanitha says to him that she is playing alone.
Niroop asks to her doesn't she know she won't get such luxury items here? She tells him she has no idea about it. Suresh giving funny counters behind to irritate her. Vanitha says to them that she has no idea that they didn't get coffee in their season. Vanitha complaints that they didn't get any problems so they decided to create it as a big problem what's your problems actually Bigg Boss? Anitha comments how many problems? Suresh says that he is not running Saravana bavan to give coffee to her. Vanitha says that her head is aching a lot because of it. She asks Bigg Boss to send her to Jail then.
At 12.05 Snehan reads the luxury budget task, Task name " ungaluku inga enna vela.Why did they returned to this house. They wanna prove why are they here to give come back. It's their Luxury budget task. They wanna divide into two group one Press and another one Bigg Boss stars. Press can ask the questions to Bigg Boss stars one by one. After the announcement comes they can change stars into Press. Suresh says it's equal now. After the task they can choose which press performed well.
At 1.00 pm, Buzzer plays Anitha says to housemates that press decided to call Niroop as the first one to take interview. Anitha asks to him what's his game plan in this season? He says to her that he didn't came to play here instead gonna react to the inputs. Abirami says to him that he couldn't register him in last season so he is trying a lot to impress them this time? He says to them that he didn't try to do something like that if they feel it in that way he is sorry. Abirami says that yesterday one incident happened there with Vanitha but she feels he could have deal that issues calm instead of shouting like that. She personally feels like that. He tells her that as Niroop he reacted like that because he feel it as wrong. When its needed he will react it. Abirami says to him that Is he can find out which is needed one? He tells her he has the maturity to find it out.
Suresh asks to Niroop what difference he gonna show with his competitor Bala's film? He says there is no movie for him. Suresh says that he is saying Bala has no film at all. It will be a headline tomorrow. Niroop asks to him stop twisting the words he meant him. Snehan asks to him he is a business man, lovable boy and artist too which one he wish to take out? He tells to him he wanna go out like with humanity. Anitha says to him that he is answering to them in diplomatic way. Which one is real Niroop? Abirami tells him that till they get the satisfactory answer they will keep questioning him. Niroop says to her that they are expecting one answer from him but he can't able to say it because its his true self. If they already fixed the answer means then why did they taking interview of him?
Abirami says to him that he don't know about his contestants list what did he felt when his ex. Came here? Niroop says to her that it's she only. Suresh and Suja get shock to hear it and confirms it with Bala. Niroop says that he got many flashback seeing her there and tried to talk with her but something stopped him. He don't wish to talk with her anymore time changed it seems and he forgot those too. Suja says to him that she didn't heard it.
At 3.10pm, Balaji asks to Bala Is Bala calm one or arrogant one? Bala asks to him what did he meant by arrogance? He mentions about last season incidents. Bala gives the explanation to them. Abirami asks to him people thinking generally he is a attitude person. If he talk like this he won't get chance in industry Is he has any experience outside like that? He says to him that his web series director said to him he is a humble person and never showing attitude in set. Snehan says that there is a talk he is always pretends like perfect? Bala denies it. Suresh says to him that he may using it as a strategy. He answer to him that he never used strategy at all to show him as perfect. If he wish to see him as perfect he would not slapped him with slipper like that. Sruthi says to him that she heard him giving double side goal. Bala brings Shariq matter there and says if they mean this then he can't able to change their thought.
At 4.00 pm, Bala asks to Suresh why is he trying to add fuel in the fire. Suresh asks him to stop questioning him instead of ask the person whom raised that. Snehan asks Bala to see it as a task and leave this matter. Bala complaints that they are crossing their limits. Niroop and Snehan tries to solve the issues between them but Suresh creates a problems over it and says he won't leave this matter. He don't care if he get evict this week itself.
At 5.20 pm, Anitha asks to Vanitha what's she thinking about negative publicity? She tells her Publicity is publicity there is no negative and positive in it. Abhinav asks to her what she thinking about her social image? Vanitha asks to them why should she answer to it because they knew well about her. They demands her to answer it but she says that they might point it out she will answer to them. Sruthi asks to her what's her ultimate goal? She shares to them that she doesn't have anything particularly. She faced many troubles and hurdles in her life but she feels like she missed many things in her young age. She got succeed in her 40 age so she thinks she will be a inspiration to many woman's in this age. Some people will change their mind seeing her life so she wish to use this platform and win the trophy. She added that only gents won the title mostly here only one time Rithika won it. Bala interrupts and asks to them why are they letting Vanitha to answer a lot Is they scared to question? They didn't give this much time to them to answer and kept questioning them. He feels like they are scared to approach her. Be fair to all. Press people says that they didn't get a sastifying answer that's why they kept question him. But she is giving sastifying answer to them that's why they are silent. Bala says that he don't feel like that? Anitha asks to Vanitha doesn't she using contents to get fame then how could she say she will be a inspiration to them. Vanitha says to her that she came back to this show beater it's 24/7. People can able to understand her through this show. They discussed about the coffee matter.
Sruthi asks to Vanitha Is she signed in the agreement after she read it? Vanitha says to her that her legal side will take care of it she shouldn't question about it. They says it's her duty to answer them because they are press. Anitha asks to her Is her attitude saying it she is breaking the rules. Vanitha says that she don't need to answer them. Snehan asks to Vanitha why is she here? She questioned him why is he here leaving his wife behind? He tells her he will answer to her when he sits there. Vanitha says to him that she is here for the purpose why are they here? Anitha says that she might answer to them instead of questioning their personal. Buzzer plays. She thank them.
At 6.45 pm, Abirami says to July that there is so much difference in her comparing to first season and this season. She feels like she is trying to show herself like Oviya. Why? July says to her that she is not acting like her because she is feeling there is no copy for others. She changed herself in these 5 years so this is she now. Suresh asks to her who is next Oviya then? She tells him there is no another oviya. Oviya is Oviya there is no copy of her. Balaji asks to her she entered into first season and now ultimate too what's the difference now? She says to him that her maturity level increased. Suresh asks to her what mistake she did in 1st season? July says she was kiddish on that time. Snehan asks to her how did she faced the negative comments? She says to them she only take one thing to her heart she is not living for others. Suresh asks to her why did her stomach pain maters highlighted? She says to them it was a good content that's why. She says to him that she fell on her flat stomach that's why she got pain. They starts asking to her many triggering questions to her. July says to them how much negativity she faced in the society. She says to them that many persons committed suicide for a negative comments but she asking them to live for their family.
Balaji asks to July doesn't she helped to many kids why didn't she reveal it to others? She says to them that she didn't reveal it because people will think it is for publicity. She faced many negative comments though she collected 23 lakhs when one organization approached her for one kid liver surgery. She helped that kid now that girl mentioning her as mom she is happy for that. She answers to them genuinely.
After her they takes Thamarai's interview. They asks to her why did she planted innocent card in her season? She says to her that she only mentioned she don't know the game play only but she played her game after she understood it. Snehan asks to her she learnt the game play how will she play here? She says to her that she will ask doubt to them then Plays there. Many questioned her in triggering way she answer to them in calm way.
Episode end.
Click to read
Bigg Boss Ultimate Tamil 1st February 2022 Written Update: Shariq attempt to solve the issues between Vanitha and housemates