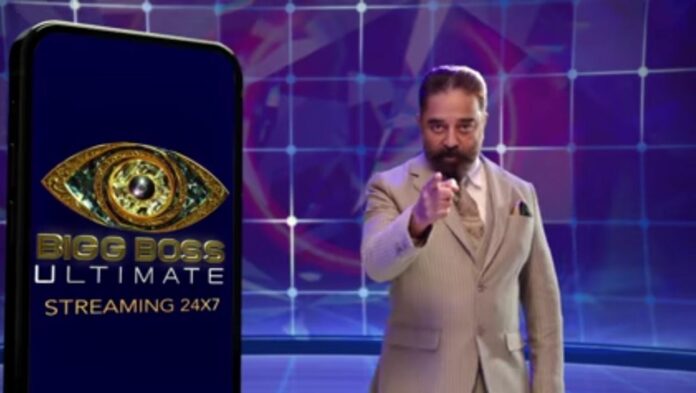 Bigg Boss Ultimate Tamil Upcoming Story, Spoilers, Latest Gossip, Future Story, Latest News and Upcoming Twist, on Justhowbiz.net
The episode starts with Simbu having fun conversation with every housemate. He then speaks with Bala about his complaint that he didn't appreciate him. He then spoke with other contestants including Julie and Suruthi's fight for money. After some fun banter, Simbu speaks with biggboss and asks how he is. Biggboss says that he's fed up of the contestants and teases them. After some funny questions Simbu asks biggboss the reason for deducting box money from winner's price money when it's not that way for other seasons. Biggboss answers that it's Biggboss Ultimate and they need to expect the unexpected here. Simbu asks Biggboss if there's any option to evict someone he wants to from the housey. Biggboss asks if he wants to then he can. Simbu thanks him and Biggboss says that it's our show and there's no need to thank. Then Simbu welcomes Suruthi and asks if she's happy that she walked away with the price money. Suruthi says that she would've felt guilty if she walked away simply but is happy now that she earned it. He asks how did she use the money and Suruthi says that she paid off her remaining father's loan. He then spoke with Suruthi's mother who is proud of her and her choices.
Suruthi's journey video is played. Suruthi is overwhelmed. Simbu then switches on camera inside the house. Everyone gets happy seeing her. Simbu lies that Suruthi was in secret room. He says that since its biggboss ultimate they can't let them walk away with the moneybox just like that. Simbu says that he will send Suruthi inside and any one must come out with the box after performing a task. Everyone asks about the price money this time and Simbu says 25 lakh. He signs off and everyone discuss about the sudden twist. Biggboss asks if they have decided. They all joke with biggboss. Biggboss asks the one who's ready to come in front of confession room camera. Julie finally says that she's interested in front of camera. They all joke about the very less money winner has now. Simbu once again meets the contestants. Julie says that she feels its a nice option given the winning probability. Simbu asks Thamarai whether she is not interested. Thamarai says that she wants to be in the stage for her village people and so not interested. Simbu reveals that it's a prank. He says that it's not wrong to accept the money which is offered to them.
Simbu asks Julie the reason for first trying it as prank but later fought for the money. Julie says it's a 50-50 mindset and she just did her best. Simbu says that they have something in room and asks them to get it. They bring it to find black and white roses. Simbu gives a task to give the white rose to the one who brings out the good side in them while they have to give the black rose to the one who brings out the bad side in then. Niroop gives white rose to Thamarai and black rose to Julie. He gives reasons for both. Ramya gives white rose to Abirami and black rose to Bala. Julie gives white rose to Abirami and black rose to Niroop. Thamarai gives white rose to Bala and black rose to Abirami. Abirami gives white rose to Julie and black rose to Niroop. Bala gives white rose to Thamarai and black rose to Ramya.
Simbu advises Ramya to stop being too calculative and be relaxed. He asks her be a bit free going with others and not needed to be too strict for the game. Everyone are discussing and Simbu comes back. He meets with the contestants. Some cloth pieces are kept and Simbu says that it's a chance for them to request vote from people. He says that they have to speak why the people have to vote for them till the buzzer goes off wearing the cloth. Julie first speaks and thanks people for voting till now. She says that she is someone who tried hard to change the negative image of her and has managed to change the notion. She asks vote saying that it would be an example for a good change to be accepted if tried with honest and hardwork. Thamarai thanks people and the second chance given by biggboss. She says it's a stage which gave chance for the dying art of hers. It's not an easy job for a simple girl like her to stand here and asks vote to give chance for people like her. Bala says that he's there mainly because of people who voted for him in last season and could've see him win. He says that he corrected his mistakes from last season and gave his best and requested vote if they felt he deserved it. Niroop says that he never requested for votes as he left it upon them to decide seeing his power. He says that though he gave his best in season 5 he didn't maintain proper decorum with fellow contest and that's what he corrected in the season. Abirami says that she failed to properly utilise her first chance and so did correct it in her second chance. She says that she has dreams of achieving big and tried her level best to live true to her emotions. Ramya says that she started her career with a dream of becoming heroine and a reach is really needed for it. She says she accepted the first time as well as the second chance for the same. She asks them to vote if they feel connected with her.
Next is audience question to contestants. The first question is for Niroop who asks why the others don't find him as a tough competitor. Niroop answers that he has no idea about the same as he already gave his best and competed his level best. Next question is for Bala who asks whether he's confident or over confident that he's the winner. Bala says that it's his confidence as if he don't trust himself to be the winner then no one else does. Next question is also for Bala who asks why he's only close with very few people. Bala says that not everyone understands his emotions rightly except few people and that's the reason. Next question is for Ramya who asks if she thinks it's possible for her to compete with the people who were staying from the start. Ramya says that she believes it is possible as the game can be changed anytime. Next question is for Thamarai who asks why she blindly supports her friends. Thamarai refuses the claims. Simbu says that Thamarai is saved. Next question is for Thamarai again where her fan is offended that Thamarai is splitting her votes for her brother. Thamarai asks her to forget it and just vote for her. Next question is for Julie who asks whether she plays victim card. Julie refuses the claim. Next question is for Abirami who asks why should they vote for emotionally weak person like her. Abirami says that she feels that she's true to her emotions and its not emotionally weak. Simbu surprises the contestant by a video message from their family for each contestant. Housemates gets emotional. No elimination this week.
Click to read
Bigg Boss Ultimate Tamil 2nd April 2022 Written Update: Thamarai disappointed with Ramya