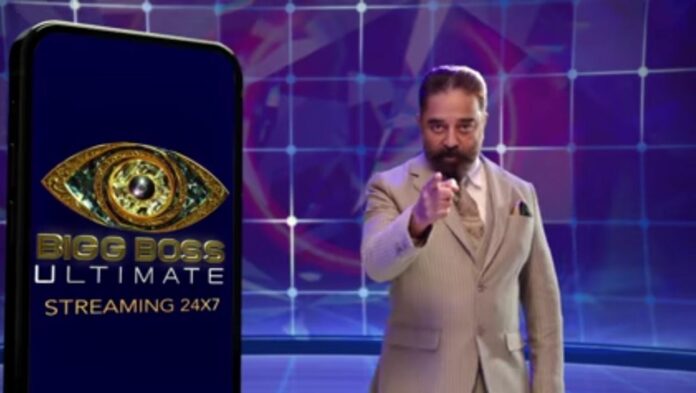 Bigg Boss Ultimate Tamil Upcoming Story, Spoilers, Latest Gossip, Future Story, Latest News and Upcoming Twist, on Justhowbiz.net
The show begins in Day 33 at 9.20 pm, Bigg Boss announces to Housemates nomination results are out. Niroop and Satheesh going to final round for captaincy task. Everyone congratulates them
At 9.40 pm, Bala says to Housemates that everyone done their work well on the first day of his captaincy but he has no idea that was the last day too. Bala shares to Housemates that Thamarai mostly cooked in the house and helped others too. He don't find any mistakes in her so he is giving 7 Mark to her performance. She is capable of become the trending player of the week. Bala shares about Sruthi to housemates. He appreciated her performance in the house, she helped Thamarai in cooking she played the physical task well and also she completed her secret task too. But one minus was she didn't registered any complaint in the Panchayath. Sruthi tells him that she had a complaint on their own group that's why? Bala explains to her that task is based on one concept, register the complaint and get the land after win the case. So he is feeling like she failed to do it. He gives 6 marks to her performance.
Bala shares about Balaji's performance to Housemates. Bala says to him that he was mostly not in his character. He felt he showed his personal vengeance in the task and stood away from it. He might think about the team when it's come to task. His decision shouldn't affect others so he is giving 4 marks to him. Niroop interrupts him Abhirami asks him to shut his mouth reasoning he is disturbing him. Bala says to Housemates that Abirami was also in her character while task she done vessels washing better. She spend so much money and opposite team earned so much money because of her. He felt she didn't registered any case in Panchayath so he giving 6 marks to her. Abirami gives her explanation to him also.
Bala shares to them that Niroop was in his character whenever he saw him. Though his certain rules disappointed him as an opponent but as a captain he is appreciating his effort. He slept 7 times in this week and dog barked for him. Niroop says to Bala that he said to him If something affecting the whole team its wrong but it's affecting only him here. Bala tells him dog barking for him its affecting the housemates. As a captain they will questions him so its affecting him too. He gives 5 marks to Niroop and advises him to stop sleeping for 7 times. He shares about Snehan next. As a captain he had no complaint on him because he done his works well in the task. But he was the bathroom cleaning captain and they too charge for it. He felt bathroom should have maintained well. He saw hair while taking bath there and water stacked in it. He gives 6 marks to him for his performance. He shares about Anitha next and appreciated her work there then gives 6 marks to her performance.
Bala says to Housemates that July done her character well in the task but he felt disappointed when did she mentioned if someone complaint two times it will be branded. Personally he don't like that. He give 5 marks to her performance there. Bala shares about Satheesh next. He said to him that he would have felt good if he saw his way of discussion with village head. He gave clarity point to all in the panchayath and performed well in the task. He saw him helping everyone in the house. He appreciated his work and give 7 marks to him. Finally he shares to them about Suresh. He appreciated his work in the task. He praised his way of acting too. He shared to him that he was literally disappointed with him when did he brought widow matter there. He gives 8 marks to him for his performance.
At 10.30 pm, Anitha asks July to explain the branding issues with her. July explains the situations to her. Anitha shares to her that she has no vengence on Balaji she gave complaint against him because she gave that idea to her. She literally feeling July used her to clear her doubt using Balaji and Anitha's arguments. She too thought her as innocent when she gave that idea but now she feels like she is cunning. July tells her that she was not in her mind while mentioned about it she said that casually there stop taking everything personal. Anitha tells her she used to think both side in all problems. Lights turns to off in the house
At 10.45 pm, Satheesh shares his experience inside the house to camera.
At 11.30 pm, Suresh says to July that everyone knew July's past here thought they are trying to defame her and brand her as double standard and a lier too. Is they thinking her as low background person there. He is provoking her against Anitha and group.
At 1.20 am, Anitha says to Snehan how did Suresh irritated her singing while she taking bath. He is targeting her in each and everything here. She narrates the morning incident to him there.
Day 34 at 8.00 am, Morning wake up song plays at the house and housemates starts dance for the song " Manmadhan" then greets each other
At 10.50 am, Balaji says to Snehan that questions section start in the evening then only real drama start. He adds that they are gossiping like village people now because it's so boring here. Balaji says to him that Satheesh will show his real face next week it seems. Snehan tells him that he will show it this week itself because he understood the game now.
At 10.55 am, Snehan complaints to Balaji that he don't like them not taking proper care of the house they are not cleaning their surroundings. It's hurting him to see them not respecting any rules and regulations here. Balaji says it seems double eviction this week. Snehan tells him that's right because everyone should have fear of eviction here.
At 11.30 am, Satheesh reads new information from Bigg Boss. Task name " Battery level 2.0″ he reads the rules of the task. Full battery charge should give to the active person, medium charge for less active and low batter for the person whom should be more active in the house.
At 11.40 am, July gives full charge to Niroop for active well then apologize to her for his mistakes, medium charge to Satheesh for playing better and ask him to improve little more, low charge to Balaji for less active there. Abirami gives full battery to Niroop for active always, medium charge to Thamarai for getting emotional for some reasons, less battery to Balaji for being less active. Balaji gives full charge to Niroop for active and engage always, medium charge to Thamarai for getting mood off often. Less charge to Satheesh for not much active well.
At 1.40 pm, Bigg Boss announces to housemates that people are watching them 24/7 so they are gonna give charge to them for their performance in the house. They gets excited to hear it.
At 3.05 pm, Kanna Laddo thinga aasaya task comes there. Housemates are checking the list in plasma TV. Snehan asks someone to share money with him to buy Tandoori for him. They pays money to buy the things.
At 4.15 pm, Bigg Boss asks Satheesh to do the task he mentioned in confession room. Satheesh imitates the housemates.
Episode end.
Click to read
Bigg Boss Ultimate Tamil 4th March 2022 Written Update: Thamarai and Sruthi gets the secret task