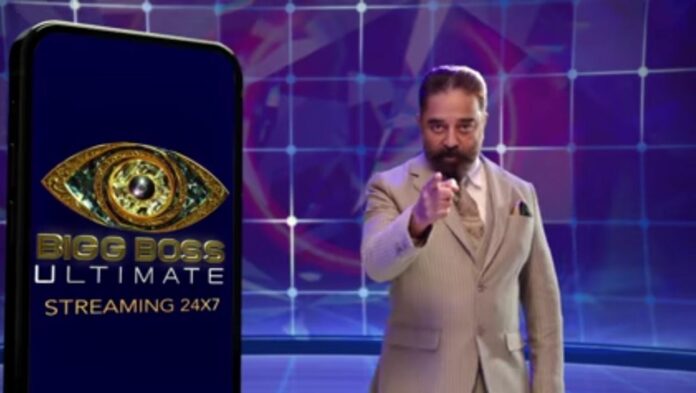 Bigg Boss Ultimate Tamil Upcoming Story, Spoilers, Latest Gossip, Future Story, Latest News and Upcoming Twist, on Justhowbiz.net
The show begins in Day 8 at 8.20 pm, Vanitha reading new task information from Bigg Boss. Task name " Golmaal" how could play the game in same team so housemates wanna divide in to two team A and B. Vanitha wanna be a judge to this game. She narrates the game rules to them. In garden area one goal post kept there and one foot ball kept in the yellow square. They can't able to play this game easily because everyone will get a funnel mask to play this game. They can able to play this game using that mask only.
At 8.45 pm, Buzzer plays Vanitha asks to both team to choose two person to play this game.Snehan and Sruthi plays the first thing and Sruthi gives a goal. In second round Thamarai gives a goal. Third round Shariq gives a goal. Like this game continues and finally Team B wins the game.
At 9.20 pm, Bigg Boss announces that Thamarai, Anitha and July enters into the trending area without permission to they are sending them inside the underground jail. He asks Snehan to send them inside and lock the jail. Three of them sends inside the jail while singing a song. Snehan asks to them Is they comfortable inside he has no option then locking them inside. Anitha says no problems she hope they will send them out in 10 minutes. Thamarai says it seems they wanna stay inside whole night. Bala asks Thamarai to place fan in common place then only everyone will get a air here. Snehan asks to them how will they manage inside reasoning only two beds are there. Anitha says they will adjust it thinking like train journey. Snehan locks the jail and apologies to them. Thamarai says that they are here for their mistakes. Anitha asks them to send Entertainment crew to them. Bala asks to her who is that? She mentions Sruthi name to him.
At 9.45 pm, Thamarai asks them to sing something regarding jail scenes. Anitha says that only item songs comes there. Suja asks to her she has one doubt why are they mentioning it as a item song doesn't they are doing their work it's also a job. It's like hurting them. July says they might mention it as glamour song. Suja says she can mention it as a solo song. When Samantha doing it they are enjoying it and not giving bad comments on it. Anitha says that she didn't meant in that way actually she talked a lot for woman's here so don't frame her like this. She says that she might ask this question to cinema industry also. Suja says that she asked to them and Sven fighted with them for it. She suggests them to mention it as a solo song and glamour song. Anitha asks her to leave this topic reasoning its a sensitive content.
At 10.00 pm, Niroop comes near Jail he asks to them what are they doing? July asks to him how is his leg now? He says to them that they checked his leg and gave pain killer to him. July says it seems settled now. Niroop says to them its his place so they might take care of it. He shows to them where did his name written. Anitha asks to him why did he came here? He narrates the incidents to them how did he ended up in jail. Thamarai brings the matter to there what did Suja said to them. Niroop asks her to explain it to him. Anitha says to him that they were talking about jail song matters so she mentioned it as item song. Suja got hurt hearing it and asked her to don't mention like this. Anitha says that many times they used to mention like this in their season but it hurts her. She is ready to change her.
At 10.50 pm, All lights turns to off. Anitha and Thamarai requests Bigg Boss to call them its hard to stay here.
At 11.00 pm, Snehan and Balaji are discussing about Abhinav. He asks to Balaji Is he doing his work well? He says to him that he is not doing anything properly. Vanitha is eating there. Balaji asks to her which team is him? She mentions it as house keeping. Later they discuss about non veg.
At 11.20 pm, Suja says to Sruthi that she was upset after that incident. Snehan comes there to check the toilet cleaning. He makes sure everything is perfect there.
At 11.30 pm, Bigg Boss announces to Thamarai, Anitha and July their jail punishment time is over they can come out of jail. He asks Snehan to release them. Thamarai discussing with Anitha about morning task. They are making fun with each other. Anitha says that because of this punishment its hard to maintain it. She requests Bigg Boss to complete this task. Anitha asks Snehan to sing something for their words.
At 12.00 am, Suja clearing her misunderstanding with Anitha and shares to her what happened in her life and tells her how much she struggled because of this field. She adds how much she tried to change that name and why did she entered into this field. She done that told for her family struggles. Anitha apologies to her for mentioning like that and hug her.

Day 9 at 8.00 am, morning wake up song plays at the house and housemates starts dance for the song" Police kaaran" and greets each other.
At 8.05 am, housemates notices Suresh's cut out there. Thamarai says that he returned to home she gonna pay for it again. They teases his poster. Bala says may he is in secret room and return to home soon. They discusses about hash tag.
At 8.30 am, Abirami asks to Vanitha what's her plan? She says that still she don't have any plan with her. Abirami says that she is not using her power at all. If she get that chance then she would have done something different. She says that her assistants are doing her work so she don't have any problems. Vanitha says that this water bed is very nice to sleep but it's very cool so need one more bedsheet to avoid it.
At 9.10 am, Housemates are practicing Laughing therapy in garden area. They are making fun with each other and trying to do it in unique idea.
At 11.05 am, Bigg Boss says to Abhinav that many entertaining things happened inside the house what's his experience here? Abhinav shares his good memories with him. Bigg Boss asks to him doesn't many persons says to him they are expecting a lot from him? What is stopping him to do it? What's his weakness. He shares his weakness to him and what others thinking as weakness of him. He used to talk in soft manners it's not his weakness.
At 12.05 pm, Bigg Boss announces to Thamarai that she can stop being Anitha's voice and continue as July's voice. Thamarai curses him and starts giving voice to her. She complaints to Thamarai that she is not gonna leave him alone it seems. Vanitha says that they can't able to bear one July but here is two July.
At 12.10 pm, July asks to Snehan about earning money Thamarai is repeating the dialogue to her. July says that whomever beating Thamarai will get 100rs. Thamarai repeats it and threatens them to don't dare to touch her. They are making fun with her. Thamarai asks Balaji to go and take a shower.
At 1.25 pm, Snehan reads the new information from Bigg Boss. Task name "Kalavaniyum and Kaavalthurayum". Snehan will be a captain to one team and Vanitha will be another one. He reads the rules to them. They can talk with each other and chooses two persons to steal things and others should not steal when these two are stealing. Police wanna stop them from stealing things. They can able to only arrest one person. Police wanna be in duty in 24 hours. Whom has stick and cap is allowed to check the thief. They shouldn't enter into their place. If they steal things and get loan then they are not allowed to get it back. If they steal things from police station they will get extra money.
At 2.30 pm, Housemates divided the group. They are discussing with each other and plans how to steal the things and score the points.
At 2.35 pm, Bigg Boss announces to Thamarai that her task is temporarily stopped after that it will continue. She complained that she likes him a lot but why did he punished her like this. She request him to change the persons at least. They are arranging the things and hides it.
At 2.45 pm, Suja complaints they they might steal things after buzzer plays only reasoning she demanded them to return her slippers. Bala rakes the bangle Thamarai noticed it and catch them.
At 3.00 pm, Bala snatches the bangle and jumped off. Vanitha and team arrest him and Abirami too. There is a heating arguments with each other over it. Abirami disagree to that point and gives a voice against them. All are arguing with each other and complaining about the rules. Vanitha says to them that she don't wanna play this game because they breaks the rules.

At 4.00 pm, Thief are selling the things to the financier. They are discussing about the money and put deal with him. Abhinav and July are talking with the financier he is barging with them. Bala and team are still arguing over the things.
Episode end.
Click to read
Bigg Boss Ultimate Tamil 7th February 2022 Written Update: