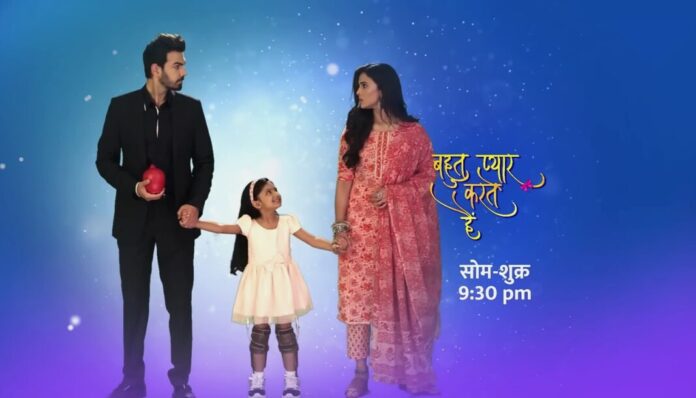 Bohot Pyaar Karte Hai Upcoming Story, Spoilers, Latest Gossip, Future Story, Latest News and Upcoming Twist, on Justhowbiz.net

The episode starts with Indu calls Zoon's name but Ritesh sushes her. She asks Zoon to come with her. Zoon asks her not to disturb her because she is busy. Indu taunts Ritesh asking Zoon to come with her or else Ritesh may think that she didnt taught her any manners. Sunita asks Ritesh to come inside. Ritesh mocks at Indu talking about manners. He also tells her that he dont have any super power to walk past her to get inside the house neither she is transparent. Indu realizes she is blocking the way so she moves aside and both Ritesh and Zoon gets inside. In Malhotra's mansion Kaamna gets upset seeing Pankaj's photo with a model also taunting voice not from Kadambari.
Pankaj comes there and informs Kaamna he is going to Bang Kong after two days so asks her to pack his things. Kaamna asks him the reason. Pankaj gets furious and tells her he is tolerating her because she is close with Ritesh so asks her to be in her limits and do what he asked her to then leaves the place. In Raina's house Ritesh asks Rajender about his health now. He also asks whether he found out who is the reason behind his accident.
Rajender says no then thanks Ritesh again for helping him. Ritesh indirectly taunts Indu saying some people thinks he always troubles others and smiles at her sweetly. Indu gets irked seeing it. Rajender asks him to not to pay attention to those stupid people's words. He then introduces one by one of his family members to him. Anjali gets excited seeing Ritesh and expresses her adoration for him which makes Indu uncomfortable. Ritesh hugs Zoon and tells his favorite is Zoon in this house and he is here for her. Zoon gets happy and laughs.
Neelam and one of her neighbor enters their society while gossiping about the new love birds of the society. Neelam gets shocked seeing Ritesh's car and tells her neighbor its Ritesh's. The people around her hears it and gets excited to meet him. Sunita asks Ritesh to have food. Asha brings all the snacks. Ritesh tells Sunita that he have Keeto so he can't able to have all these foods. Sunita thinks it's some kind of food item so she tells she will go and bring it from the market. Anjali laughs and calls Sunita a fool for not knowing what Keeto is but before she could explain her Ritesh interrupts and tells her calling their mother as fool is never cool.
Even childhood their parents taught them a lot without calling them fool. Indu and the family members gets surprised with Ritesh's advice for Anjali. Zoon tells Ritesh that this is how Anjali talks to Sunita. Ritesh tells Anjali what will Zoon learn from her though if her behavior like this. Anjali apologises to both Ritesh and Sunita. Sunita imagines Ritesh as Indu's groom and him making a promise. She comes out of her dream when Indu asks her what happened where she lost. Sunita then thanks Ritesh which makes Indu uncomfortable. Ritesh smiles at her.
Indu tells Zoon that she had snacks so much now she has to have dinner also she is getting late to go to bed and reminds her tomorrow she has school. Zoon tells her that she will have food only if Ritesh feeds her. Indu asks Zoon to not to bother Ritesh and asks her to come with her then goes near Zoon. Zoon hugs Ritesh tightly and asks him to save her from her beating mother and makes faces at Indu. Indu asks her to stop being dramatic and takes hold of her hand and drags her up. Ritesh sees Zoon's hold on him so he takes Zoon's other hand. They both stare at each other.
Ritesh tells Indu this isn't the right way to treat a kid. Indu gets furious and asks him to stop giving her parenting lectures as she knows how to take care of her kid. She also tells him he is a guest so asks him to act like one. Sunita scolds Indu for her behavior towards Ritesh and tells her let Zoon have food with Ritesh Ritesh today and asks Asha to bring food. She also apologises to Ritesh for Indu's behavior. Indu goes to open the door when she hears the door bell.
She gets shocked seeing the colony people entering her house demanding Ritesh to take a photo with them. Ritesh poses for them. Neelam complains she is the one who give information yet they are not allowing her to take photos and bumps into Indu who stumbles on Ritesh. They both shares an eye lock. Neelam says Indu is big fan of her which leads Ritesh to joke at Indu and the latter gets annoyed so she leaves the place. Asha calls Vivek. Vivek sends all the colony people out of Indu's house.
Ritesh thanks Vivek. Indu brings food for Zoon. Ritesh makes Zoon sit on the dining chair. He then wonders how to feed the kid because he has never done this before. He then recalls his childhood memories with his mother and gets emotional. He feeds Zoon. Raina's gets emotional seeing their bond. Ritesh makes a blunder the last spoon of food is Zoon's father but realises what he told so he apologises to Zoon. Everyone looks tensed but Zoon tells her she have genie Ritesh then make Ritesh have the food. Ritesh have the food happily and the Raina's looks on happily.
Precap: Ritesh tries to open the pipe but the water pipe broke because of which he gets drenched. Indu comes there and closes the pipe. She then tells Ritesh that she will dry his hoodie. In the room Ritesh sees Indu gets electrocuted and she is about to fall but before she could he catches her in his arms. They both share an eye lock.
The episode starts with Ritesh assuring Rajender that he will be alright as they are on their way to hospital. Rajender asks him to call his daughter and gives the number of Indu. Indu and Zoon walks on the road. Zoon tells Indu that she want to try the new icecream flavor. Indu acts and says to Zoon that she thinks she is upset with her.
Zoon says that she forget she is upset with her though. In the hospital doctor tells Rajender about his fractures. In Raina's house Asha gives sugar free sweet to Sunita but she tells that she will have sweet on Indu's wedding only. Asha tells she will give sweets to other family members once they returned. Other side Indu receives a call and gets shocked hearing whatever the person on the other line tells. Here in Raina's house Vivek asks Sunita about the family members whereabouts. Sunita tells him that Indu and Zoon went to have icecream and Anjali has extra classes also Rajender went to deliver his food order. Asha and Vivek holds a same sweet.
Neelam notices this from outside so she comes inside and separates them. She then asks Sunita the reason behind having sweet is this because Indu's marriage get fixed? Vivek tells her its because Asha get a new job. Neelam taunts her and decides to have the sweet but Asha snatches it from her hand and asks her to have it on Indu's marriage. Vivek laughs which leads a furious Neelam to scold him and take him to their house. Sunita worries why Rajender didn't returned home yet.
Click to read
Bohot Pyaar Karte Hai 12th August 2022 Written Update: Indu misunderstands Ritesh