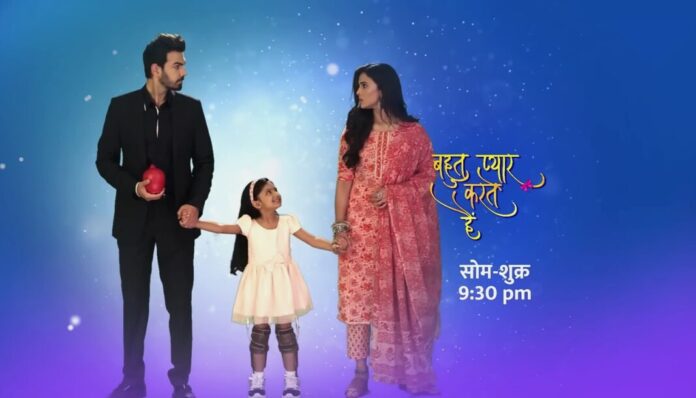 Bohot Pyaar Karte Hai Upcoming Story, Spoilers, Latest Gossip, Future Story, Latest News and Upcoming Twist, on Justhowbiz.net

The episode starts with Ritesh kisses his mother's hand and smiles at her. Zoon asks Ritesh that he has told sorry to his mother now he should feed his mother as she is hungry. Ritesh smiles at her then gets the food from the caretaker. He starts feeding his mother. Both Shakuntala and Ritesh gets emotional. He then asks his mother to take rest and the next day they can go on a long drive and tells love you then kisses her forehead.
Zoon smiles watching this. Anjali realizes Zoon is not with her so starts searching for her. She gets worried when she receives a call from Indu. Indu asks her when they both are returning also if she wants to she can pick her up. Anjali refuses saying they will return in few minutes and cuts the call. She then starts searching for Zoon. Both Anjali and Rahul bumps into each other. They both share an eye lock.
Dolly comes there and asks what's happening here. Rahul drops Anjali down. Anjali scolds him. Dolly asks her who is she. Anjali tells that she is Zoon's aunt and they come here to meet Ritesh. Other side Ritesh tells Zoon that she has no idea how happy he made her and tells her because for her he is feeling so light after so many years and calls her an angel. He then asks her the reason behind her want to meet her. Zoon tells him that she is here to talk about Indu. Ritesh looks on.
Indu cooks food for everyone and wonders why Zoon and Anjali isn't returned home yet. Zoon and Anjali comes home. Zoon calls Indu. Indu asks them why they are so late. Zoon tells Indu that tomorrow Ritesh will attend her office Independence Day celebration. Indu gets shocked. She then recalls whatever happened. She kneels infront of Zoon and kisses her hand. She asks her why she did this. Zoon tells her that she wants to help her that's the reason. Indu asks Zoon and Anjali to freshen up then they can have dinner together. Indu's behavior makes everyone upset.
Anjali asks Indu is she isn't happy with what Zoon did to her. Indu tells it's not like that and goes to kitchen. Sunita shares her worry with Indu's behavior after Zoon told her that Ritesh is going to attend her office celebration. Indu recalls the insults Kaamna thrown at her while washing the utensils and looks lost in her thought. Rajender comes and closes the pipe. He then asks Indu what happened. Indu tells nothing. Rajender tells a daughter can never able to lie to her father so asks her to tell him what happened..Indu cries and tells Rajender the entire day is not so good day for her. She had to face so many insults and accusations for no reason.
Rajender advices her to enjoy how the day is coming to an end by forgetting whatever happened the entire day. He also tells her that her reaction towards Zoon when she informed her Ritesh will participate in her office celebration is not right. Indu tells Rajender that she planned something special for her Zoon and hugs her father. Rajender encourages her.
Vivek and Anjali brings Zoon outside and leaves the place. Asha also follows them. Sunita and Rajender opens the blindfold from Zoon's face. The music starts playing. Indu Vivek Asha and Anjali along with few society kids dances for the song in the rain. Zoon gets happy. Rahul comes there and he also joins the dance. Indu then receives a call from Ritesh and the latter tells her that he is doing all this for Zoon then cuts the call. Kaamna overhears this and gets happy.
The next day Kadambari gets surprised seeing Sameer's gift for her which is the poem she wrote during her college days. She says that she lost trust in men so it's not that easy for her to give into Sameer's efforts. Other side Kamash tells the guest its Indu his assistant who knows Ritesh and helped them arrange this all when the guest praises him. The Raina's comes. Zoon asks Indu when Ritesh will come. Indu tells her he will arrive at 9:45.
Ritesh goes to Shakuntala's room and tells her that they will go to the flag hoisting event first then they will go for a long drive before that he will go and attend their society's independence day celebration first and asks the caretaker to prepare everything for Shakuntala and asks to come down when he calls them then leaves the place. Kadambari gets furious learning that Ritesh is attending Indu's office Independence Day celebration so she decides to go there to see why Ritesh chose to go there and ignored her interview.
Kamash introduces his granddaughter Priya to Indu and thanks her for making Priya happy. Indu tells him it's not her but Zoon's effort. Other side Kaamna brings Shakuntala with her to go downstairs. While she waiting for the lift Pankaj comes there and insults her. He then gets furious at Kaamna for telling him that she has to answer Ritesh why they are late. He forcibly takes her hand and the wheelchair which Kaamna is holding it she loses the grip of it. Both Kaamna and Pankaj looks on shocked.
Precap: Payal asks Indu why did she lied to Kamash. Indu tells her because she knows Ritesh will come to the event. Other side Ritesh asks Kaamna how did his mother fell from the stairs. Kaamna tells him that she missed the balance. Ritesh shouts at her. Indu tells Vivek and Zoon the Independence Day celebration will take place for sure even if Ritesh won't come to attend the event.
Click to read:
Bohot Pyaar Karte Hai 20th August 2022 Written Update: Zoon talks makes Shakuntala emotional