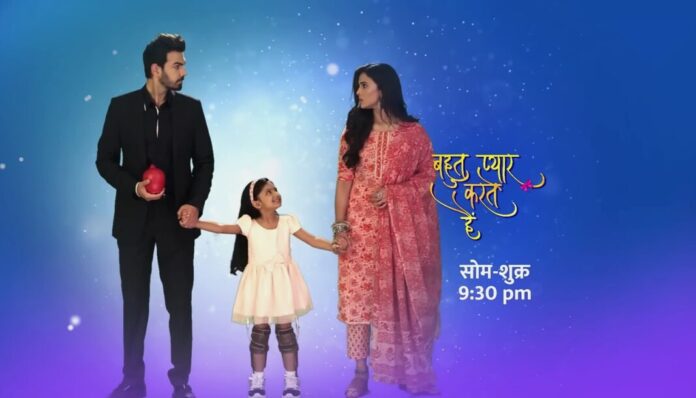 Bohot Pyaar Karte Hai Upcoming Story, Spoilers, Latest Gossip, Future Story, Latest News and Upcoming Twist, on Justhowbiz.net

The episode starts with Indu goes to meet Zoon. She cries seeing Zoon and hugs her and kisses her. The Raina's gets emotional. Indu asks Zoon is she fine now and where she went. Zoon asks Indu if she can ask her something? Indu encourages her to. Zoon asks Indu that because of her presence only she is suffering a lot only right and blames herself for being a bad person. Indu gets shocked along with the Raina's. Indu assures her that she isn't a bad person and she is the world's best daughter.
Zoon refuses and tells that she knows that she is a bad person and because of her only that she went to police station and stayed in a lock up and going through a lot so that's the reason she decides to leave her so that she can get her happiness. She also tells that she is a bad person that's why her mother left her after giving birth to her. Indu cries and asks her what is she saying. Who told her all this nonsense. She then tells Zoon before she entered her life her life was meaningless.
She has no meaning to live though. But when Zoon held her dupatta with the little finger of her's she get a new meaning to her life. If she didnt entered her life then now she would not be here so pleads with Zoon to never listen to anyone who tells her that they are not mother and daughter neither she is the reason behind her suffering and tells her that she loves her a lot. Raina's gets emotional hearing Indu's words. Zoon accepts Indu's words and decides to not to listen to anyone. Gayatri watches this from the corner of the room.
Indu tells Zoon that now they can go to their house. Zoon says okay but when she sees Gayatri she tells Indu that she dont want to go with Gayatri. Gayatri stops Indu from saying something and apologises to her for their carelessness and then tells that she cant able to take Zoon with her until this all comes to an end.
She also tells that they are not taking her to CAA center but going to put her in Foster care for her mental and physical health. She further says that they can neither send Zoon with her biological parents nor with the one who wants to adopt her. Vivek suggests that he is willing to take Zoon to his house. Gayatri agrees and says they can start the paper work. They all comes out of the room. Ritesh stops Indu who is carrying Zoon in her arms and gets shocked. He asks what's happening here.
Indu glares at him then leaves the place with Zoon. Gayatri tells Ritesh that Zoon will stay in Vivek's house and tells him she will explain him everything. Ritesh gets upset and calls it unfair. The Raina's reaches their society. Anjali tells them that Navratri is going to start from the next day. Indu suggests Zoon that they take Mata Rani's blessings which the latter obliges. They all goes to where the puja is taking place. They greets their society people.
Asha takes Zoon with her to drop her in Vivek's house. Indu prays to God. She tells that Mata Rani knows everything and seeks her help to get Zoon's custody. Vivek comes there and asks Indu what is she doing though. Indu thanks Vivek first for agreeing to keep Zoon with him in the house. She then tells the society and the legal terms are not understanding the hear connection between her and Zoon so she is going to fight for it legally and going to make a change in the system and looks on.
Kaamna tells Ritesh that it's not fair that Gayatri agreed to let Zoon stay in Vivek's house. She also acts and apologises to Ritesh for leaving Zoon's side to take care of Shakuntala. Ritesh tells her she didnt made any mistake and asks Rahul to call Jatin.
Kaamna tells it's late night so asks to call Jatin the next day also assures Ritesh that they can find some way. Ritesh leaves the place upset. Kaamna smirks. Sameer calls Kadambari and provokes her by telling that Zoon is with Indu's friend house Vivek. She will stay they for a time being. Kadambari about to confess that Zoon is her daugher but realises what she is going to say so she stops herself.
Sameer tells her that he knows the truth also he wont judge her for her past and asks her to contact him if she needs his help then cuts the call. Kadambari gets shocked. Later Indu questions Zoon for not having food. She then makes her have the sandwich. The next day first day of Navratri puja starts. Both Raina's and Malhotra's perform the aarti. Indu prays God to make Zoon happy all the time. Ritesh prays God to help him give Zoon all the happiness. Zoon prays God to fulfill all the things both Indu and Ritesh asking her and smiles.
Precap: Gayatri informs Ritesh he cant able to adopt Zoon because he is single shocking Ritesh. Indu tells her family to file a petition on the court to seek Zoon's custody. Sunita tells her she won't support her decision. Indu swears on Mata Rani to not to get married ever shocking Sunita. Ritesh asks Rahul to find some other way to help him get Zoon's custody.
The episode starts with Zoon walks on the road alone. Bhavna calls out Zoon's name. She then sees Zoon. Zoon sees her and turns around. She says to herself if Bhavna takes her with her then she wont able to meet Gannu Bhaiya and starts walking away. Bhavna tries to go behind her. Zoon hides herself. A tempo move backwards towards Zoon. Before it could hit Zoon a stranger comes there and saves her. He tells her that she might have get hurt by the tempo though. He then asks her is she alone? Zoon says to herself that Indu always told her if anyone asks this question then she should tell them that she is with her mother. She tells the same to the stranger and leaves the place. Bhavna comes there and gets shocked not finding Zoon there.
Rahul talks to someone on the call and tells Ritesh that Kaamna published the photo's of Zoon in every police station and they will notify them when they find Zoon. Other side Indu asks everyone on the road whether they saw Zoon or not by showing Zoon's photos but all of them says no. Asha and Anjali also searches for Zoon and they reaches where Indu and Vivek is. Indu saw a girl wearing a crutches. She thinks its Zoon so she rushes to her hopefully but gets sad seeing it's not Zoon. She cries. Vivek Asha and Anjali looks helplessly. Kadambari calls someone and asks them to help her get information about Zoon.
Zoon goes near a tea stall where she sees Vada Pav filled in a plate. She tells herself that she is hungry but she don't have food. She then sees one Vada Pav falling on the ground. She decides to have that but before she could take it in her hand someone stomped on it which makes Zoon cry hard. She tells herself that she is hungry. Indu pleads with Vivek to do something to find Zoon.
Click to read
Bohot Pyaar Karte Hai 24th September 2022 Written Update: A stranger pacifies a scared and crying Zoon