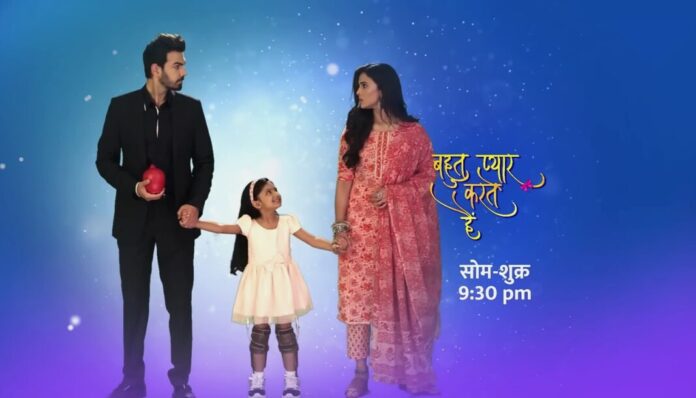 Bohot Pyaar Karte Hai Upcoming Story, Spoilers, Latest Gossip, Future Story, Latest News and Upcoming Twist, on Justhowbiz.net

The episode starts with Dolly gives aarti to everyone in Malhotra's. Gayatri and Bhavna comes there. Rahul questions them. Ritesh tells that he is the one who called them. Gayatri apologises to Ritesh for their carelessness. Ritesh also apologises to them for his behavior towards them. Gayatri tells him that Zoon is very lucky to have both him and Indu. They both are protective towards her.
Ritesh tells her that Zoon is a sweet kid so anyone can fall in love with her easily. He then tells her his plan to adopt Zoon. Gayatri tells him he can't because as per the law court wont allow a single male to adopt a child. Ritesh and Rahul gets shocked and Kaamna gets worried. Ritesh gets angry and asks Rahul to call Jatin immediately. In Raina's house Anjali takes Zoon with her inside the room as per Indu's instructions.
Indu tells the family members her decision to adopt Zoon leagally also her decision to file the petition today itself. Sunita tells her about the consequences she may face and pleads her to think about it one more time. Indu tells her the day she brought Zoon home she decided to adopt her legally which she is going to do now. She then leaves the house. Vivek follows her and asks her to wear sandals. Indu tells him that she decides to not to wear the sandals and go wherever she wants only barefoot until she gets the custody of Zoon and leaves the place.
Other side Ritesh confronts Jatin about giving him false hope related to Zoon's adoption and asks him why did he did this also threatened to cancel his license. Jatin gets scared and decides to tell something but Kaamna who is overhearing everything enters the room and stops Jatin from revealing the truth by lashing out at him and makes him leave. She then tells Ritesh that she will hire a better advocate but Ritesh refuses saying hereafter he will take care of the things regarding Zoon's custody and leaves the place.
Dolly and Deep meets Ritesh and tells him how bad they feel about Zoon and they are willing to help him. Ritesh gets an idea and smiles at Rahul but the latter looks confused. Other side the lawyer Meghna meets Indu and Vivek in her office. She tells Indu that Atul explained her all the details related to her case also she herself studied everything but before she could agree to take this case she wants to know why she wants Zoon's custody? Indu tells her Zoon is her daughter. Meghna asks her to tell this in the court as it's a perfect answer but she wants to know her real intentions. She also tells her that she knows what she told against Zoon in the court though.
Indu tells Meghna she is helpless that's the reason she went against her daughter by saying such things and questions Megna if she or anyone asked anything if the same thing was done by Zoon's biolical parents? Just because she is not her biological mother everyone is criticizing her actions which she dont care all she cares about is her daughter only. Megna agrees to take the case which makes Indu happy. Rahul asks Ritesh do he really thinks this will work though? Ritesh tells yes and says that he wants Zoon to live in a happy and peaceful environment and get whatever she wants.
Once she gets the full custody of Zoon he will let Indu meet Zoon but he wants Zoon to stay with him. Sameer comes to meet Kadambari. Kadambari asks him what benefit he is going to get by supporting her not his brother Ritesh. Sameer tells her its because he considers her as his friend. Kadambari gets convinced and tells how her lawyer assured her she will get Zoon's custody because she is her biological mother and smiles.
Indu is busy in her room working. Zoon comes there and tells her she can't able to sleep in Vivek's house. Indu takes her in her lap and tells her decision to file a petition for her custody. Zoon asks her to explain it. Indu tells her they both loves one another but society people thinks they have to get court permission so for their sake she is going to get permission from them. Zoon assures her she will win this case and no one can separate them which makes Indu happy.
The next day Indu takes Rajender's blessings. Sunita comes there with curd and sugar and asks Asha to feed Indu the same as a good luck. Indu gets emotional and takes Sunita's blessings. Zoon comes to meet Indu. She wishes her good luck. She tells her that matarani's blessings are with her and she is sure she will win the case which makes Indu and the family happy. Indu leaves with Ritesh. Ritesh calls Zoon and asks her to wish him best of luck. Zoon wishes him then prays God to fulfill both Indu and Ritesh's prayer requests which makes the Raina's worry. Indu reaches the court.
Vivek asks her not to worry or get scared. They both walks towards the court room. Ritesh arrives to the court. The media questions him about his decision about adoption but Ritesh refuses to tell them anything. Indu asks Vivek to ignore Ritesh and focus on their case because she wants to get the custody at any cost though. Sameer watches this from behind the tree and tells himself the target is one but there are three people who wants the same.
Precap: Indu and Ritesh's lawyer meets one another. Indu's lawyer tells her opponent that she is here to fight for a mother's rights. Later Ritesh and Indu gets into an argument over the custody. Indu tells with the help of God's blessings she will win this case and walks towards the court room. The cloth which she tied in her forehead falls on Ritesh and the latter looks on.
The episode starts with Indu goes to meet Zoon. She cries seeing Zoon and hugs her and kisses her. The Raina's gets emotional. Indu asks Zoon is she fine now and where she went. Zoon asks Indu if she can ask her something? Indu encourages her to. Zoon asks Indu that because of her presence only she is suffering a lot only right and blames herself for being a bad person. Indu gets shocked along with the Raina's. Indu assures her that she isn't a bad person and she is the world's best daughter.
Zoon refuses and tells that she knows that she is a bad person and because of her only that she went to police station and stayed in a lock up and going through a lot so that's the reason she decides to leave her so that she can get her happiness. She also tells that she is a bad person that's why her mother left her after giving birth to her. Indu cries and asks her what is she saying. Who told her all this nonsense. She then tells Zoon before she entered her life her life was meaningless.
She has no meaning to live though. But when Zoon held her dupatta with the little finger of her's she get a new meaning to her life. If she didnt entered her life then now she would not be here so pleads with Zoon to never listen to anyone who tells her that they are not mother and daughter neither she is the reason behind her suffering and tells her that she loves her a lot. Raina's gets emotional hearing Indu's words. Zoon accepts Indu's words and decides to not to listen to anyone. Gayatri watches this from the corner of the room.
Click to read
Bohot Pyaar Karte Hai 26th September 2022 Written Update: Ritesh gets upset by Gayatri's decision