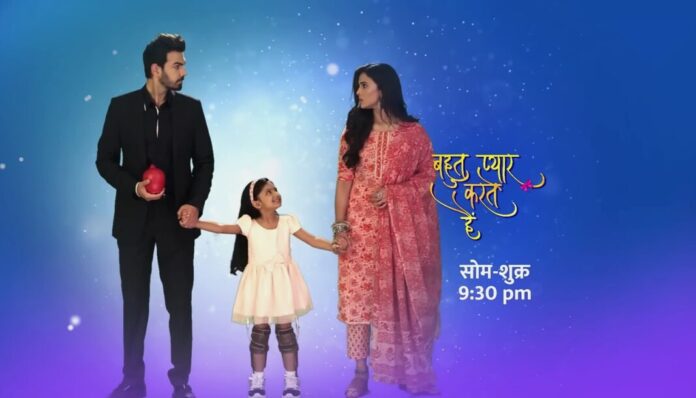 Bohot Pyaar Karte Hai Upcoming Story, Spoilers, Latest Gossip, Future Story, Latest News and Upcoming Twist, on Justhowbiz.net
The episode starts with Indu recalls seeing Rajesh. She tells Vivek that he is in Mumbai. She also tells that she saw him who comes there to register his bike. Vivek tells her that she must be misunderstood because he talked to Rajesh over the phone call yesterday who told him he is in village as his kid is not feeling well. He is also sure that he can't afford such bike because his earnings are not that high. Indu tells him that she is sure he is the one who saw him in her office.
Vivek gets shocked. They both realises Rajesh must have done something wrong that's why he is lying and hiding himself. They also realised someone must have given him a huge amount of money because he must have involved in illegal activities. Vivek tells that he is going to confront Rajesh. Indu tells that she is also going with him saying it's for Zoon and him. Asha assures her that she will take care of Zoon. Other side Ritesh sees the men who are already playing inside. He recalls the media's questions and the public hatred for him. The cops asks him to come inside the lockup.
Ritesh gets inside the lockup. The men questions who he is. The cop tells he is a Superstar Ritesh Malhotra but they refused to believe. Ritesh sits in the corner and recalls the humiliation he has gone through. He then screams shocking the men who are with him inside the lockup. They get scared and remains silent.
Vivaan and Sameer have drinks together. Sameer expresses his happiness of Ritesh spending a night in the lockup and the hatred he is getting it from the public. Vivaan tells him that he don't understand his hatred for Ritesh. Sameer tells its because he is puppet of Ritesh too like everyone in the house. Vivaan tells that Ritesh helped him a lot so he dont think that he has to be jealous of Ritesh or hate him. Sameer asks him the reason behind them shifting to Mumbai.
Vivaan tells its because Ritesh's father and their father is siblings after he passed away its their father's responsibility to take care of Ritesh and the family business. Sameer tells that when his first film release everyone compared him with Ritesh and he failed to get his own identity because of Ritesh. Vivaan tells him that they are living a luxurious life because of Ritesh only. Sameer expresses his hatred for Ritesh and tells here after Ritesh wont get any film offers or anything so he will be out of the film industry. He also tells then in the he will become Bollywood Superstar The Sameer Malhotra.
Sameer gets a call from the waiter who tells him that bought a bike with the money he gave him. He further asks him more money to go to his village. Sameer scolds him and cuts the call. Vivaan warns Sameer about the consequences if the truth comes out. He then asks him is he side that he destroyed all the proof. Sameer recalls the spy camera he put in his cupboard and searches for it but gets shocked seeing it's not there and gets worried. Vivek and Indu goes to Rajesh's house and the latter gets shocked seeing them.
Vivek asks him why did he lied that he went to his village also how can he able to afford a luxury bike. Rajesh tells him that he is packing things and says he didn't buy any bike. Indu slaps him and tells him that she has seen him in her office earlier that day. She then locks the door and Vivek approaches Rajesh with a threatening step. Indu starts to record a video.
The next day media talks about Ritesh spending a night in the lockup. They then learns that Ritesh got bail. The Malhotra's gets relived seeing Ritesh. Ritesh goes inside his room and locks it which worries everyone. He recalls the public hatred for him. Kaamna enters the room and reminds him how he broke down in her arms all those years ago in the hospital. Ritesh hugs her. Kaamna assures her that everything will be fine and tells him about the press meet arranged by Pankaj.
Ritesh refuses saying the people around him who claimed to love him turned out to spew hatred on him. He also tells her the media's questions and the humiliation he faced in the public and tells he dont want to be a part of this fake world where everything is fake. He further says that the public not even once wanted to hear him out and assumed everything and the way they treated him like he dont have feelings at all.
Kaamna motivates Ritesh by saying he has to attend the press meet so that he can able to tell his side of the story this world. He has to make sure that everyone has to realise people in this industry or belongs to wealthy family has feelings too and make sure to let them know they cant break him because he is stronger than that. Vivek tells Indu no one in Ritesh's house is not answering the calls of him then how to tell them what they find out. Indu tells that she is feeling bad for Ritesh after learning the truth.
Zoon comes there and asks Indu is she told everyone Ritesh is a good boy to everyone. Indu tells that she dont know how to tell though. Vivek gets an idea when Anjali tells there is a press conference in Ritesh's house. Indu gets happy when Vivek tells The Dog World reporter will bring the truth infront of everyone.
Precap: One of the politician enters Ritesh's house and calls him a curse to the society and says that he is going to cover his face with a black paint and approaches him. Ritesh gets angry and the family members looks shocked.
Bohot Pyaar Karte Hai 29th July 2022 Written Update: