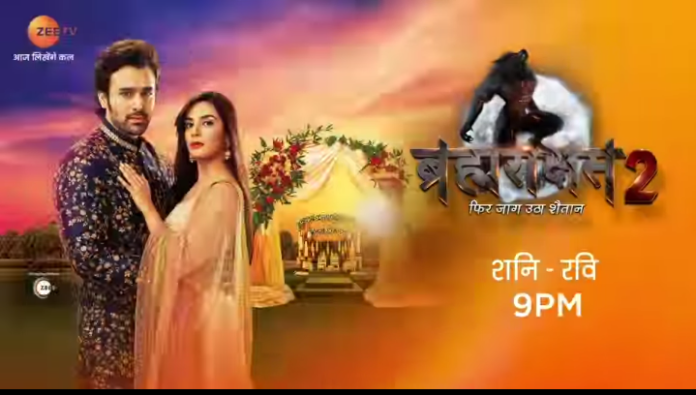 Brahmarakshas 2 Upcoming Story, Spoilers, Latest Gossip , Future Story, Latest News and Upcoming Twist, on Justhowbiz.net
Episode starts with Kalindi taking Yug to Priyanka. Priyanka gets shocked and escapes somehow. Kalindi gets worried for her saying she shouldn't have left her alone. She is not well. Yug assures her saying he will find her. He calls someone.
Angad's mother gets surprised seeing Angad got better really soon. Doctor gives credits to Kalindi. Angad wishes to meet her. But she was not there. One nurse says they will inform him if Kalindi comes.
Buaji gets tensed and tells Yug that it's really dangerous for him if that girl meets Kalindi. She will reveal his truth to the world. Yug says don't worry. He released Kalindi from his jail as she needs to be free and should think that there's danger waiting for her everywhere. She will come back to Yug only. Buaji gets a call, one nurse says Angad wants to meet Kalindi. Yug gets shocked hearing that. He makes Buaji understand that everything is under control as he is the devil himself.
Chandni makes arrangements for Angad's welcome. Paridhi teases her. Kalindi thinks about that girl Priyanka. She guesses that maybe Priyanka is in the hospital for treatment. She meets nurse and nurse says Kalindi has a job offer. She will be taking care of a pregnant lady. They are really good people and will treat her well. Kalindi says she has no experience. Nurse says she will guide her.
Angad enters his room and he gets happy seeing the decorations. He hugs Robin and thanks him. Robin says Kalindi did all these. Chandni gets happy seeing Angad's happiness. Angad first denies to eat his favorite food but then he eats. Robin gives him house blueprint to find out one mystery. Angad reads short poems while searching for the mystery. He gets clue and finds one phone battery from the kitchen. He goes to bedroom. He turns on light pressing the switch. Angad sees all the decorations. Chandni comes in front of him. Angad says what is all this? Chandni proposes him. Chandni gets on one knee and asks will you marry me with a ring. Angad recalls how he proposed Kalindi. Family insist Angad to say yes. Angad stays quiet and rejects her. Chandni gets angry and throws all the stuffs out of anger. She then saves Angad seeing one electric box is falling on him. Chandni gets electric shock. Angad kicks the electric box and saves her.
Later Angad asks about how is she? Shakti tries to convince Angad that she is Kalindi only. Why is he not understanding. She just lost her memories. Robin also says that Angad will never understand.
Chandni says to Angad that his family is overprotective as they called doctors, specialists for such a simple injury. Angad says they are not like you. Angad Chandni tease each other and Angad says you will hear what you want to hear. Chandni asks will you propose me? But don't if you want to return my favor. As I saved your life. We can be friends as well. Angad gets happy but then she says I am joking. She tells him to share whatever he has in his heart for her. Angad says you tell me then how to do. Angad gets on one knee and proposes Chandni.
Kalindi tells about her new job to Yug. Buaji says you can get caught if you work in that hospital. Kalindi says she will work in a house to take care of a pregnant woman. Yug keeps hand on Kalindi's hand and agrees. Yug tells Buaji that he finds no problem in this job.
Prithvi plans to do something and Paridhi gets mad her parents saying you two only run behind money. My love Angad is getting married to my enemy. I can't tolerate that. Prithvi says do whatever you want to do but don't involve me.
Chandni gives make up tips to Shona. Chandni gets excited for Shona's marriage and for her and Angad's engagement as well. Shona says she is really happy for her. Chandni says one thing is left which she will complete soon.
Paridhi meets Angad. She says why Angad is behaving weirdly. He is not that Angad whom she knows. She shows him two scenarios where Angad's two brothers are behaving with their wives differently. One is soulmate and other one is failmate. Robin sees Paridhi and thinks something is fishy. Minti keeps eye on her.
Paridhi says to Angad that he can't marry Kalindi because she saved him. There's no love between them. Paridhi tells him to go to Rishikesh with her. Angad agrees and Minti overhears that.
Chandni gets angry and Minti says its all Paridhi's fault. She manipulated Angad. Chandni says she will teach lesson to Paridhi. Minti says her to calm down. Chandni comes to Paridhi's room. Paridhi packs her bag. Chandni asks how to control anger? Teach me how to do breath in and breath out. Chandni then breaks chair. She tells Paridhi what I'll say to you, you will say that to Angad.
Angad waits for Paridhi. Yug congratulates him for the engagement. Angad invites him and says you can come with your fiance. Angad thinks he can't trust neither Yug nor Chandni. But he will protect Chandni as she is his responsibility.
Paridhi tells Angad that she changed her plan . Kalindi is good for him. Angad says he was not planning to go as well. Chandni threatens Paridhi to do bad make up. Paridhi does it and Chandni enjoys watching that with Minti and Shona.
Kalindi meets nurse with her face covered. She wants to meet Priyanka. But she learns that Priyanka is in coma.
Yug tells Buaji that he will take another girl with him. Noone will know that she is his fake fiance.