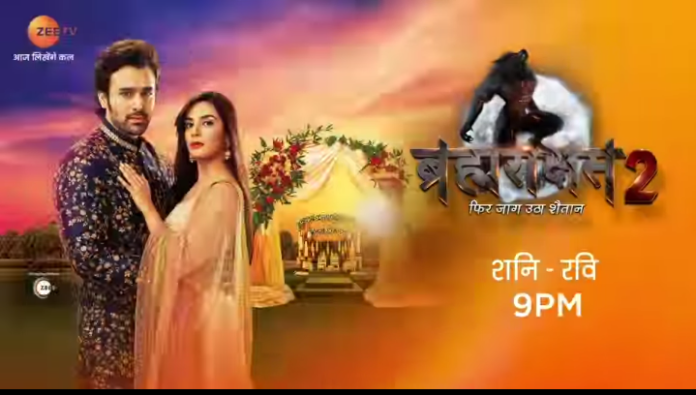 Brahmarakshas 2 Upcoming Story, Spoilers, Latest Gossip , Future Story, Latest News and Upcoming Twist, on Justhowbiz.net
Angad stops Kalindi from running. Angad puts dupatta on her head again. He says he didnt break any condition of hers. Chandni says this nurse is irresponsible and absent minded. She can't take care of Minti. Minti says this nurse has shared her struggle with me. She is a good hearted person.
Kalindi and Angad go to temple. Angad asks why has she gone near Holi fire. Kalindi says I think I should quit this job. Minti comes behind. Angad says she is good in her job. Kalindi tells him not to interfere in her personal life. She is here for Minti. Angad says he is here to take blessings and everytime its not about being professional always. Angad leaves. Minti asks what has he said to her? Kalindi says his own problems are not solved yet but he is interfering in others lives. Minti says she is also worried for Angad.
Shalini tells Prithvi that the Minti didn't drink the milkshake yet because of the nurse. Prithvi gets mad at Kalindi. He says now he will plan something bigger to get her out of the house.
Kalindi tries to light the diya rubbing two stones. She gets one box and thinks who hid this box here. Minti gets happy seeing that Kalindi lighted the diya already. Minti talks to Kalindi and Kalindi suddenly feels uneasy. She says Minti should keep asking her these questions so that she can remember about her past.
Minti tells Angad to drop Kalindi in her house. Angad says he won't do it as again nurse will blame him that he is trying to know about her address. Kalindi says he doesn't need to drop me. Angad tells see I was right. Kalindi leaves from there. Kalindi thinks why she gets angry whenever Angad says something to her.
Iravat says to get Amarta Yug has to get Kalindi first but Yug fails to get Kalindi. Yug says to rule all over the world he won't let her go. Iravat says you will also burn like Holika. If Yug can't control Kalindi he will take the responsibility. Yug says don't you dare try to challenge me. He scares him by becoming Brahmraksas but Kalindi enters. Iravat and Yug change the topic and start their drama. Kalindi says its new job so she needs time to adjust.
Chandni calls Shona saying today's Holi plan is set. Angad plans to go to mountains. He says he will follow his own rules only. Chandni throws water balloon at Angad while he was leaving. Angad says whoever is doing it should be afraid of me.
Chandni tells Minti why is she caring for that nurse so much. Minti tells Angad is going to mountains. Chandni thinks she won't let him do it. She punctures Angad's car tyre. Angad says why are you ruining my plan for Holi. He says noone can stop me from doing whatever I want to do. Chandni follows him.
Shalini sees Prithvi is making bomb. She says its very dangerous. Prithvi says he will fit the bomb behind the speaker. Its connected to music system. When the volume will get higher it will blast. Kalindi is talking to DJ now. Shalini says what if Kalindi doesn't increase the volume. Prithvi says you and your daughter will stay away from it. Rest I will handle.
Kalindi says she wants to Minti as she is waiting for her. Yug and Iravat say that she can cancel the plan. Kalindi says Minti will take stress if I refuse to go. Yug agrees and was about to apply colors on her face but he can't do it. Yug gets shocked. Yug asks where did she go tomorrow. Kalindi says she has gone to Kali temple. She says it feels like its protecting me. Yug says he will follow Kalindi today to know who is reminding her of her past.
Chandni connects bluetooth. Shalini comes and tells her about the speaker which is in store room. Angad talks to his friends. He hears some music. He asks Chandni why is she playing music loudly. She tells Angad to place it in function. Angad angrily tries to break the speaker but Chandni holds it. They argue with each other.
Minti makes laddus. He gives it to Angad. Kalindi says bhaang is mixed in the laddu. Minti should not eat it. Angad also says he won't eat it. He thanks Kalindi for informing it to him. Kalindi says she only warned Minti not him. Angad says you don't have manners. Kalindi thinks why is she talking to Angad rudely.
Guru Mata finds the box. She hopes Kalindi reads the letter in it. So that she knows Chandni is her twin sister.
Chandni eats bhaang laddu and announces to celebrate. Minti tells Kalindi that Anagd and Chandni are made for each other. They argue a lot but love each other as well.
Chandni dances her heart out. Shalini tells Chandni to raise the volume more. Kalindi tries to find the medicine. She sees a portrait of a wolf. She feels scared. She sees many sketches of it.
Paridhi tries to raise the volume of the speaker but Shalini stops her. Chandni sees Angad coming wearing sunglass. Everyone tries to put colors on him. Angad runs. Chandni falls on Angad and tries to apply colors on him but Angad leaves.
Kalindi enters one secret room. She sees some injured ladies pictures. She again looks at the wolf pictures and sees one sword.
Chandni dances with Angad romantically. Angad lowers the volume saying sound is loud. Angad tells Chandni to stay away. Angad misses Kalindi. Chandni angrily stops the speaker.
Angad goes to secret room. Kalindi tries to pick up the sword but she gets injured. Angad sees her and asks what is she doing here. Suddenly Angad hears blast sound and goes to check. Chandni falls unconscious. Angad calls the doctor. Iravat notices that Kalindi is working in her own house.
Constables praise Yug's body. Yug says he has to impress Kalindi to get power. Yug gets to know about the blast incident but ignores. Iravat informs Yug that Kalindi is taking care of her own pregnant sister Minti. Yug gets shocked.