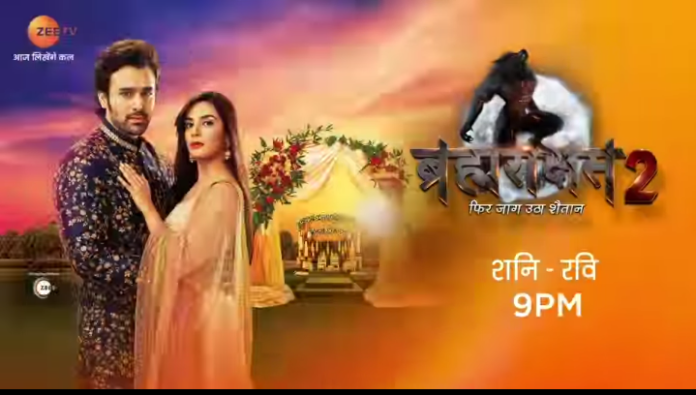 Brahmarakshas 2 Upcoming Story, Spoilers, Latest Gossip , Future Story, Latest News and Upcoming Twist on Justshowbiz.net
Episode start with Kalindi coming to Yug. Yug asks her why is she crying. Kalindi tells Angad's family accused her of harming Chandni. Iravat again provokes Chandni saying she should marry Yug else this world never treats a homeless girl in a good way. Kalindi tells Yug to marry her. Yug agrees immediately. Iravat says he will arrange everything for their marriage. Kalindi gets one note from Guru Mata in her room.
Angad reaches hospital to know about the symbols but Yug kills Priyanka in the meantime. Angad gets shocked seeing Priyanka's dead body. This side Kalini sees two kundalis in a box there she gets to know that Chandni is her twin sister. Angad gets one map near Priyanka. He promises her that he will serve her justice following the map.
Kalindi reveals to Yug that she knows Chandni is her sister. She reached there as her destiny wanted the same thing. Yug blackmails her emotionally saying the way he protected Kalindi till now noone can do it. Chandni won't accept her, she is selfish. Yug says he cares for Kalindi. Kalindi agrees and says she won't go to meet Chandni. Guru Mata overhears them.
Prithvi decides to blackmail Yug using his recording where Yug was telling him to get the nurse out of the house. Prithvi goes to Police station and checks Yug's phone there he sees Kalindi's photo in nurse get up. He gets shocked knowing nurse is real Kalindi. Other one is her lookalike. Prithvi informs Shalini. Shalini tries to harm Chandni saying she knows Chandni's truth. Chandni attacks her and saves herself. Angad calls Chandni and asks for her help.
Kalindi leaves to see Chandni for last time before marrying Yug. Guru Mata says now two sisters will kill Brahmrakhsas. Iravat confronts Guru Mata saying she is only faking to be under Iravat's control. Guru Mata says tonight Brahmrakhsas will die for sure. Iravat reveals after Brahmrakhsas and Kalindi's marriage everything will be under Yug's control. Iravat kills Guru Mata.
Angad instructs Chandni to get him the billhook for killing Brahmrakhsas. Chandi goes to secret room and tries to pick up the bill hook but it feels heavy to her. The bill hook was about to fall on Chandni's neck but Kalindi saves her. Chandni gets shocked looking at Kalindi. Kalindi asks for Angad. Chandni says Angad doesn't love her because of Kalindi. Kalindi says her story with Angad has ended. She is here to meet her sister Chandni only. Kalindi says I am dead for Angad, everyone will forget me. Kalindi requests Chandni that Chandni will always remember her. Kalindi tells Chandni to accept Angad, so that Chandni can start a new life with Angad. Chandni praises the latter saying thats why Angad loves Kalindi so much. Chandni tells about the bill hook to Kalindi. Kalindi says they need to help Angad. Angad can't kill Brahmrakhsas alone.
Angad reaches the place. There he meets Yug. Yug reveals he trapped Angad by leaving the map near Priyanka. Yug says he tried hard to not kill Angad but Angad forced him to take the step. Yug transforms into Brahmrakhsas. Chandni reaches the same place. Angad finds himself in a forest. He wonders how is he alive after Brahmrakhsas's attack. Kalindi and Chandni try to find Angad. Brahmrakhsas catches Kalindi. Chandni holds the billhook and looks determined to kill Brahmrakhsas. She follows Brahmrakhsas.
Kalindi gets shocked seeing Yug in front of her. Yug says he had to deceive her as after marrying Kalindi he will be immortal. He laughs. Kalindi says she got her memories back. Yug mocks her saying she can't do anything as Angad is dead. Yug tells Kalindi to marry him else he will kill rest of the girls who want to get freedom.
Angad meets Chandni and reveals Yug is Brahmrakhsas. They try to reach Kalindi using the billhook. This side Kalindi gets ready like bride and sits beside Yug to marry him. Ritual starts and girls get released. Angad attacks Iravat using the billhook and Iravat dies. Yug transforms into Brahmrakhsas. Chandni throws the billhook at Kalindi and Angad challenges Brahmrakhsas. Kalindi and Chandni stab Brahmrakhsas. Brahmrakhsas attacks Chandni before dying. Chandni tells Angad that she can never be Kalindi. Chandni says good bye to Angad saying she doesn't want to live a life without Angad. Chandni says Angad and Kalindi will name their daughter as Chandni. Chandni dies.
Angad and Kalindi spend time together. They stare at the moon and close their eyes. Brahmrakhsas makes roaring sound.
The Episode ends.