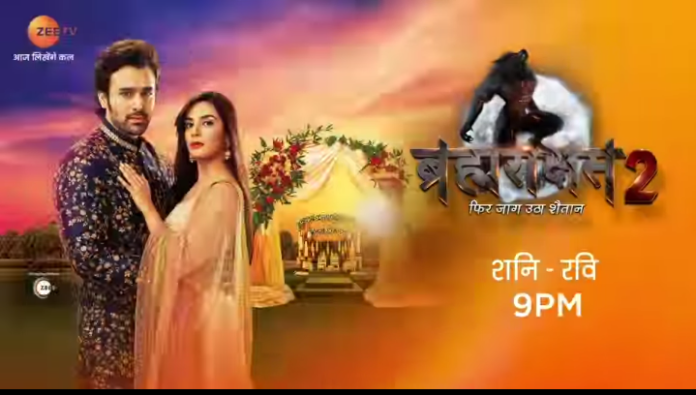 Brahmarakshas 2 Upcoming Story, Spoilers, Latest Gossip , Future Story, Latest News and Upcoming Twist, on TellyExpress.com
Episode starts with Angad trying to make Chandni jealous. Chandni comes and teases Paridhi so that she goes from there.
Shalini asks Prithvi why did he get all the people unconscious only to trap one girl. Prithvi says people are not stupid. We can get caught. Yug will kidnap somebody its not a easy task.
Chandni tells Angad to play the game carefully. They have to win. Angad says I don't care about the game. Chandni says think about Kalindi and Angad does the same. Angad with injured leg wins the game and applies haldi on groom and he bride. According to game rule Angad and Chandni are asked to apply haldi on each other. But Angad refuses to do it. He says groom and bride should only do this ritual. Not us.
Angad bumps into Chandni. Haldi gets applied on Chandni unintentionally. Chandni says you didnt want this but see you applied haldi on me. Angad gets angry at her and says you think this is a joke. He then takes her outside and pours water on her saying I don't want to believe in all these rituals. My life has become joke and don't you ever try to be Kalindi. Chandni says Kalindi is dead. Angad says don't you dare say these things about her. Chandni says you have to accept that I am your present and future. Angad says she is with me always. You are not Kalindi so don't try to be like her. Chandni says you don't feel anything whenever you see me? Angad says I didnt love Kalindi's face but I loved her heart. I will not care even if you die. Chandni gets shocked.
Shalini tells Chandni to drink juice but Chandni says my mood is off. Shalini still gives her and Chandni serves it to everyone. Everyone gets unconscious. Prithvi and Shalini get up to execute their plan. Prithvi lifts Chandni up and puts her in car.
Angad gains his consciousness and tells everyone to get up. They wonder what happened to them? Shalini says Kalindi made the drink. Angad says she mixed something in the drink and has stolen everything. She disappeared. Minti Shona Robin stop him from talking rubbish. As he was scolding Kalindi since morning. Angad says I will prove that she is a thief.
Prithvi gets happy seeing Chandni's condition. Chandni threatens Prithvi showing a knife and tells him to change direction. She gets out of the car and Chandni gets shocked seeing Yug. Prithvi handovers Chandni to Yug.
Angad and everyone get shocked seeing Chandni is kidnapped. Shona Chandni get worried for Chandni. Angad asks Shalini about the car tracker which she put in Prithvi's car.
Yug says he will put Chandni behind bars. Chandni disappears saying the car is punctured.
Angad asks Prithvi about Chandni. Prithvi says he gave her to Yug. Yug catches Chandni using a net. He was about to attack her. But Angad comes to Chandni's rescue. Angad says I have warned you that without proofs you can't arrest my fiance. Yug says you have broken law rules. Handover her to me. Angad refuses and tells him to leave. Chandni says why I get scared whenever I see Yug. Angad says you are thief so you are afraid of him.
Minti gets mad at Shalini. She starts packing her bags and says I won't forgive you this time. You people have to leave this house. Angad covers Chandni with a shawl. She falls asleep. Prithvi also tries to convince her. Prithvi insists Angad to stop Minti. Angad makes Minti understand about the consequences. Minti agrees. Angad warns Prithvi saying he won't repeat this again. Prithvi says Angad is also treating Chandni badly. So he should stop acting.
Kalindi requests Yug to release her as it's suffocating for her to live in a closed room. Yug says its good for her only to save herself from brahmrakhsas. Kalindi sees noone is outside so she comes out of the room.
Angad talks to Kalindi's photo. He says I don't like your lookalike but I tolerate her because of the similar face. Angad sees Kalindi and he gets happy and hugs her. Kalindi says at last I met you. Chandni says she is not Kalindi. Chandni says you need love and I tried to give you that only. Its not wrong. Angad says stay away from me. Chandni starts crying and Robin consoles her saying Angad will accept her soon.
Buaji stops Kalindi saying she should at least inform before going outside. She forcefully tells Kalindi to eat mango.
Angad throws stuffs in his room and gets disheartened. He at drunken state says to Paridhi that he needs her.
Shakti tells Akshay that Angad canceled all the rituals. Only marriage will happen. Chandni gets surprised hearing that. Shona asks Chandni has something serious happened between you and Angad? Chandni says Angad broke my heart. Chandni says but I won't let him ruin the marriage fun.
Buaji talks to Yug that this thing should not happen again. Yug says he needs to fulfill his hunger. Buaji warns him saying he should choose a person carefully.
Chandni starts dancing with family members. Angad tells stop this nonsense. He tells her to come down. Chandni says promise me you will not talk to me rudely. Angad saves Chandni from falling. Angad says though my family trust you but I will not believe that you are Kalindi. He gives her money saying she can leave so that she will be saved from Yug. Chandni leaves being sad. Minti says to Angad that Yug will not leave her alone and why you saved her when you don't care for her at all.