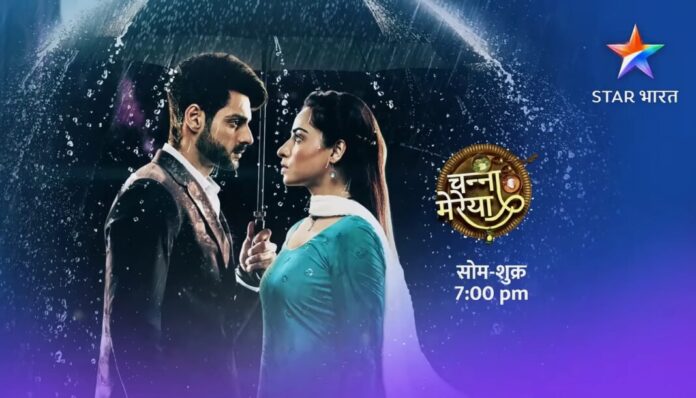 Channa Mereya Upcoming Story, Spoilers, Latest Gossip, Future Story, Latest News and Upcoming Twist, on Justhowbiz.net
In today's episode, Sukhpreet accepts that she was behind Gurkeerat's accident. Aditya asks her why she did this, what was his mother's fault. Sukhpreet says that Gurkeerat was innocent but her game was getting spoiled because of her. She wanted everything that Gurkeerat had. First she wanted Amber as only he could provide her the life she use to desire. She killed Gurkeerat to get Amber. Later, Amber did everything she wanted even he insisted Rajvant to steal Khushwant's diary and kicked him out as Khushwant was honest.
Gulraj criticizes Sukhpreet for her thoughts. Sukhpreet tells her that she can't understand all these and gives herself credit for their business and property. She says that Aditya and Rajvant wanted to give 50 perfect share to Ginni. As Rajvant's signature was needed for the process and he already got heart attack, she tried to kill him. Amber raises hand to slap her. He tongue lashes her for manipulating him and making him go against his own family. Aditya says that he has called police to arrest Sukhpreet. Sukhpreet captures Ginni and holds knife in her neck.
Aditya asks her to leave Ginni. Sukhpreet says that she will escape before police's arrival. She gives threats to kill Ginni. Ginni cleverly hits on her leg. Aditya captures Sukhpreet. Police arrive and arrest Sukhpreet. Aditya is asked to arrive at police station to give statement against her. Akash cries. Shailaja comforts him. Amber says that he wants to surrender himself for his deeds. He says that he tried to killed Ginni many times. He says that he instigated Simran, he never wanted Aditya and Ginni to get married, he tried his level best to stop the marriage, he shot Mrs. Randhawa but Ginni came in between.
He tells Gulraj that he stole Khushwant's diary aswell. He asks her to forgive her. He tells Aditya and Ginni that he won't come infront of them till he gets punished for his deeds. He requests them to take care of Rajvant and Akash. He asks Shailaja to handle the family. He asks everyone to forgive him and gears up to leave. Ginni stops Amber and asks Gulraj to forgive Aditya's family for the sake of Khushwant. She reads Khushwant's letter where he asked his family to not be revengeful and forgive Rajvant's family.
Gulraj hugs Ginni and agrees. Shailaja apologies to Gulraj. Gulraj says that she has forgiven everyone. They go to kitchen to cook together. Amber, Aditya share a hug. Aditya asks him to take rest. Aditya, Ginni say thanks and hugs each other. At night, Ginni tells Aditya that Khushwant and Gurkeerat got justice today. Aditya recalls Sukhpreet's words about family and says that he hates the word family. Ginni tells him that family members are different from each other, if one family member is bad it doesn't make the whole family bad. Aditya misses Gurkeerat.
Ginni says that both Gurkeerat and Khushwant are with them. She asks Aditya to not overthink to stop being cranky. She gives him a form of a competition. Aditya, Ginni have a cute fight. Akash asks Amber if his mother was wrong. Amber calls himself wrong and blames himself for everything. He says that he has finally realised his mistakes and won't repeat them in future. He will become a good person and will make Akash a ideal man too. Ginni, Aditya offer prayers to Khushwant. Ginni gets emotional. Aditya comforts her. They discuss about their hotels and dhaba. They start a fun competition to decide who makes better sahi paneer between them.
The episode ends.
Click to read
Channa Mereya 11th November 2022 Written Update: Supreet gets exposed