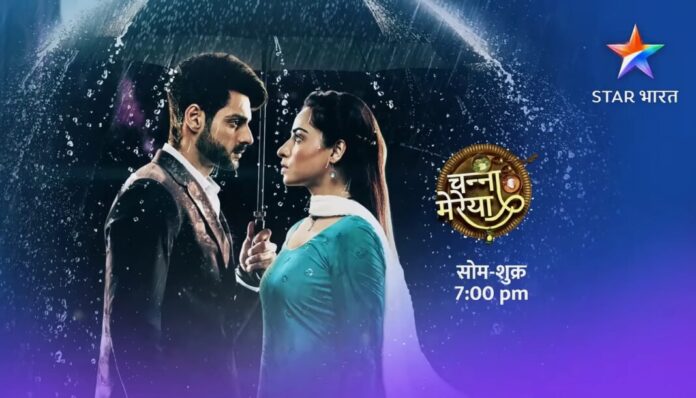 Channa Mereya Upcoming Story, Spoilers, Latest Gossip, Future Story, Latest News and Upcoming Twist, on Justhowbiz.net

The episode starts with Aditya in his room recalls whatever happened between him and Ginni after the truth about diary comes out meawhile Ginni recalls the moments she shared with Aditya. They both get sad and upset. Ginni cries. Aditya recalls his uncle's words about Ginni becoming their business partner. Ginni wipes her tears away then goes and opens the cupboard from which she takes Aditya's shirt. She remembers her and Aditya dancing together. She then goes out with a shirt and goes to sleep outside the room of Aditya.
Aditya comes outside and sees Ginni. He asks her what is she doing. Ginni hides his shirt and turns around to face Aditya. She tells him that she is here to sleep. Aditya asks her then why she divided the house into two. Ginni tells him that she did it so that both the families won't fight. Aditya taunts her for acting like a mahan after everything she has done to him and his family. Ginni tells Aditya the place where she get peaceful life belongs to him now so she decides to sleep here so what is his problem in this.
Aditya asks her to stop drama because no one is here to witness it also mocks at her saying he is willing to record her performances. Ginni remains silent which annoys Aditya so he goes to his room to sleep asking Ginni to suffer as she choose to sleep outside. He then locks his room door and goes to his bed. Ginni takes Aditya's shirt out and held it close to her. Aditya sees Ginni from his room. He worries about Ginni. Both Aditya and Ginni feels restless and struggles to sleep. Ginni falls asleep. Aditya sees it so he also closes his eyes and falls asleep.
Ginni have a nightmare that someone opening the room of Rajvant to attempt to kill him. She wakes up and gets worried. She decides to check up on Rajvant. A mysterious person wearing black gloves opens Rajvant's room but goes and hides when that person senses Ginni's arrival. Ginni opens Rajvant's room and gets relieved seeing him fine. She then goes inside the room which the mysterious person watches this from the hiding spot.
Marleen comes there all the while murmuring that Aditya adviced her to stay with Dimpy Dimpy because of which she is suffering a lot. She then bumps into Shailaja. They both asks what the other person is doing at this night time. Marleen complains about Dimpy. She then asks Shailaja what is she doing here. Shailaja tells that she have some important work to do so asks Marleen to go to her room first then leaves the place. Marleen wonders what is Shailaja upto then leaves the place. Shailaja smirks. The next day in the kitchen Gulraj accuses Shailaja for cutting their gas pipe line. Shailaja acts and says that she didn't done anything.
Both Supreet and Ginni arrives there. Shailaja and Gulraj gets into an argument. Ginni calms down Gulraj then brings wooden stove which shocks and worries Shailaja but Ginni mocks at her using her earlier words. Gurleen comes there and informs Supreet and Shailaja that Aditya refuses to have breakfast also he didn't had dinner also. Ginni gets shocked and worried but hides it from everyone and acts normal. Supreet tells Gurleen that she will make Aditya have food as she is making his favorite paratha's. Gurleen obliges and leaves the place.
Supreet goes to Aditya with breakfast. She requests him to have food then work. Aditya tells her that he isn't feeling hungry. Supreet convinces him to have food using Rajvant's name. Aditya gives in and have paratha. Ginni gets relieved watching this from outside and leaves the place.
Supreet asks Aditya about his presentation and tells Amber also working for the same and is this really important one? Aditya says yes and tells its Sonia who is Rajvant's business partner and she is his friend also who used to come to the home for whatever the business deal but this time he has to do something because the situation in the house is not pleasant also Sonia isn't aware about anything that's happening with them. Supreet wishes everything to happen according to their wish.
Later Aditya sees Ginni is lighting up the Diya infront of Kushwant's photo. He goes to her and tells her that he wants to talk to her about something important. Ginni asks him to not to enter her part of the house which annoys Aditya. Aditya goes to the other side and explains about the business deal if they gets it then he can get hundred crores so pleads with her to not to create any scene infront of Sonia who will visit the house.
Ginni refuses to give him any assurance which annoys Aditya so he tells her he will handle it on his own and leaves the place. Later Aditya is on his way out while talking to his worker on the call about the business deal. Goldie stops him and insists to go with him. Aditya refuses and taunts him about his business knowledge. Both the families arrives there. Goldie remains stubborn to attend the meeting but Aditya refuses and requests Gulraj to make Goldie understand but Gulraj supports Goldie. Shailaja mocks at the Grewal's after they learns it's a hundred crore worth deal.
Ginni tells Aditya that Goldie will attend the meeting which angers the latter. Supreet calms down Aditya and sends him out. Goldie thanks Ginni for taking a stand for him but Ginni tells him that she did it for their parents. Goldie also leaves the place. Supreet stops Ginni and asks her to act infront of Sonia they have no differences. Ginni gets angry at Supreet for her choice of words she used it against her.
Precap: Shailaja tells Supreet that the Grewal's have no idea about the importance of this particular deal. Sonia is someone like a hen which gives golden egg so they have to be more careful. Supreet looks on.
Click to read
Channa Mereya 8th November 2022 Written Update: Goldie stops Simran from coming to Singh's house