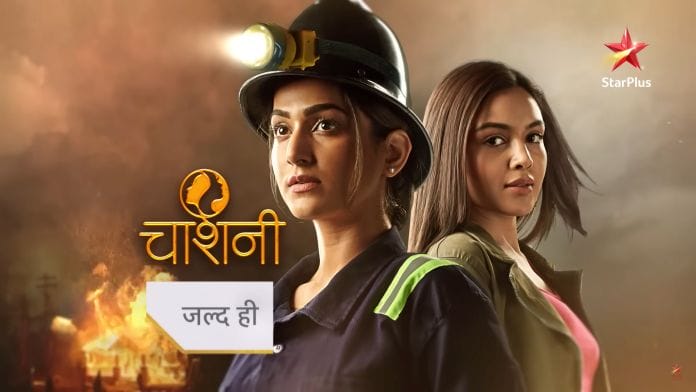 Chashni Upcoming Story, Spoilers, Latest Gossip, Future Story, Latest News and Upcoming Twist, on Justhowbiz.net

The episode starts with Manav say he will go and call Roshni. Chandni tells him not to stop and says Roshni has to decide herself whether she is choosing Nirbhay or Chandni, she asks to drive the car. Roshni leaves Nirbhay standing and goes to sit in the car. Raunaq also smiles. Raunaq supports Chandni in sitting. He scolds her for coming to jail and asks what if stitches would have open. She says then it can be made again but she couldn't let him be alone there. Raunaq tells her sorry and gives her a yellow rose saying friends again.
Chandni smiles and asks him if she is doing right. She says there is no one other than him to guide her. Raunaq says if they have come so close fighting. He tells her that Roshni and her have always been together so no one understands what's right for Roshni better than her but she should not let any third person spoil their relationship. Chandni offers the yellow rose back to Raunaq and asks to be friends again. Raunaq comes to his room and crushes the rose. He recalls his time spent with Chandni and loses his calm.
Raunaq removes his t shirt and screams that he hates everything related to Chandni. He opens cupboard and takes out his sister's dupatta. He remembers how she used to tell he will miss her a lot and its her favourite dupatta. He breakdowns and says Chandni was responsible for separating him from his sister and he can never forget it. He touches the tatoo on his chest and says its the date Avi was killed by Chandni Chopra. He vows to make her feel the same pain of getting separated from sister and destroy her happiness.
Manav helps Chandni lie down on the bed and gives her medicine. Tarun comes there with bouquet and taunts them about their closeness. Manav gets angry but Chandni stops him. Once Tarun leaves Chandni says they should not give importance to guys like Tarun. Later Chandni sees Roshni sitting and goes to her. Roshni stops and talks to her, Chandni finds the box where Roshni has kept all the things belonging to Nirbhay. Chandni hugs her. A few days later Chandni gets completely recovered and is ready to go back to work.
Raunaq comes there and greets her. She asks if he needs something. Raunaq gets serious and says he wants revenge and to take her life. Chandni gets shocked. He gives her red rose and changes the topic. He says its his responsibility and he wants to drop her to work. Chandni agrees to go with he talks to her and convinces her to give a chance to Roshni. He thinks now her destruction has begun. Raj and Jogi threaten Vikash to give them club. Nirbhay comes there and runs after them with stick. However Sumer reaches there with more men and capture Nirbhay. The episode ends with Raj telling Sumer that he is the club guy while Sumer looks on.
Precap Raunaq will taunt Chandni about her closeness with Manav. Roshni will tell Nirbhay that Shankar has his proof of innocence. Vikash overhears it and will go to kill Shankar.
Click to read
Chashni 27th March 2023 Written Update: Chandni avoids talking to Roshni