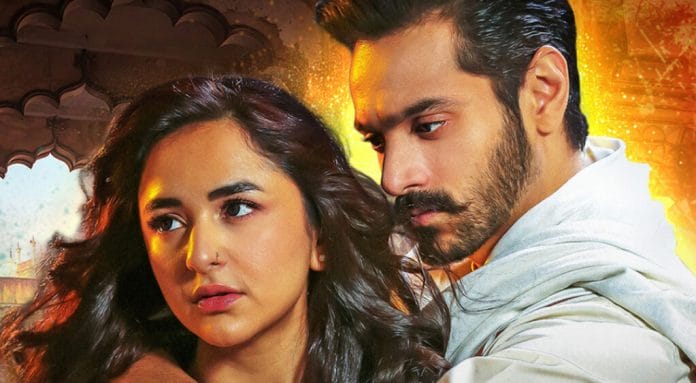 Amid the several dramas, Pakistani show TERE BIN is making its own place. The show is breaking the records and trending on all social media platform.
Fans enjoying the Tere Bin drama. The hate-love story is everyone's favorite no matter it is Hindi show or Pakistani. The current Tere Bin is entertaining the audience by showing the chemistry between its lead Murtasim and Meerab.
The couple Murtasim and Meerab's hate-love banters winning audience heart across the globe. Mutasim and Meerab get hitched together under family pressure. Meerab a strong, ambitious girl hates Murtasim for certain reason. Duo still never fails to take a stand for each other where necessary.
Meerab and Murtasim's taking stand for each other is enjoyed by the fans. The drama seizing audience heart. It is one of the most trended series on Youtube platform with 17M plus views and counting.
Along with romance the show is full of emotion. Loyal viewers of the show can't stop praising Tere Bin. The edits on Meerab and Murtasim is ruling social media. A fan wrote "Tere Bin summed up. It is what it is, with all the grandeur, romance, and sizzle. And this, along with Wahaj and Yumna's extraordinary chemistry is what made TB such a huge huge hit. It has almost everything that we missed seeing on our screens for so long".
https://twitter.com/ransss_sss/status/1639340211225198592
Wahaj Ali and Yumna Zaidi are getting praised individually for their acting chops. Both are effortlessly pulling the character of Murtasim and Meerab.
Fans claim Murtasim is one of the balanced character after so long." Murtasim's character is the best written in the drama after a long time. Decent, sensible, responsible, loving, caring, mature who knows how to tackle matter in every situation"- said a fan
Meerab and Murtasim contract marriage is getting intense day by day. Tere Bin is breathing fresh in terms of storyline, twist and romance.
Do binge Tere Bin. Share with us if you all already watching Tere Bin.
Stay tuned with us for TV serial latest news and updates