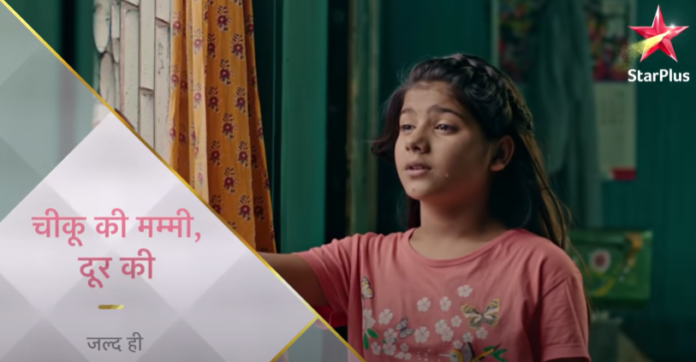 Chikoo Ki Mummy Durr Kei Upcoming Story, Spoilers, Latest Gossip, Future Story, Latest News and Upcoming Twist, on Justhowbiz.net
The episode starts with Nupur says she failed to become good wife and good care taker. Chikoo says you're good and ready to help the who's in need. Nupur blames herself for Milind condition. Chikoo says it's my mistake to take you to that event, sorry for taking you to that small event. Nupur says it's not mistake so don't blame yourself and I decided to do something. Chikoo asks what's her decision.
Milind returns to home with Savitri. Kamini gives water to Milind and says Nupur is reason of all these problems and if it goes on in this way than Media may create drama. Milind goes inside. Kamini says Nupur may ruin our reputation. Nupur comes with Chikoo and says no as I'm leaving from here tomorrow with Chikoo and thanks for everything and I don't want to become problem to your family and if you feel you will get happiness if I leave from here than I will definitely leave for this family happiness and Aai thanks for loving me and thanks for supporting me to search Payal and as a Mom I can understand that you can't see the pain of Milind and thanks Subodh and Kamini for giving us Aarav and Nirav and I want to organise one last pooja for this family happiness than I will leave from here with Chikoo forever and she remembers her moments in the house and leaves to outhouse.
Chikoo in tears tells to Nupur that she wanted to unite her with Milind but you're going far from him and I don't have any good luck and you're suffering because of me. Nupur says it's not your mistake so stop blaming yourself and our relationship is like scented flower which can't lasted long and sleep well as we have to leave to safe place from here. Chikoo says I can stay in streets to but you can't so call your friends and take their help. Nupur thinks Chikoo is correct and I don't have any plan where we can leave so I have to think about it.
Next day Savitri praises Kamini seeing her Rangoli. Kamini asks her Mom in law how she felt after meeting Mandira. Savitri says what's the need of it. Kamini says I convinced Mandira and Rashi plus I invited her to pooja. Savitri tells her that she liked Mandira than Kamini asks Savitri to make Milind to stay at home. Savitri agrees. Kamini thinks Nupur will be out and Mandira will enter as bahu than we will rule this Joshi parivar.
Chikoo asks Nupur to come to Doctor to check her wound. Nupur says she meets Doctor after pooja and this wound will be healed very soon Dadi maa. Chikoo asks how her Dadi maa may look. Milind denies to stay at home saying he have an meeting at home. Savitri insists him to stay. Nupur makes Rangoli. Chikoo applies lep to Nupur wound. Savitri tells to Milind that he needs support of good partner. Milind asks what she meant to say. Savitri says we faced many problems because of Nupur and now I want to see you happy and I know which is good for you. Nupur says her pain is gone shen she touched her with her hands and your hands have magic like my Payal. Chikoo tells her that her touch is making her feel the love. Nupur gets emotional.
Episode ends.
Precap – Nupur packs her bags. Milind breaksdown infront of his dad. Chikoo plans to make Milind reminds his love by making him read their letters.
Click to read
Chikoo Ki Mummy Durr Kei 22nd October 2021 Written Update: Milind gets arrested