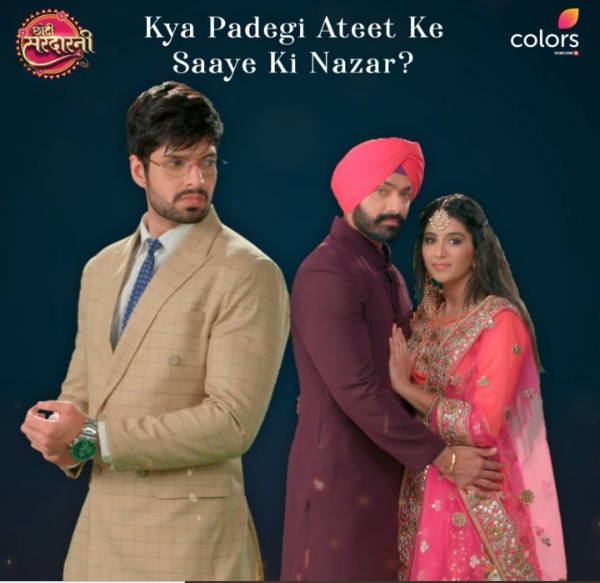 Choti Sarrdarrni Upcoming Story, Spoilers, Latest Gossip, Future Story, Latest News and Upcoming Twist, on Justhowbiz.net
The episode begins with Sarab says everything changed now and Vikram is responsible for that. Vikram says it's true that Sarab and his actions changed towards him but with that his decision too changed now. He says he thought he will live with Aditi and his mother once he gets Karan but not anymore. He says he isn't afraid of his threaten and says his and Aditi's relationship ends from now on and he don't have any relation with her.
Aditi hears him. They sees Aditi standing there. She asks is he really going to leave her for that duppata girl. He says she misunderstood him, he doesn't have any relationship with that duppata girl and swears on his mother. She asks then why he married her. He says he did mistake by marrying her and everything happened in 3 days and everyone forced him also for marriage.
He says he feels like he is in cage and it's not her mistake, she deserves good life partner but that's not him. He tells her that he can't give any happiness to her because his life just filled with sorrow so they should separate from each other. She says he can live without her but she can't live without him and takes the knife from there.
Everyone tells her to not do like that but she cuts her wrist. They shocks seeing that. She was about to faint but Sarab ties her wrist. Meher calls Doctor. Sarab takes her inside the house. Harleen asks what happened to Aditi. Sarab says she cut her wrist. Meher tells them to bring first aid box. Harleen tells Robbie to bring it.
Harleen scolds Vikram. Vikram gives water to Aditi but she denies to drink it and tells him to give that to that duppata girl. Vikram says he doesn't have any affair with any girl and he doesn't love anyone. Harleen holds his collar and asks then why he is divorcing Aditi if there is no girl in his life then. She asks from where he got that duppata and asks him to tell her name. Sarab tells her to leave Vikram and apologize to him. He tells Harleen to control herself.
Harleen says Aditi is in this condition because of Vikram then how can she stay calm. She threatens him to call Police and tells Robbie to call Lawyer first then Police. Sarab says it's their personal problem so they are going to handle it without involving others. Doctor comes there and treats Aditi. Sarab asks why Aditi didn't thought about them before doing this. He takes Vikram and Meher with him inside the room.
Gulwant calls Amrita and asks where is she now saying she searched her everywhere in the house. Amrita lies to her saying she came to Yuvi's school to pay fees. Gulwant sees Amrita giving that necklace pocket to someone. Robbie puts his mobile in that room where Sarab talking with Vikram. Vikram says he thinks he is responsible for Aditi 's condition and he also feels that Meher and Sarab is responsible for her condition. He says he lost respect in front of everyone because of Sarab and Meher. He tells the past, how he loved Meher and how Gulwant killed him and about his memory lose. He asks in all this what was his mistake.
Meher asks what would have happened to her and Karan if she didn't marry Sarab then. Sarab says he too accepted Karan the same way Meher accepted Param. He says it's not easy for him to lose his Karan and pleads him to not separate Karan from them. Vikram says he doesn't have anyone other than Karan and says he will do his upbringing. Sarab says he also can do that. Vikram says he will give Karan's biological father name to him which Sarab can't do.
Episode ends.
Precap – Sarab gives Karan's custody paper to Vikram.