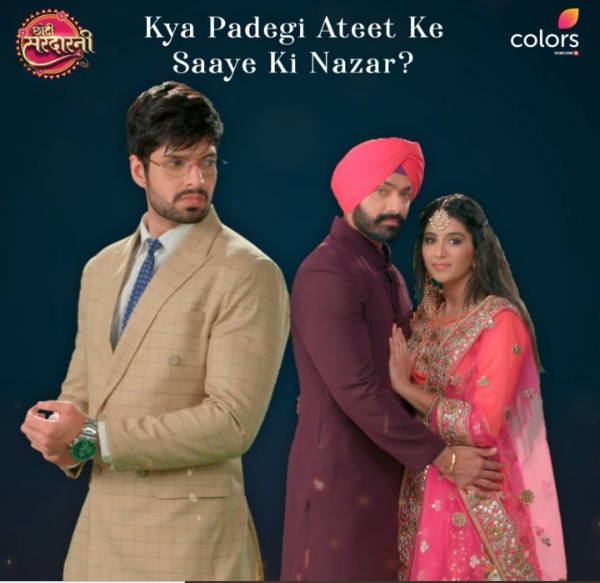 Choti Sardarrni Upcoming Story, Spoilers, Latest Gossip, Future Story, Latest News and Upcoming Twist, on Justhowbiz.net
Episode begins with Sarab comes out of the room to take some documents. Harleeen stops him and asks what's happening inside the room and why he is taking these documents. He says he will explain her later and moves towards the room. Sarab gives Karan's custody paper to Vikram.
 Vikram gets happy seeing that and was about to sign it. Sarab asks why he is writing wrong name in the column of Karan's father. Vikram says he is writing Vikram only. Sarab says but his name is Manav. Vikram gets stunned hearing him and writes Manav there.
 Sarab asks he wrote Manav but where is Manav here because he can see Vikram only who is Seema's son. Vikram says name is not matter now but his emotions only matters and he is Karan's father. Sarab says he is also saying that only father's name is not matter just emotions matter and he have that emotions for Karan. Meher says what will happen to Seema if Aditi doesn't reach home tonight. Vikram gets call from Seema and gets to know that she is worried about Aditi.
Gulwant stops the guy who got necklace from Amrita and shocks realizing that's Lovely Amrita's brother. She snatches the necklace from him and scolds him for taking this from his sister. Vikram tells Aditi that he also has past like everyone but right now there is no one in his life other than her. He tells her to come with him to their house and Seema waiting for her. She tells him to not cry and agrees to go with him saying she believes him.
Harleen asks she won't let Aditi go from here until Vikram says who is that duppata girl. Sarab tells her to calm down. Harleen asks Sarab to tell what happened inside the room. Sarab says it was just a misunderstanding now they cleared it and it's common between husband and wife and assures her saying Vikram will handle it. Vikram goes out to take the car. Aditi tells Sarab that even though she was Vikram's past she wants to know who is that girl and says she knows that he and Meher will help her to find that girl.
Amrita asks Jeeto what happened to her. Jeeto says Gulwant came from outside and calling her and she is so angry. Amrita shocks seeing Gulwant's dress. Gulwant son asks why she is wearing a dress like theif. She says she has to wear a theif like dress to catch the theif. She says Amrita lost her necklace but she knows magic and shows her necklace to everyone.
Jeeto says someone snatched this necklace from Amrita then how she got this. Gulwant tells Amrita to tell the truth and says she got from Lovely. Amrita says because of corona Lovely's business affected that's why she gave this necklace to him. Gulwant scolds her. Robbie takes the mobile from that room and thinks now he can know the truth. Param gets custody papers and reads it.
Episode ends.
Precap – Seema blesses Vikram to get his son back.