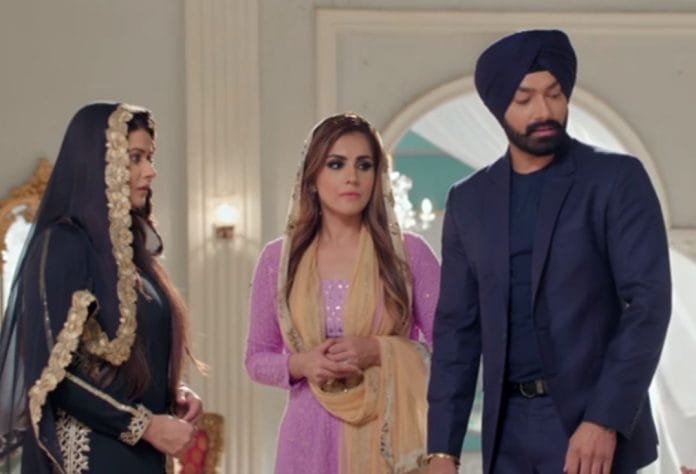 Choti Sarrdaarni Spoiler Upcoming Story, Spoilers, Latest Gossip, Future Story, Latest News and Upcoming Twist on justshowbiz.net
Colors popular show Choti Sarrdaarni last witnessed reunion track of Meher, Sarabjit and their kids. But a new track got introduced due to Nimrit's break for her health issue. In the upcoming episodes, it will be worth to watch how Meher will save Sandhya and herself from Sandhya's family's clutches.
In the last episode, Yuvi's Friend made him angry talking ill about Seher, Param and Karan. Kulwant asked Gills about Meher's whereabouts but they ignored her. Param thanked Yuvi for his wishes.
Sarab asked Sandhya how she knows Kulwant. She told him that she came home. Both got interrupted by school bell. School students teased and broke Karan's confidence for his fancy dress. Sandhya asked Karan to let her help him. He refused.
Kulwant in audience asked about Meher's whereabouts from Sandhya. Sarab too asked IG the same. Karan performed first. Sarab got confused seeing Karan's changed outfit. Sandhya recalled helping him. Sarab felt proud and happy. Next came Yuvraj. He performed with Karan and teased him initially. He gave Karan a hug. Sarab praised Yuvi too.
Kulwant expressed worry for Meher to Sandhya. Next Param enacted Maharaja Ranjit Singh. Sarab praised Param too. Seher surprised everyone performing Meher. Sarab thanked Sandhya with eye expressions. Judges refused to accept Seher performing Meher. Seher told Judges that her, her mother is everything for her and inspires her. Meher is her role model.
Everyone clapped for Seher and host praised her. Judges and host announced Seher as the winner. Sarab got on stage and hugged Seher. Param, Karan and Sarab told her that they are proud of her. Seher dragged Sandhya to stage and asked judges can she take trophy from Sandhya's hand. Sandhya gave her the trophy.
Judges misunderstood Sandhya to be Meher. Sarab cleared their doubt. Kulwant showered love on Seher. IG informed Sarab about getting a women's body and thinks its Meher's. Sarab broke down and Sandhya and Harleen tried calming him. Sarab informed them about Ig finding a body.
In the upcoming episode, Sarab and Sandhya will reach the location to identify the body. As per sources in the upcoming episode, Ram Yashvardhan will come as a new entry. He will play a negative cop named Raajan Chautala. Sources also informs that Sandhya's mother will be seen in prison.
Will Pratap get his mother arrested to save himself from Meher's murder? Is that Meher's dead body? Will Meher die? Will Gills and Dhillons unite and save Meher?
Stay tuned to justshowbiz to get more updates from your favourite show Choti Sarrdaarni!