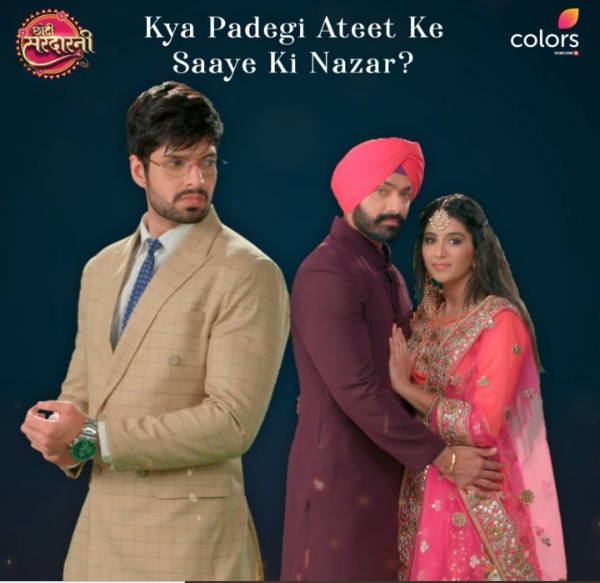 Choti Sarrdarrni Upcoming Story, Spoilers, Latest Gossip , Future Story, Latest News and Upcoming Twist, on Justhowbiz.net
Meher and Sarab wear rose gold attires and everyone claps for them. Manav is shocked to see red tiara on Meher's head. Everyone wishes them happy wedding anniversary. Harleen says anniversary is not wishes like this, get on one knee Sarab. Sarab goes on one knee and proposes Meher and kisses her hand. Manav is jealous and upset. Then Harleen notices the same tiara on Meher and Aditi's head.
Harleen says Sarab you said this is one and only tiara but Aditi is also wearing the same tiara. Sarab says every shopkeeper says this is exclusive to increase their sales. They all laugh. Flashback is shown when Sarab finds green tiara and orders for red tiara again. Sarab says I am happy two most important women of my life are wearing tiaras like queens.
Sarab then goes alone to talk to Aditi and asks her about what is the problem going between her and Vikram. Aditi says she also doesn't know but it feels like she doesn't know Vikram anymore, Vikram doesn't even come near to me. Meher goes to Manav and explains him how they were each other's past and Aditi and Sarab are now their present. Meher says what is the fault of Aditi, Sarab, Param or Karan in this matter. Vikram says but we should think about love from heart and not from brain.
Meher says please understand, you are smart enough. Meher goes. The couples are taking photographs and then Param takes Meher and Aditi to show something. Sarab takes Manav with him for a drink and to talk about something. Sarab says you can't understand what it is like to get someone whom we lost for so many years. Manav says you are telling my story to me. Sarab says I didn't understand.
Meher is preparing milk for Karan and Aditi says how Vikram doesn't like kids but he loves Karan and Karan always gets happy when he goes to Vikram, god knows what is the connection between them. Param says let's take him down and then he can play with Vikram too. Meher says No, Karan has low immunity so it's better if he is here. Aditi says yes you are right let Karan be here. Meher then asks Aditi about Vikram and her relations as she is her friend too. Aditi shares how Vikram has started avoiding her and acts so strange as if he is not found of me.
Sarab tells Vikram how Aditi came back into their lives after ages and he wants to give her all the happiness. Sarab asks for forgiveness for Aditi if she did any mistake. Sarab joins his hands and pleads infront of Manav. Sarab says but if the error is from your end then I will not leave you, Aditi is everything for our family.
Manav looks on. Manav says are you threatening me? Sarab says not till now and I hope it will not be needed. Kulwant arrives and wishes everyone. Then she meets Sarab and says how lucky Meher is to get a husband like Sarab and that's why she got a son in law like Sarab. Kulwant is surprised to see no reaction from Sarab. Sarab remembers how Meher said Rana, Bittu and Kulwant were culprits behind Manav's murder.
Episode ends.
Precap – Sarab says our love will always be young even when we get old. Sarab and Meher dress up as aged forms of themselves and dance. Meher falls and Sarab catches. Meher says I fell knowingly. Sarab says I will always catch you and never let you fall. Manav sees and drinks a bottle of alcohol.