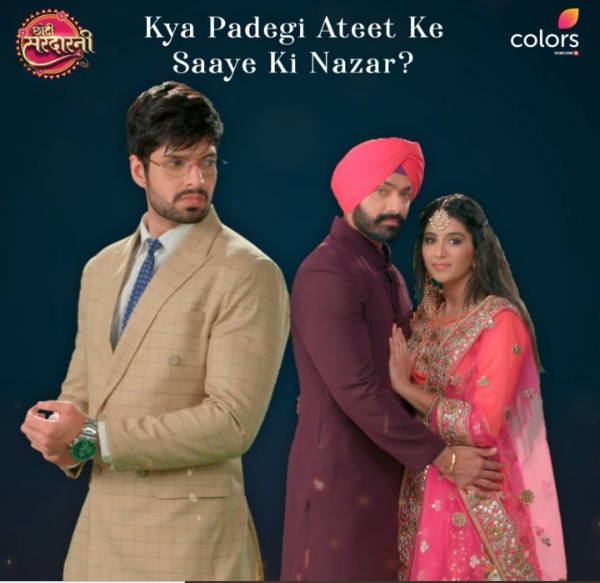 Choti Sarrdarrni Upcoming Story, Spoilers, Latest Gossip , Future Story, Latest News and Upcoming Twist, on Justhowbiz.net
The episode begins with Doctor saying there must be more bottles of blood, Meher says this was the last one there. Doctor asks a nurse to ask more places for this blood type. She goes. Another helper says time is very less with Sarab, if it is delayed then Sarab will have heart attack and go into coma as the blood loss is too high.
Doctor says yes, let's see what can be done. They leave. Meher thinks who has AB- blood type. She remembers Harleen saying only Sarab has it from their family side. Meher asks Amrita about our family side. Meher says Jagga doesn't have, Bittu and Rana have B+, mummy ji also doesn't have. She panics. A nurse comes to Meher and says Dr. Aditi said her husband has the same blood type.
Amrita asks Meher to wait I am calling. Amrita calls and tells Meher that he has placed all the CBI officers on duty, he must be on his way here. Meher says he must be.
Here, Manav orders all the officers to keep a close watch on every suspect outside their houses. Manav then thinks today the culprit will be caught. Manav reaches the hospital. He collides into Meher. Meher holds Manav's hand and stop him. Manav is surprised. Meher says I need your help please. Manav says what happened? Meher says Sarab ji needs blood and he has same blood type like yours AB-. Meher says please save him.
Manav takes his hand away and says why will I help a person who took my love away from me. Meher says please save him, I will give you whatever you want, my happiness, my life, my everything, as without Sarab I will die anyhow. Manav says today I see that you are actually Sarab's wife, you are not Manav's Meher but Sarab's Meher. Meher cries and requests him by folding her hands and crying. Manav says okay I will. Manav gives his blood and Meher is praying.
Here, Param is making Karan stop crying. Then he prays to god saying Meher says you save good people, my dad has always done good for others, please save him, he is very important to me without him life will be difficult, if anything happens to him then I will not talk to you god. Param cries. On parallel the operation is going on and Meher is praying. After the blood is given, again the monitor beeps and Sarab's pulse is low.
Amrita and Manav look on. Finally the pulses are up and Doctor comes and give Meher the good news. Doctor says till now the danger has not gone, there is still danger till the time he doesn't come to senses. Meher thanks the doctor and watches Sarab from window and sheds tears.
Amrita is taken by the nurse to fill some formalities. Manav is about to go but Meher stops him and says thank you, I will do anything to pay you back. Manav says today you are talking like a politician's wife, you are truely Sarab's wife. Manav says how all these are just for saying, nothing can be done. Meher says no really. Manav says you must be tired go and rest for some time.
Manav says I need to go and see the forensic report. The officer of CBI comes and shows the report and says 4 suspects have their fingerprint on the gun. Manav sees the report. Meher wonders who all it can be. She wonders about Kulwant's words and how Sarab pointed fingers. Meher says I need to know who shot Sarab so that I punish them. Manav says the culprit will be unmasked tonight.
There is a knock and Bittu and Rana open it to find Manav. Bittu and Rana ask him what he is doing here. Manav says I am the CBI head, I will be asking you guys question. He enters and asks the gun had four fingerprints. Two of them were you both. Rana says we have not done anything swear on Kulwant.
Manav goes in. Bittu says you want to kill Kulwant? Kulwant is shocked to see Manav. Kulwant says what are you doing here. Manav says you want to drink water go ahead. Kulwant looks with anger and drinks water. Manav asks Bittu and Rana to become murga. Kulwant says do you even know to whose home you have come? It is Sarpanch Kulwant's home, the lioness.
Manav says you know who am I and why I am here, I am here because the gun has four people's fingerprints and three of them are here, you, Bittu and Rana. Kulwant is shocked. Manav then serves himself a plate of parantha and aachar. Manav then says let's do some work. He goes to Bittu and Rana to record their sentences.
Bittu and Rana says we have really not shot anyone. Bittu says Sarab threatened us to arrest us for Manav's murder, we wanted to run off that's why we thought for protection we should take the gun and we took for sometime. Someone was coming, we heard that so we kept back the gun and went. Rana says yes, swear on mummy ji.
Manav says they are all set to kill you Kulwant. Kulwant doesn't react. Manav now asks for Kulwant's story. Kulwant says I was frustrated, my own son in law was ready to put me in jail, so I wanted to kill myself so that I don't face anything, but then I thought I am lioness why should I do that. Manav says nice story is everyone.
Manav says you all remember what happened last year in this house with me, you put knife behind my back then how can I trust these kind of people. Manav says just wait till the time Sarab comes to senses then everything will be revealed.
Here, Harleen comes to senses. Param is taking care of her and massaging her head. Harleen wakes up and hugs Param. Param says thank god you came back to senses. Param asks if you are alright. Harleen says yes. Harleen then remembers about Sarab. Robby and Ginni come.
Harleen asks them where is Sarab. Param says I am going to call Meher and tell you are okay now. He goes. Robby says Sarab is in hospital. Harleen says I want to go. Robby says I can't take you because that Vikram has kept me as a suspect for Sarab's actual culprit. Harleen says I am going anyway. Ginni stops her and says you can't go there because Sarab is still unconscious. Harleen cries.
Episode ends.