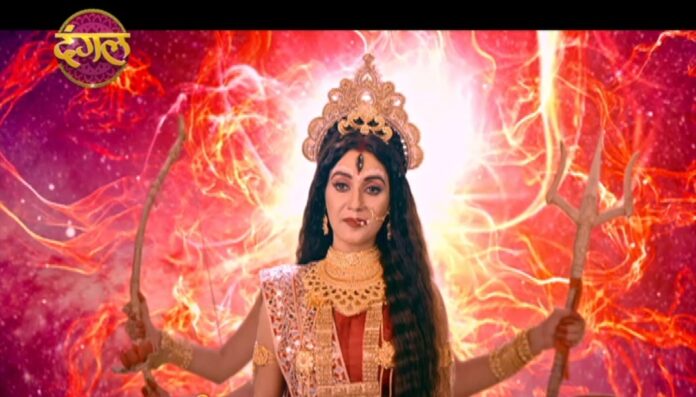 Daksh is delighted when Shakti (Devi) promises him that she will reincarnate as his daughter but gives him a warning that if he ever disrespects her, she will leave him forever. Diti is in euphoria beating the drums and celebrating her win over Gods who have lost their powers as Devi Shakti left their side. Sati tells Shiv that he should honor the one's who trust him and Shiv gets flashes of Adi Parashakti and his moments he has spent with her. Vishnu shares his problem with Brahma that before Tarakasur completes his prayer they need to ensure that Sati and Shiv reunite. Vishnu appears at Kailash and tells Shiv that Sati is Devi. He takes him to Maansarovar and Shiv notices the ice has melted. Vritrasur is about to attack Sati when Shiv comes and stops him. Shiv reveals to Sati that she is the Devi. Diti asks Tarkasur that what boon he asked for from Brahmadev and he says that he asked to be killed only by a Shivansh.
While the preparation of Shiv & Sati's wedding is going on at Kailash, Diti assembles few demons along with Tarkasur and magically changes their looks similar to Gods. She asks them to invade the wedding and stop it.  
Tune in to Dangal TV's Devi Adi Parashakti from Monday to Saturday at 9 pm to know more.
Dangal TV is available on leading cable networks and DTH platforms – DD Free Dish (CHN NO 29), Tata Sky (CHN NO 177), Airtel (CHN NO 125), Dish TV (CHN NO 119) and Videocon D2H (CHN NO 106).