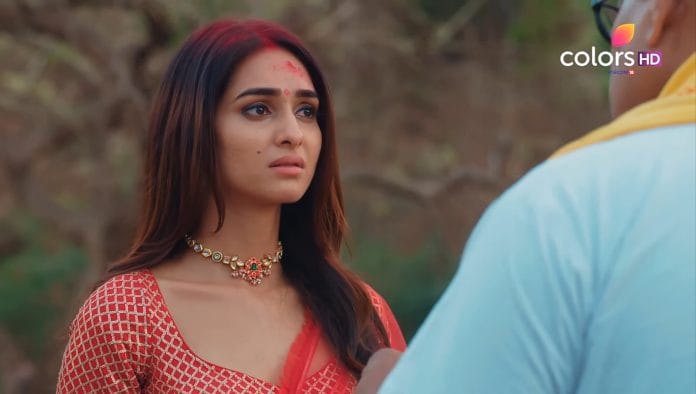 Dharam Patni Spoilers, Upcoming Story, Latest Gossip , Future Story, Latest News and Upcoming Twist on justshowbiz.net
Colors TV's popular show Dharam Patni is a love hate story of a simple sweet school teacher Pratiksha Parekh and a buisness tycoon Ravi Randhawa. How two different people of different social status and background will come together due to marriage and fall in love eventually will be interesting to watch.
In the previous episode, Shiv and Parvati were subjected to chunri by the two men. The chunri flies and lands on Ravi and Pratiksha as a result of the strong breeze. According to Pandit, Shiv and Parvati have blessed Ravi and Pratiksha's jodi. Kavya becomes enraged and confronts Pandit. Mandeep claims that she is Ravi's mother and that no one knows Ravi better than she does. Kavya screams at Pratiksha.
Pratiksha is insulted by Mandeep. Ravi orders Pratiksha to leave instantly. Pratiksha prays to God, pleading with her to stop her pain. Pandit compliments Pratiksha. He claims that Ravi and Pratiksha are meant for each other and that Kavya cannot stand in their way. He thinks Ravi will soon realise his error and return to Pratiksha. He advises Pratiksha to concentrate on her job.
Pratik instructs Kinjal not to tell Pratiksha anything about her union for the time being. Kinjal encounters Radhika. Kinjal is asked if she has made up her decision. Ravi confronts Kavya about the previous scene. He advises her not to become obsessed with Pratiksha and insult her for no cause. Kavya inquires of Ravi whether he has a tender spot for Pratiksha. Ravi claims that he only dislikes Pratiksha. He recalls Pratiksha.
He is perplexed as to why he is agitated, why he can't stop thinking about Pratiksha. He wonders if he has developed a soft spot for Pratiksha while attempting to teach her a lesson. Kavya attempts to see if Ravi is interested in her. She sneezes. Mandeep requests that Ravi bring her water. Ravi asks Harneet to give Kavya water and then departs. Kavya is irritated. Dolly pursues Ravi, believing he has gone to meet Pratiksha.
In the upcoming episode, Ravi approaches Pratiksha. Pratiksha says that she is not interested in his apology or sympathy. She says that she will fight her battle alone.
To know what happens next stay tuned to Dharam Patni on Colors TV/Voot app and this space.