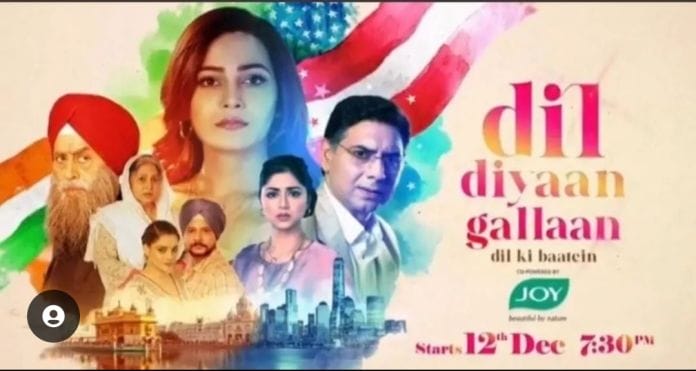 Dil Diyaan Gallaan Upcoming Story, Spoilers, Latest Gossip, Future Story, Latest News and Upcoming Twist, on Justshowbiz.net
The episode starts with Tavleen and Dilpreet missing each other. Dilpreet recalls his moments with Sanjot. He thinks about how Sanjot left him for Maan. Sanjot thinks about how Dilpreet asked her to leave with Maan. Dilpreet sees Sanjot's photo on his phone. Sanjot also sees Dilpreet's photo on his phone. Dilpreet stops himself from calling Sanjot. Sanjot thinks Dilpreet is stubborn and he didn't even message her. Dilpreet introspects his decisions and choices. Dilpreet thinks he can live without Sanjot. Sanjot also thinks the same.
Tavleen on the call tells Nimrit to make Veer also leave like Maan so all property will be yours as you guys have power attorney too. Nimrit says Veer won't leave. Tavleen asks Nimrit to follow her plans. Dollar's mother comes there. Tavleen cuts the call seeing Dollar's mother. Jaspreet informs Tavleen that Prabhjot recalled her Guddu. Tavleen rushes to Prabhjot and asks her to tell her about Guddu. Prabhjot asks who is Guddu. Jaspreet asks Prabhjot to recall what happened to Guddu. She asks Prabhjot to see the bracelet of her son and remember what happened. Tavleen asks Jaspreet to not repeat it as it's a sensitive matter for her and leaves.
Nimrit bumps with Veer. She leaves commenting on him. Veer sees the bracelet and socks in a pouch. He thinks about whom they belong to and places them in a suitcase and leaves. Riya packs her luggage in and leaves with Dollar. Sanjot says to Astha that she will do the work. Astha says here all work is done by machines. Astha receives an emergency call from the hospital. Sanjot asks Astha to attend the case. Astha says no one is at home too. Sanjot says she is not a kid and asks her to go to the hospital. Astha writes the security code on paper and leaves. Dilpreet misses Sanjot. Sanjot also misses Dilpreet. Sanjot cleans dishes to pass her time. She imagines Dilpreet mocking her. Dilpreet takes medicines and imagines Sanjot commenting on him.
Sanjot prepares chole. She notices the basil plant is dried up in the house. Dilpreet goes to the kitchen to prepare tea. Sanjot teases him. He warns her to leave. She dissapears. Riya takes her clothes from the suitcase. That time the pouch falls down. The bracelet falls near Tavleen's feet from that pouch. Tavleen picks it up and remembers it was the bracelet she gifted to Veer.
Episode ends.
Precap – Tavleen asks Riya if this Bracelet was with her. Riya says no and asks Tavleen why does she have this bracelet? Riya says to Tavleen that this bracelet is Veer's. Tavleen recalls that she gave this bracelet and socks to Prabjyot's son. Tavleen comes to the conclusion that Veer is Prabjyot's son.
Tavleen comes to Dilpreet's house with her luggage. Dilpreet questions Tavleen about why did she come here?
Click to read
Dil Diyaan Gallaan 31st May 2023 Written Update: