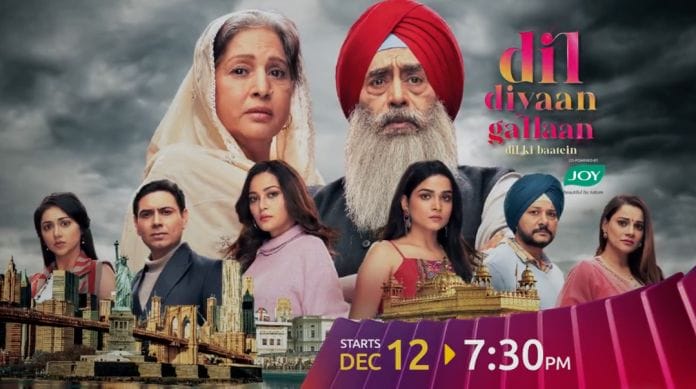 Dil Diyaan Gallaan Upcoming Story, Spoilers, Latest Gossip, Future Story, Latest News and Upcoming Twist, on Justhowbiz.net
The episode starts with Randeep saying he is going to bank and Dilpreet stops him. He thanks Randeep for arranging the money. He feels guilty that he underestimated him a lot. He says ultimately Randeep helped him in need and saved his father from coming on road. Dilpreet asks him to hug him. Randeep gets teary and hugs him. Dilpreet blesses him and then he asks how did Randeep arrange such a huge amount? Randeep recalls how Maan gave him the money. He says to Dilpreet he has a special friend who is just like him and helped him.
Dilpreet gets happy to know that and goes out for some work. He asks Randeep to wait for him as he has many things left to talk. Nimrit asks Randeep if he is happy as Dilpreet praised him and hugged him. Randeep says Maan deserves the credit not he. Sanjot tells him not to think so much but he should accept Dilpreet's blessings wholeheartedly. Someone knocks on the door and Nimrit opens it. She gets shocked on finding Jaspreet's men. They forcibly sneak into the house to take their dues. Brars get scared. Amrita tells Ria that why the Register's agent had Nimrit's ID card. She suspects that Nimrit is doing something wrong. Ria tells her not to accuse her mother. But Amrita says they need to find out the truth first.
There Randeep meets Maan and Veer. Randeep gives blessings to Maan from Dilpreet's side. Randeep says he wants to get his own appraisal from Dilpreet instead of taking Maan's credit. They head towards the bank to get the money. There Sanjot tells Astha and Nimrit to go inside the house. Nimrit provokes Sanjot saying they should start fighting the men instead of getting afraid. A man calls Nimrit aunty and the latter throws belan at him in anger. They catch Nimrit and Astha tries to save her.
Those men kidnap Astha saying until they get their money back they won't leave her. They also misbehave with Astha. Sanjot tries to stop the men from taking away Astha but in vain. Nimrit calls Randeep and tells him about Astha's kidnapping. Sanjot starts crying. Veer goes to the location with Randeep and Maan to save Astha.
Amrita questions the agent about the pan card of Nimrit but he lies to her that he doesn't have anything. Ria tells Nimrit that she is taking stress for no reason. Her mother is innocent. Amrita and Ria leave and the agent takes out the pan card of Nimrit. He says after Holi the haveli will be on her name. Amrita comes back and finds the card in his hand. Before she could react Ria tells her about Astha. There Astha refuses to drink water given by the men. She prays for Maan's arrival to save her.
Those men tie her up with rope and by mistake petrol falls down in the godown. It catches the fire. Astha screams for help and Dilpreet comes there. He fights the men and tries to save Astha. Astha calls out his name and Dilpreet goes near her to untie her. Those men get scared thinking they might get caught as Astha saw them already. They try to lock Dilpreet and Astha inside the godown. Dilpreet tells Astha to wake up and the latter is unconscious. Maan reaches the place with Veer and Randeep.
Precap- Dilpreet tells Astha to not give up hope. She falls unconscious due to smoke everywhere.
---
Click to read
Dil Diyaan Gallaan 18th March 2023 Written Update: Maan faces financial crisis