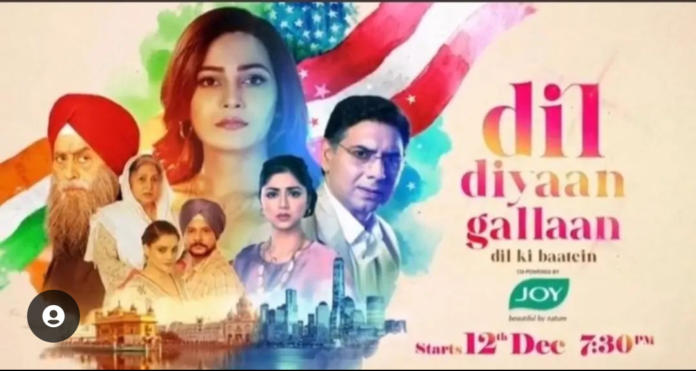 Dil Diyaan Gallaan Upcoming Story, Spoilers, Latest Gossip, Future Story, Latest News and Upcoming Twist, on Justhowbiz.net
The episode starts with Dilpreet pleading the doctor to cure Veer as they can't live without him. He gets emotional and Sanjot asks him what will happen to Veer? Dilpreet says Veer is strong and he will recover soon. Nothing will happen to him. Dilpreet recalls the stormy night when Sanjot was crying for being left alone in the house despite having two sons. Sanjot says she can't forget that night when Dilpreet brought the baby home who was left by someone near the Gurudwara. In flashback Sanjot gets teary seeing the innocent baby and Dilpreet says he couldn't think of any other way so he took Veer to his house. Sanjot says he is God's blessings on them and she is really happy to see him. Dilpreet cherishes the moments when they raised Veer. They found a reason to live and Veer filled their lives with joy.
Sanjot also recalls Veer's childhood incidents and reminiscences their happy moments. Flashback ends. Sanjot and Dilpreet look at unconscious Veer whose operation is going on. They pray for his recovery, Nimrit talks to Randeep that the latter should not feel upset thinking about Dilpreet's kind words for Veer. Randeep says this is nothing new for him as he used to hear taunts for Maan's fault too. Nimrit asks him to smile without overthinking. Randeep says but it's good that Veer is getting praises from Dilpreet as he wants Ria to get married to him. Nimrit gets shocked hearing that.
Ria gives the good news to her grandparents that Veer is out of danger now. She hugs Dilpreet, Amrita arrives and Sanjot hugs her. Ria gets jealous seeing them. Nimrit says they don't know any family background of Veer then why would they agree for Ria and Veer's marriage? Randeep says Ria likes Veer, Nimrit says she is still not mature enough and she is emotional too. She won't let Ria take such a decision. Randeep says but he will support his daughter, he never fulfilled her wishes earlier so this time he will let her marry the guy she likes. There Astha recalls Amrita's concern for Veer and she looks at some old pictures in the laptop. Maan comes and Astha closes the laptop. Astha asks him if Amrita is in love with someone then what will he do? Maan gets shocked and asks who is he!
There Amrita learns from the doctor that Veer is sleeping due to heavy sedatives. She says she has idea about it as her parents are doctors. Later she goes to Veer slowly. There Astha asks Maan why he is getting hyper knowing about Amrita's love interest. Maan says he is thinking if Amrita chose a guy like her father. He laughs saying he will first check her pulse in that guy's presence. He then questions Astha why she suddenly asked this question to him? Astha doesn't reveal the whole truth and she leaves. Maan says who is the lucky guy who won Amrita's heart. Amrita sits near Veer and holds his hand. She says she feels lost without him here. He can't make everyone sad like this as his family loves him a lot. She asks him to get better fast. Ria finds Amrita with Veer and asks her what is her problem?
Precap- Ria says Amrita has no right over Veer and she is responsible for his condition. She says Maan signed the NOC so Amrita can leave now. Amrita leaves the ward and Ria asks Veer to recover saying she will always be with him. She says I love you to him and Nimrit overhears that.
Click to read
Dil Diyaan Gallaan 21st January 2023 Written Update: Ria holds Amrita responsible for Veer's condition