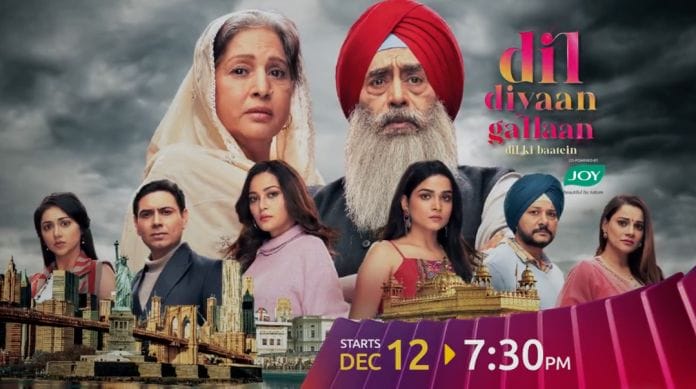 Dil Diyaan Gallaan Upcoming Story, Spoilers, Latest Gossip, Future Story, Latest News and Upcoming Twist, on Justshowbiz.net
The episode starts with Veer and Maan returning home. Amrita happily hugs Veer. Dilpreet brings out Maan's luggage and asks Maan to leave the house. Maan says you don't know anything except this. Dilpreet says you're responsible for Rana's state so leave my house. Sanjot tries to stop her husband but he won't listen to her. Maan says he won't leave anywhere until he proves Rana's innocence. Veer takes the luggage inside. Maan asks Astha to put her luggage inside.
Enraged Tavleen returns home and questions Prabhjot why she supported Enemies. Dollar's mother tries to stop her but Tavleen pushes her and tries to slap Prabhjot but Riya comes in between and stops her.
Maan says to Astha that he got proof to prove Rana's innocent. Astha asks what Patil said. Veer mistakenly hurts Dilpreet while taking luggage inside. Dilpreet comments on him and leaves. Tavleen asks Riya how dare she to stop her. Dollar stops Tavleen and asks her to show her frustration on him. Maan reveals to Astha and Amrita that Rana will get bail as Kushwant's man did not die in Rana's hand and someone shoots that man from 10 feet away according to Patel's study. Sanjot hears it and asks if it's true. Maan says yes.
Amrita goes to Veer and asks him to smile and reveals to him that Maan finds evidence in favor of Rana and he will be out soon. Tavleen gives the kerchief to Riya and reveals to her that Rana arrested again and a charge sheet has been filed against Rana so he will be in jail for at least 14 years.
Sanjot asks Maan to tell the good news to his father. Maan says Dilpreet doesn't understand my justification so it's good if my actions speak.
Maan submits the evidence that Rana is innocent. The inspector says to Maan that this evidence is not enough to release Rana. Maan says tomorrow he will get a physical copy also. The inspector asks how is that? Maan says he couldn't tell him as some people here don't want this case to be solved according to the law. Maan looks at Tavleen. Maan goes to Rana. Rana thanks Maan. Maan says he will fulfill his promise and get him released from jail. Dilpreet and Maan return home in a jeep. Sanjot happily hugs her son. Maan assures his mother that Rana will be back home the next day. Sanjot says she is so proud of him. Maan hugs her. Dilpreet doesn't show his happiness.
Amrita asks Veer if he is guilt-free. Veer agrees. Amrita says she will take him to her university once everything gets settled. Veer agrees. Astha comes there and asks them to start packing. Amrita says they need to discuss how to make a hard copy of evidence reach to police. Veer agrees. Tavleen thinks to fail Maan's attempt.
Episode ends.
Precap – Maan says to Veer that they have to take evidence to the police station one way or another. Veer says to Maan that Maan will take the courier but he will not go to the police station as if someone wants to stop Rana from being released then they will stop him. Veer gives the responsibility of taking evidence to the police station to Amrita and Aastha.
The police put handcuffs on Rana. Dilpreet asks the cops what are they doing? Dilpreet reminds cops that they will get a hard copy of the evidence. The cops say to Dilpreet that they can't stop doing their work and wait for their evidence.
Aastha and Amritha see that their vehicle tyre is punctured. They ask a passerby for instructions. The passerby gives the wrong instructions to the police station.
It is shown the passerby is Khushwant's man and he called Khushwant and told him that he gave wrong directions to Aastha and Amritha. Khushwant says it's good hearing it.
Click to read
Dil Diyaan Gallaan 25th May 2023 Written Update: