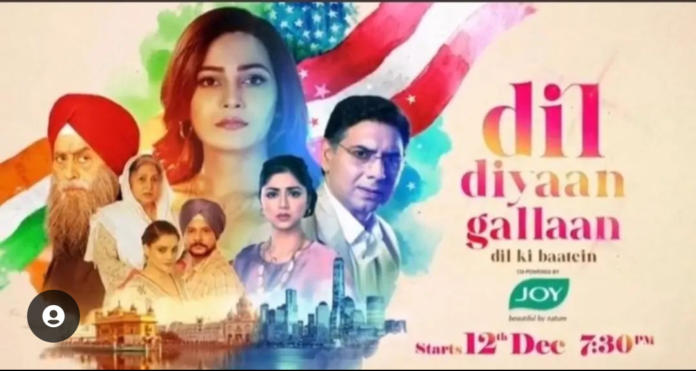 Dil Diyaan Gallaan Upcoming Story, Spoilers, Latest Gossip, Future Story, Latest News and Upcoming Twist, on Justhowbiz.net
The episode starts with Ria leaving Veer's room in anger after seeing he is taking the glass from Amrita. Ria rejects Amrita's thesis and closes the laptop. Nimrit comes to her and asks if she loves Veer? Ria cries hugging her. Amrita receives Astha's call and the latter asks her about Veer's health. Amrita explains he is better and she also tells about his follow up. Astha says if she wants to come after he recovers. Amrita says nothing like that. Astha says she will book her tickets then. Amrita doesnt feel good to leave him in that state. Nimrit tells Ria to think logically that Veer is not the suitable guy for her. He is an orphan, Ria says she loves him since long and he earns well as he is a PHD professor. Nimrit says but she doesn't know his exact earning so she should stop living in dreams.
Astha asks Amrita if she wants to come back or not. She is in love with India it seems, Amrita looks at Veer. Nimrit tells Ria that she won't let her love Veer. Ria says but she can't stop loving him and leaves. Nimrit gets worried, Dilpreet takes care of Veer and wishes him Happy Lohri. Dilpreet feels blessed to have Veer in their life. Veer says Dilpreet saved him when he was baby so in return he can even sacrifice his life for them. Dilpreet gives him new clothes and tells him to get ready for the celebration. Sanjot takes out two dolls from the drawer and misses Maan and his wife's presence. Dilpreet tells Sanjot that he wants to divide his property between Randeep and Veer as life is unpredictable. Sanjot says but Maan deserves to get his share as well.
Dilpreet angrily says she won't take his name, Maan ran away and he won't give him a single penny. Sanjot tells him not to utter ill words for Maan during festival. He says she forced him. Amrita says Dilpreet is right, who knows Maan achieved everything in abroad with his hard work so he doesn't need the property maybe. She says but one should understand Maan's feelings as well if he misses his family or not. She adds it might be a misunderstanding which Dilpreet didn't try to clear. He laughs at her saying she favoured them a lot so he won't scold her. He says she has no idea about the truth so she should not comment on that. Amrita says she is saying things in general and it's a story of every household. It can be a simple misunderstanding nothing else. Nimrit informs Randeep that she found a guy for Ria who will attend the celebration today. Randeep gets shocked knowing that.
She adds he should try to sort out the issues. Maybe it happened because someone didn't give the chance to the other person to tell his side of the story. Dilpreet leaves and Sanjot asks Amrita how come she knows so much. Amrita hides her tears and she diverts the topic by praising the decoration. Sanjot tries to hide the dolls inside the drawer. Amrita asks her about the dolls and Sanjot says it's Maan and his wife. Amrita gets emotional hearing that. She tells Sanjot that Dilpreet won't recognise the dolls as Maan and his wife. So they can celebrate the festival with the dolls. Sanjot agrees and there during the celebration Veer compliments Ria and Amrita arrives holding the dolls of her parents. Veer smiles at her.
Precap- Amrita does something with the dolls and Sanjot sees her. She asks Amrita if she is Maan's daughter.
Click to read
Dil Diyaan Gallaan 26th January 2023 Written Update: Ria asks Veer the reason of hiding his profession