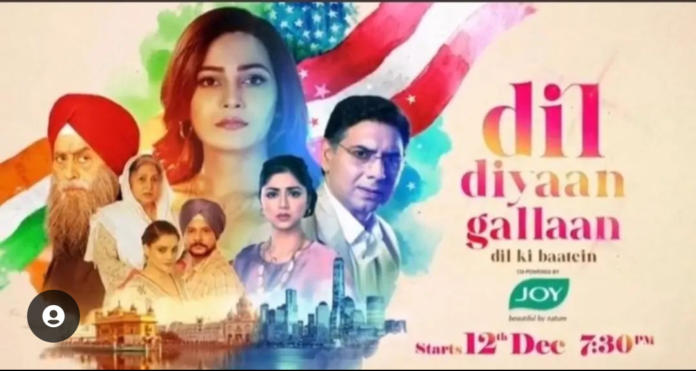 Dil Diyaan Gallaan Upcoming Story, Spoilers, Latest Gossip, Future Story, Latest News and Upcoming Twist, on Justhowbiz.net
The episode starts with Amrita bringing Maan and Astha's dolls during the celebration. She gets emotional seeing that and Sanjot tells her friend that Amrita told her to bring the dolls out. Amrita says they also deserve to celebrate the occasion with everyone. Nimrit tells Ria that the groom is waiting for her in the function. Ria says but she won't marry anyone else. She loves only Veer. Nimrit forcibly takes her to the celebration and tells her to look at the guy sitting beside Dilpreet. Ria gets surprised seeing Nimrit is talking about Veer. There Amrita dances and Veer stares at her. Randeep asks Nimrit what happened to her suddenly that she changed her mind. Nimrit says her tension is over as Dilpreet said he will give his property to Ria and Veer both. Ria's future is secure now so she can marry Veer.
Maan recalls how they used to celebrate Lohri in his village. He happily shares with Astha and says they are in abroad thus they can't celebrate it there. They can't get the same vibe in anywhere else. Astha says she feels this Lohri something special will happen. Amrita and Veer imagine that they are dancing together romantically on Long Ve Ilaichi song. Ria dances with Veer after the dream ends. Amrita notices that the dolls caught fire and she immediately goes to extinguish the fire. Sanjot gets suspicious and she recalls how Amrita reminded her of Maan. Amrita washes the dolls and Sanjot sees Maan's photo in her phone wallpaper. She gets shocked. Astha surprises Maan by gifting him a photo frame of his family picture. He says he cant believe Dilpreet didn't accept a daughter in law like Astha. She tells him not to recall the harsh memories. Maan gets emotional seeing the photo and Astha hugs him.
Sanjot slowly goes towards Amrita and hugs her. She asks her being restless that if the latter is Amrita Brar, Maan's daughter. Amrita smiles and Sanjot says she knew from the start that Amrita has a connection with them. She kisses Amrita saying the latter is the reply of her uncountable prayers to God. Maan tells Astha that he felt like Sanjot kissed his forehead. Amrita says Sanjot made her feel special always even without knowing her identity. She asks Sanjot how she got to know that she is Maan's daughter. Sanjot says women have strong intuition and they can easily recognise their children.
Maan tells Astha that he said what he felt, now she can laugh at him. Astha says she is missing their family and the celebration is incomplete without them. Maan says nothing like that, they both can enjoy the Lohri together. Randeep gives the news to Dilpreet that Nimrit gave her consent for Veer and Ria's wedding. Dilpreet gets delighted and plays dhol out of joy. Amrita says grandfather seems so happy, Sanjot says the reason must be her. Amrita says she is scared to reveal the truth to Dilpreet as he hates America and Maan both. Sanjot says Dilpreet doesn't hate Maan but he suppressed his love for him. He shows it to the world that he hates him. Amrita thinks he will prove her father innocent soon.
Precap- Amrita video calls Astha and Sanjot gets teary seeing her. Astha says she can make her meet Maan. Sanjot waits for the moment to see Maan.
Click to read
Dil Diyaan Gallaan 27th January 2023 Written Update: