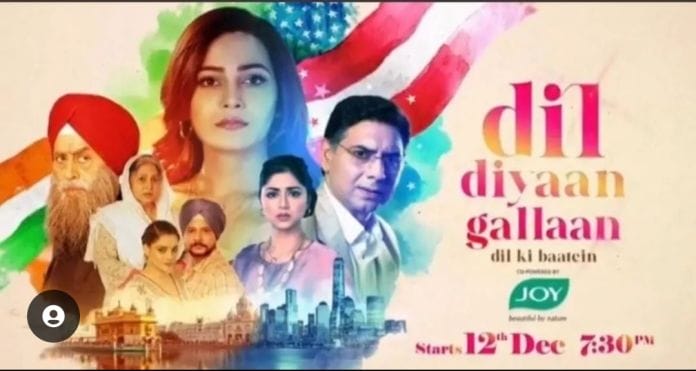 Dil Diyaan Gallaan Upcoming Story, Spoilers, Latest Gossip, Future Story, Latest News and Upcoming Twist, on Justshowbiz.net
The episode starts with Sanjot saying to Dilpreet that she would always listen to him from the start so she will listen to him this time too. She says she will leave with Maan as he is correct. Maan tries to talk to Dilpreet. Sanjot stops him and goes to pack her luggage. Veer goes to Sanjot and asks her to rethink her decision. Dilpreet says no need to talk to her. He asks Veer and Amrita to leave the room. They leave. Dilpreet mocks Sanjot for supporting her son.
Sanjot packs her luggage and says she is leaving. Dilpreet asks her to rethink her decision and asks if she can stay in America. Sanjot says she will try and asks him to take care of himself. Dilpreet feels upset. Maan wipes his tears. He sees Sanjot with her luggage. He asks Sanjot to not leave Dilpreet and the village to support him. Sanjot says she is coming to unite her family. Dilpreet comes there. Maan asks Dilpreet to stop Sanjot. He asks why he is leaving Sanjot who always supports him. Dilpreet says Sanjot supported you that's why I asked her to leave with you. He goes inside. Sanjot touches the place where Dilpreet stands. She recalls her past moments with Dilpreet in tears. Maan feels bad for his mother.
Sanjot leaves Brar's with Maan and his wife. Amrita sees Veer helplessly. Veer comes to her. Amrita asks why it's happening in this way. Veer says their story will be incomplete again as he can't leave Dilpreet alone. Amrita hugs him. She asks him to promise her that they can resolve the differences between the elders soon. He promises her and says they will get back Dilpreet and Sanjot together. Amrita leaves the Brar's mansion in tears. Veer goes to Dilpreet and says Sanjot is really leaving so please stop her. Dilpreet doesn't move.
Outside, Astha asks Sanjot to think again. She asks Sanjot why is she leaving her everything for them? Sanjot says if she doesn't support Maan today then she can never forgive herself. Maan holds his mother. Sanjot asks them to show their place to her and asks thrm to not leave her hand in flight. They hug her and say to her they will never leave her hand. Prabhjot sees Maan leaving and recalls the same past incident and about her son Guddu. Dollar's mother asks if she recalled about her Guddu.
Tavleen asks Riya to serve food to Rana as we don't know what he ate in the police station. Nimrit thanks Tavleen and comments on Maan. She reveals Maan did only one good thing that's he gave power of attorney to Rana for properties. Rana stops her. Tavleen smirks.
Veer calls Rana and says he can return home. Rana refuses. Veer says Maan has left the house and Sanjot also left with them. Rana gets shocked hearing this.
Episode ends.
Precap – Rana will say to Dilpreet that Maan and others think everything will be ruined without them but he will not allow that to happen. Rana assures Dilpreet that he is with him. Rana asks Dilpreet to never call them as it is their win if we call them. Rana says to Dilpreet we should never allow them to win.
Click to read
Dil Diyaan Gallaan 29th May 2023 Written Update: Maan gives an ultimatum to Dilpreet