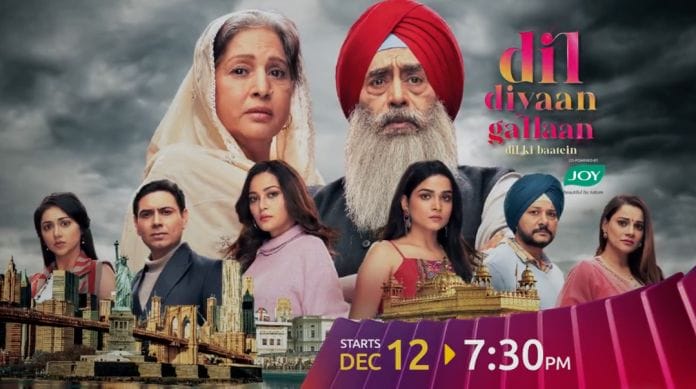 Dil Diyaan Gallaan Upcoming Story, Spoilers, Latest Gossip, Future Story, Latest News and Upcoming Twist, on Justshowbiz.net
The episode starts with Nimrit asking Rana how can Sanjot leave Dilpreet. She says now they have to bear everyone's taunts and says she doesn't like what Sanjot did. Rana, Nimrit, and Riya return home and see the colony people gossiping at their house. Dilpreet ousts colony people from his house. Rana asks Dipreet how can Biji leave them in this way. Dilpreet says he doesn't want to talk and asks them to leave him alone. They leave. Veer thinks he and Ammu have to reunite Sanjot and Dilpreet.
Sanjot comes to Maan's house in New York, USA. Astha and Maan ask Sanjot to stay near the doorstep. Sanjot sees the phone and says Dilpreet didn't even call her. Amrita says they can call him. Sanjot says not needed as he breaks his promise to me. Amrita comforts her.
Veer calls Amrita. Amrita goes aside and attends his call. Veer says how much Dilpreet is upset. Amrita says Biji is upset too. They decide to make Sanjot and Dilpreet talk to each other.
Astha and her family welcome Sanjot to their house by doing her Grihpravesh. Sanjot feels happy with their warm welcome. She recalls her Grihpravesh with Dilpreet as a newly wedded couple. She cries. Maan asks her to not cry for Dilpreet who doesn't care about them. He says he is so much happy that she comes to stay with him. Sanjot smiles. She sees Maan's house and says it's so good and praises Astha. Astha thanks her. Sanjot sees her photo with Dilpreet and says she is not feeling it is a new place. Astha says it's his son's love. She shows her the heels and asks if she remembers anything of seeing them. Sanjot recalls how her husband gifted shoes to her. Astha says Maan remembered everything so he gifted shoes to me like Dilpreet gifted you after marriage.
Dilpreet misses Sanjot. Rana asks Dilpreet to eat food. Dilpreet refuses. Nimrit says how colony people are making fun of their family. Dilpreet comments on it and asks them to leave.
Sanjot says she will work. Maan says he won't let her work and says it's her rest time. He says he will design her room according to her choice. Sanjot says she won't stay here forever. Maan says she has to stay with him until Dilpreet realises his mistake. He says he is with him.
Rana says to Dilpreet that Maan and others think everything will be ruined without them but he will not allow that to happen. Rana assures Dilpreet that he is with him. Rana asks Dilpreet to never call them as it is their win if we call them. Rana says to Dilpreet we should never allow them to win.
Episode ends.
Precap – A bracelet falls near Tavleen's feet. Tavleen picks it up and asks Riya if the bracelet was with her? Riya says no and asks Tavleen how did she get this bracelet. Riya says to Tavleen it is Veer's bracelet. Tavleen gets shocked hearing this.
Click to read
Dil Diyaan Gallaan 30th May 2023 Written Update: