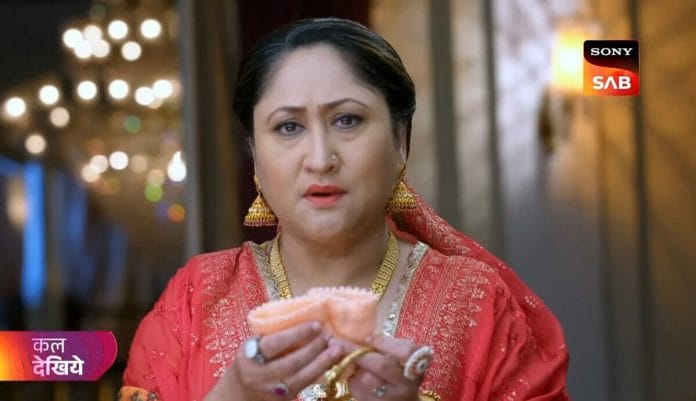 Dil Diyaan Gallaan Spoilers, Upcoming Story, Latest Gossip , Future Story, Latest News and Upcoming Twist on justshowbiz.net
Sab TV show Dil Diyan Gallan is entertaining the viewers with its fresh storyline.

In the current track, Sanjot receives a warm welcome at Maan's house. Rana, Nimrit, and Riya return home and see the colony people gossiping at their house. Dilpreet ousts colony people from his house. Rana asks Dipreet how can Biji leave them in this way. Dilpreet says he doesn't want to talk and asks them to leave him alone. They leave. Veer thinks he and Ammu have to reunite Sanjot and Dilpreet.

Veer calls Amrita. Amrita goes aside and attends his call. Veer says how much Dilpreet is upset. Amrita says Biji is upset too. They decide to make Sanjot and Dilpreet talk to each other.

Dilpreet misses Sanjot. Rana asks Dilpreet to eat food. Dilpreet refuses. Nimrit says how colony people are making fun of their family. Dilpreet comments on it and asks them to leave.

Sanjot says she will prepare something. Maan says he won't let her work and says it's her rest time. He says he will design her room according to her choice. Sanjot says she won't stay here forever. Maan says she has to stay with him until Dilpreet realises his mistake. He says he is with him.

Rana says to Dilpreet that Maan and others think everything will be ruined without them but he will not allow that to happen. Rana assures Dilpreet that he is with him. Rana asks Dilpreet to never call them as it is their win if we call them. Rana says to Dilpreet we should never allow them to win.

In the upcoming episode, A bracelet falls near Tavleen's feet. Tavleen picks it up and asks Riya if the bracelet was with her? Riya says no and asks Tavleen how did she get this bracelet. Riya says to Tavleen it is Veer's bracelet. Tavleen gets shocked hearing this.
What will happen next? Will Rana be able to uncover Tavleen's conspiracy?
To know what will happen next in your favourite shows, stay tuned to this space.