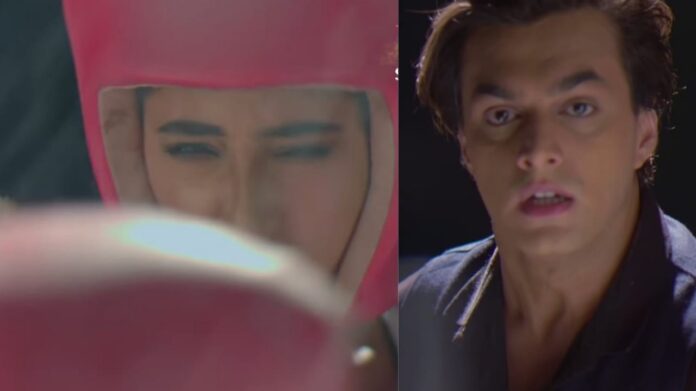 Yeh Rishta Kya kehlata Hai Upcoming Story, Spoilers, Latest Gossip , Future Story, Latest News and Upcoming Twist on Justshowbiz.net
After emotional drama in Star Plus longest running show, time for another big twist in the show. In the upcoming episode, Kartik will get stun seeing Naira's face alike. Do Kartik will welcome Naira's face alike in his life, well time will only tell.
Actress Shivangi Joshi will be seen in a totally different shade. With new identity, Shivangi's upcoming character in the show will be seen doing boxing. It will be interesting to watch how fans will react on boxer Shivangi. The promo of the upcoming is already out and fans trended hastag #ShivangiJoshi online to welcome diva back in the show. Check out the promo below.
In the so far episode it is seen, Kartik has decided to dedicate his life to Kairav and Akshu. He is leaving no chance unturned to fulfil all the demands of Kairav and Akshu. Kairav ask Kartik to save his kite as he has written message on it. Kartik for the sake of Kairav gets adamant to save the kite. His hand gets cut and Kairav asks Kartik to let go the kite. Goenka's too asks Kartik to let go the kite. Kairav regrets asking Kartik to save his kite. Manish says to Suwarna they can only see outer wound of Kartik but he feels he is hurt from inside. Kartik struggles to save the kite. Akshara cry and Kartik's mind gets diverted. Kite cuts and Kartik thinks he won't let kite to let go. Kairav asks Kartik to let it be as he don't need the kite. Kartik asks Kairva not to worry as he will get everything he wants. Kairav says to Manish, why Kartik got changed so much and don't listen to anyone. Kartik somehow manages to save the kite.
Later, Kairav desires to join boxing and Kartik refuses. How Kairav will convince Kartik will be interesting to watch. Do because of Kairav, Kartik will meet Naira's face alike, well wait for our next update on your favorite show.
Stay tuned with us for more news, spoilers and latest updates.