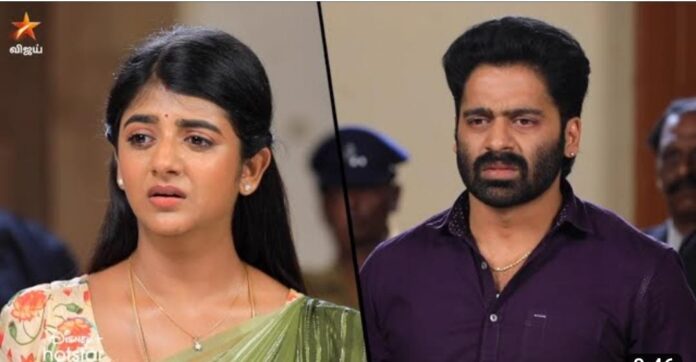 Eeramana Rojave 2 Spoilers, Upcoming Story, Latest Gossip , Future Story, Latest News and Upcoming Twist on justshowbiz.net
Eeramana Rojave 2 is famous Vijay's show. Kavya and Jeeva's love story takes a hit when destiny forces them to marry each other's elder siblings. Now series focuses on Parthiban to sign in the divorce paper
In the previous episode we saw; Kavya gave a surprise party for Parthiban's birthday. Family members celebrated Parthiban's birthday happily with her. Parvathy disappointed seeing Kavya's closeness with Parthiban. Parthiban fed cake to Kavya. Parvathy disliked their closeness.
Parthiban assured Kavya to fulfill her wish. She demanded him to sign in the divorce papers. Parthiban signed in it. Arunachalam questioned Kavya about it? Kavya stood silent there. Devi was happy to see the situation going favour to them.
In the upcoming episode viewers will see; Devi will share with Ramya that her she will get Parthiban in her life. Meanwhile, Arunachalm will share his grief with Parvathy. Kavya will cry holding the divorce papers. Later, Parthiban and Kavya will reach the court. Jeeva will try to convince Parthiban but he clear with him it's Kavya's decision.
Maha will plead with Kavya to change her decision. She will stays adamant in her decision. Later, The judge will question Parthiban and Kavya in the court. She isn't satisfied with their answers.
What will happen next? Will Kavya leave the house? When will Parthiban learn the truth?
Upcoming episode will answer to our all questions stay tune with our space for more updates